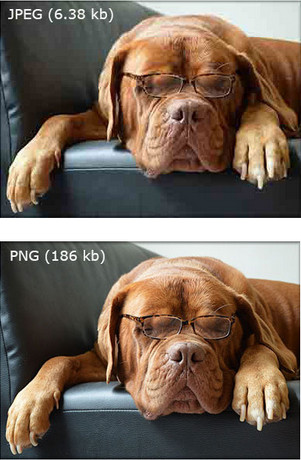 PNG VS. JPG
Many people post various problems about PNG/JPG on forums. I pick up some typical problems and share them here.
Q: I stored some beautiful scenery photos in PNG on my computer. Now I want to change them to JPG, so any method can change PNG to JPG in batch?
Q: I need to sign up on one website which requires that the photo must be JPG, but my photo is PNG. How to change PNG to JPG easily and quickly?
Q: Because of my work, I need to frequently convert PNG file to JPG or convert other pictures to JPG. The online converter can't help me a lot, so any JPG image converter suggested?
Look at this picture, the PNG file size is about 30 times of JPG file. One PNG picture only occupies small space, but if there are hundreds of PNG pictures it would take huge storage space and lower the running speed of your devices. So it is necessary to convert your PNG photos to JPG.
All these posts show that most people need to change PNG to JPG. And they prefer a professional software rather than online converter. So I'd like to introduce a user-friendly tool and the detailed instruction for you!
There are a large number of online picture converters which can solve this problem quickly. However, it is without other advantages except for fast speed. Since I frequently used online converter I know its limits, for example, certain limits on input image size, format, and stable network as well as poor output quality. Now I find a fabulous watermark software which is without any flaw like online application. As the name implies, this software is a professional tool adding various watermarks on pictures, such as adding text watermark, adding image on photo or adding copyright on photo. As for me, I am now used to add watermark on my photos then share them on my social websites for copyright protection. In addition, it can also convert picture in any formats or add effect on photos, such as turning photo into sketch.
Batch Convert PNG to JPG within Simple Steps
With this multi-functional tool, you can easily solve the kind of problem like how to change a PNG to JPG and can do many operations for you photos.
Download the tool and the easy tutorial starts!
Step 1 Open the Image Converter
Once open the converter, you must be punched by the beautiful interface. And a sweet-heart design is that the interface will change randomly. Two selections adding images offered: ADD IMAGES or ADD FOLDERS.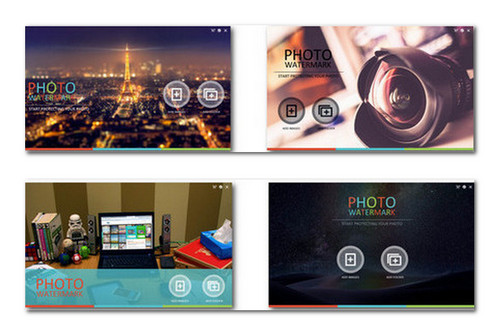 4 Random interfaces
Step 2 Add PNG Images
Add the PNG images. Later on we will batch convert PNG image to JPG. In order to save time, we'd better put all PNG images in a folder in advance and then add folders.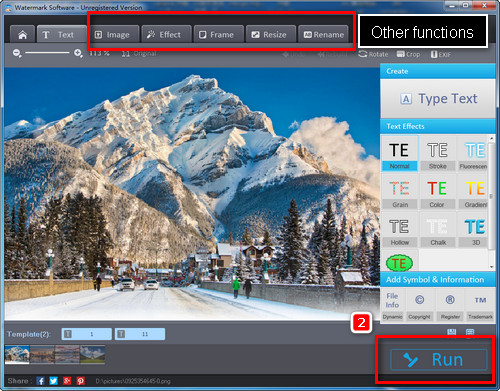 Add PNG Images
Step 3 Start Batch Conversion
Click the button "Run" and select the output format as .jpg. You can customize the output quality dragging the quality bar. If you are an advanced user, you can check the "New DPI" box to change the DPI setting which is used to describe the resolution number of dots per inch in a digital print Up to a point, printers with higher DPI produce clearer and more detailed output.
Tips: This watermark tool not only support batch conversion format, but only support rename in batch and batch resize photos.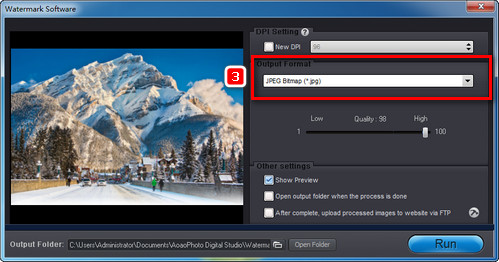 Convert to JPG Images
Without any doubt that this tool is really worth to download. Don't hesitate! With this tool you can uninstall the complex PS and keep away with the unsafe online picture converter!  
Now, please download the watermark software to complete your jobs.
PNG VS. JPG
Except for the above conversion tutorial, there may be other puzzles about PNG and JPG. So here I will make a simple comparison between them form quality, size and usage. Hopes it can help you have a good knowledge of PNG & JPG.
Quality
PNG > JPG. PNG files are lossless compression format while JPG is lossy compression format.
Size
PNG > JPG. PNG file is larger than JPG file. Because PNG file contains more information and are with better quality than JPG.
Usage
PNG < JPG. PNG file is the common choice for use on Web and is a good choice for storing line drawings, text, and iconic graphics at a small file size. While JPG is useful for storing photographs and it is a common choice for many websites, APPs, because it is compressed.
Hopes these items can help you make a right choice when considering convert PNG to IPG.