Why Do We Photo Resize
Perhaps you haven't mastered our watermark software, this article will introduce one of functions of watermark software to you, photo resize. Let's first see Photo resize's purpose, photos resize aims to resizing the photos to fit your needs. Photographs here generally refer to digital photos and other computer images. For example, if a picture's size is 3200 * 2800, its capacity is 15 MB, then it is not suitable for release to the web site, or not always suitable for printing, here you need Photo resizer to help you.
Operation process (the operation of Photo resize is very simple, anyone can easily master.):
Please see the step to know how to resizeing photos.
Step1: Click here to download the watermark software, install it to your PC.
Step2: Find the stat icon, double-click launch the watermark software, add your photos, you can see thumbnails and other information of these photos, click "Next" to edit window.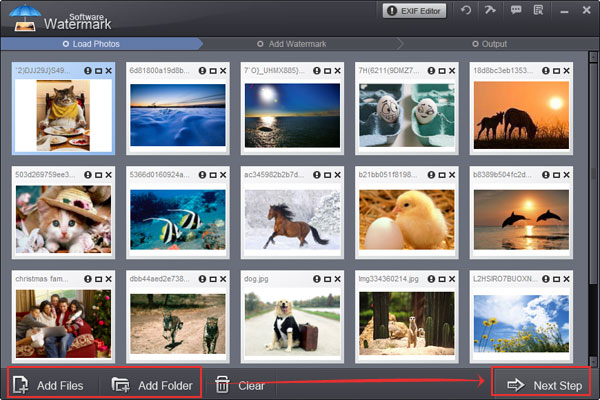 Step3: Here are six function selecting buttons, click "Resize" button, enter the operation area of the photo size.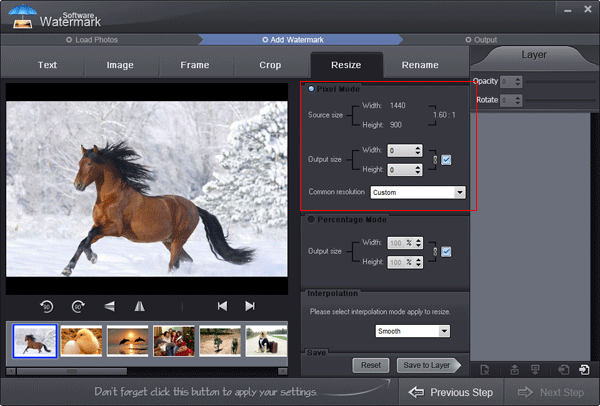 Step4: Here, the software will automatically read out pictures original size, easy to photo resizing compare. you only need to set the output size you need, it's so simple. When setting photo' size, it can lock aspect ratio. At the same time, we offer three photo resize modes, respectively, are smooth, sharpen and sawtooth, it's not hard to understand literally, "smooth" is the most smooth resizing way, pictures adjusted seem very mellow. "Sharpen" is the most common way, it will automatically handle photos' pixel array, it can keep pictures' clarity to the utmost after photo resizing. "Sawtooth" are the most intense way to increase the picture's visual clarity, but the details content will be reduced. After photo resize settings, click "Ok" to save your setting.
Photos resize supports batch mode, it can adjust many photo in one minute, which can save you substantial time.
Related Resources
What is watermark software? Watermark software is a tool with produces and applies watermark, it can help you quickly complete the process of copyright protection.
What is watermark? Watermark is a special mark, usually these marks are unique.
We have to wtaemrak photos to protect them, then you can use watermark software to watermarking your photos.
The so-called digital watermarking are also referred to as simply watermarking.
Photo resize in watermark software.
Video to GIF Converter 1.0 New Version Press Release
Video to Picture 1.0 New Version Press Release
Watermark Software V1.0 New Version - Press Release
Watermark Software V1.1 Press Release
Watermark Software V1.2 Press Release
Watermark Software V1.3 Press Release
Digital watermark can identify the embedded relevant information (such as number of registered users, product logo or meaningful text, etc.)
In fact this is the fundamental driving force developing digital watermarks technology.
Watermark Software Purpose
Digital photo watermark software, image watermark, watermark picture
Related Software
Special Offer: Watermark Software
Help you add text watermark, image watermark, logo and signature to photos without unauthorized using. The batch mode allow you watermark 500 photos in a minute.