Sketch is On the Fashion Edge
Sketch, as the introduction to drawings, attracts many beginners every year to register in a sketch class or learn from experienced seniors at home, regardless of age, gender or status. But these two ways also have some unavoidable limits. To take a sketch class is a time-consuming project which is not realistic thing for most of family supporters. For another thing, it is not a common situation for all of us to be raised in a family with a long history of arts. But we can manage to learn drawing by taking the advantage of the development of technology.
Now, there are countless online sketch applications that offer us a quick and easy path to turn photo into sketch. But, a sword has two sides, online applications will leak out our private information more or less. In addition, sometimes the internet is unstable and even will breaks down before we save changes added to our photos.
However, this photo into sketch program belongs to the third party and it allows you to download and install to your PC. Once you have it installed in your computer, I'm gonging to share with you a specific and easy-to-learn tutorial to help you turn picture into sketch.
Easy to Master Tutorial to Convert Image to Sketch
Step 1: Open this magic software
When all preparations(that is to say you have installed it on your computer, and prepared enough photos at hand) are down, then you can open this software by double-click the left button or click the right button and choose the open option. After a second, a brief interface will pop up, and two icons are in the middle of the interface, one is "ADD IMAGES", another is "ADD FOLDER" which enables you to batch watermark photos. You can choose either of them as you wish.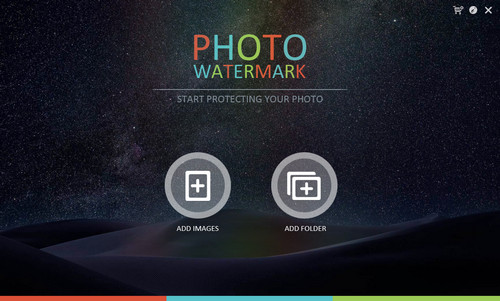 Open the Program
Step 2: Add Photos into it
Add photos or images you want to change into sketches. Then, choose effect as sketch. And hit "Run" button.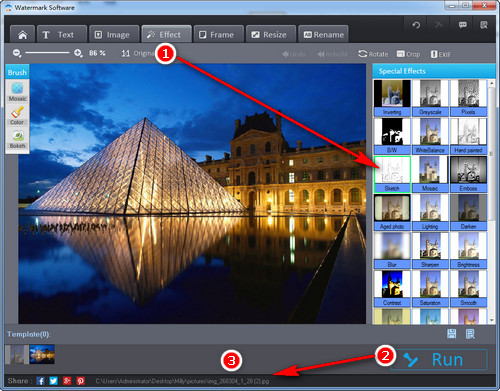 Add Photos
Step 3: Choose An Output folder
After you clicking "Run" button, you will see this interface, and you can choose an output folder in order to locate the sketches much easier. Besides, you can also convert picture in any format through selecting the output format from those popular photo formats in the red rectangle. Finally, hit the " Run" button one more time to turn a picture into a sketch.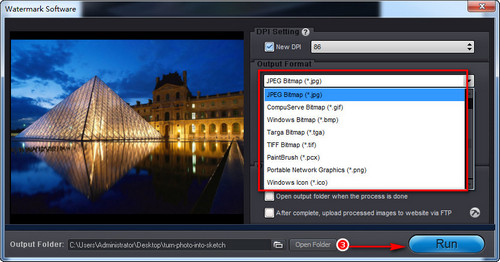 Choose Output Folder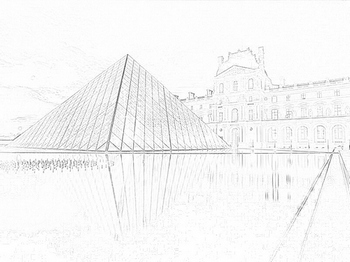 Sketch My Photo
After it accomplished the process of photo into sketch, let's check out the converted images at the output folder.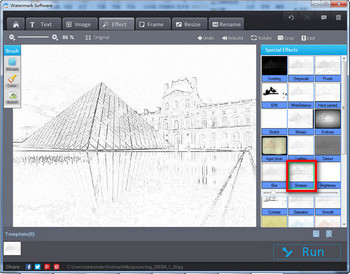 Add Sharpen Effect
If you want to make this sketch more sharp, you can add the sketch into the program, and add "Sharpen" effect to fulfill your intention.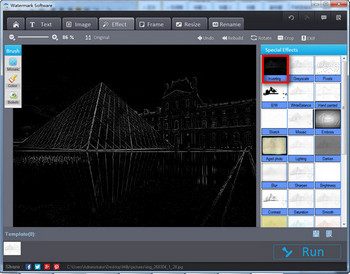 Add Inverting Effect
And if you want to make a big contrast in your sketch, you can try "Inverting" effect.
With this "sketch my photo" program in hand, it is easy to change photo to sketch in a safe way. Moreover, it also provides many other amazing functions in picture processing, such as add image watermark , put text on photo , convert image to black and white effect , resize a photo , etc.
Undoubtedly, it is really a useful program for image processing and photo protecting. And if you are satisfied with its functions, then why not sharing it with people around you?
Now, please download the watermark software to complete your jobs.