Part 1: JPEG Converter

Part 2: Tiff Converter

Part 3: How to Convert BMP to JPG
Times We Need to Convert Picture
When flipping through websites or communities, you usually see the note that they only allow JPG or PNG as graphics file format, or picture files in another size. Which may make you depress, since you only have the photos in RAW, TIFF or BMP, or simply the wrong size photos. And you are no whiz of computer, probably will drop the idea to convert picture by programming. However, after knowing the tricks of the trade in converting picture files, it will be no big deal. Below tells about the best picture format converters, and with one of them, you get the pass on converting picture.
Jpeg Converter
In case that you want to get one JPG or several JPGs ( also known as Jpeg, ends with .jpg in the file ), Jpeg converter can be much helpful and delightful. Well-known Jpeg converters are Watermark Software for Windows, Paint for Windows, DropJPG for Mac and Converseen for Linux. Paint only supports solo picture conversion, so it's not an ideal picture converter for batch converting pictures in Windows. While later watermark creator is best to use in Windows as a Jpeg Converter, as it perfectly reads all format graphics and is good for both batch process and solo conversion .
Tiff Converter
Tiff is raster graphics image, and is widely used nowadays. It's possible that your favorite photos are in Tiff format. Under the circumstance, Tiff converter is ideal for the tricks. Collecting the fame, we find the best Tiff converter for each platform. For example, Windows photo filter is fantastic for Tiff conversion in Windows, TIFF to Image Converter is prone to convert Tiff images in Mac, last in Linux, you can input Tiff conversion command to finish the conversion.
How to Convert BMP to JPG
After knowing the picture file converters, it's time to see how to convert picture step by step. Given that most PC users are using Windows, the below contents take the example of how to convert .BMP to JPG.
First thing first, install image file converter – image watermark, by clicking image converter download below.

Download Editors's Rating

The renowned image converter, convert and proctect digital photos all with a few clicks.
Learn More >
Second step is to load BMP photos. Also, you can resize BMP photos in its "Resize" mode after loading.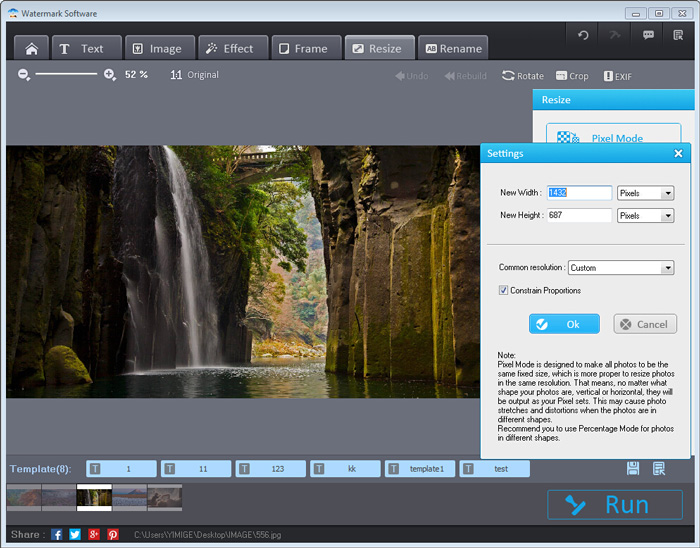 JPG picture converter
Third step, click "Run" and choose jpg as the output.
Tips: In this step, you can use this photo watermark software to convert all pictures to JPG, GIF, BMP, TGA, TIFF, PCX, PNG, ICO, or the same picture files formats.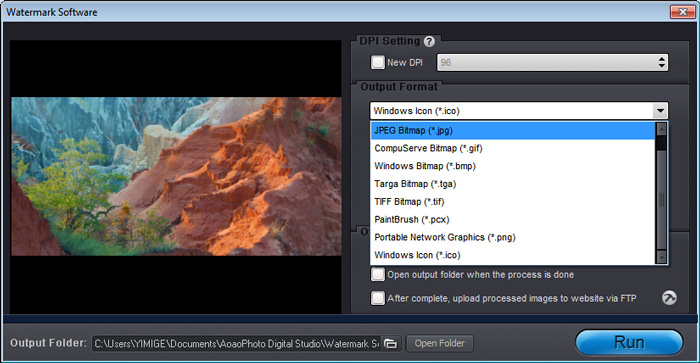 Using picture converter to convert BMP to JPG
See, this Windows picture converter is easy to operate and visual to learn. With the clear batch watermark converter, you won't get stuck in the picture conversion, while have more time to enjoy surfing and sharing.

Download Editors's Rating

The brand new picture format converter, convert and retouch all images all within a few clicks.
Learn More >
Submit Your Question to Us, Get an Answer within 24 hours.