When we publish digital photos on free picture sharing sites, it's of important to add logo watermark and to prevent them from unauthorized using. Well-designed logo upgrades photos. While making it requires substantial time and efforts. It is a waste of time to make the same logo watermark. Saving logo can be a better solution, other than creating watermark again.
In order to save logo watermark, image watermark is a good picture protector to have it done by clicks.
Saving A Template Logo
To custom watermark as template for the use of image file converter won't take up too much time. Details steps are:
1. Launch Watermark Software,
2. Load a photo, or several images in,
3. Choose [Image] > [Add Custom Watermark], and click the logo you've designed.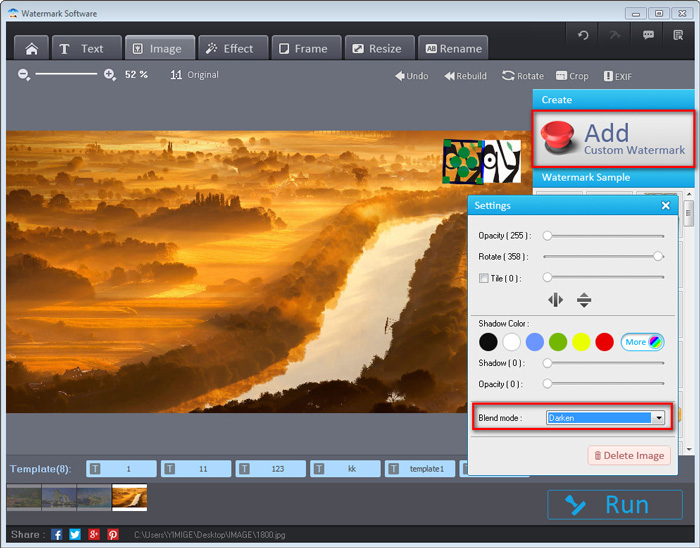 Custom template logo
4. Adjust the [Blend mode] to make the logo fit best. Also move it the ideal relative position.
5. Saving logo to the photo watermark as a template logo. Click [Save] button, and input a custom watermark name, and click [Ok].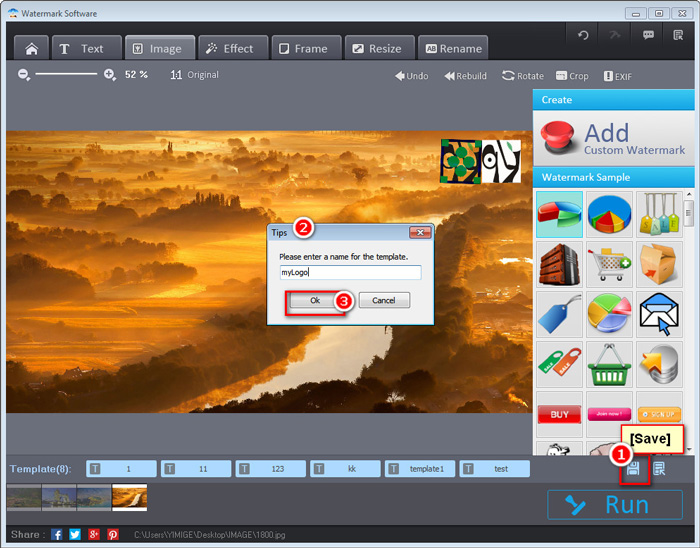 Saving logo
After that, the template logo will be saved in [Template] bar forever. And you can close the application.
Unlike other image software, you are unable to save photo edits. In this batch EXIF editor, you are entitled to [Save] edits on custom pics .
Retrieve Images of Custom Logo Watermark
What if on the next day, you need to add your preset custom watermark on a pile of nature photos. You don't need many complex operations. Follow: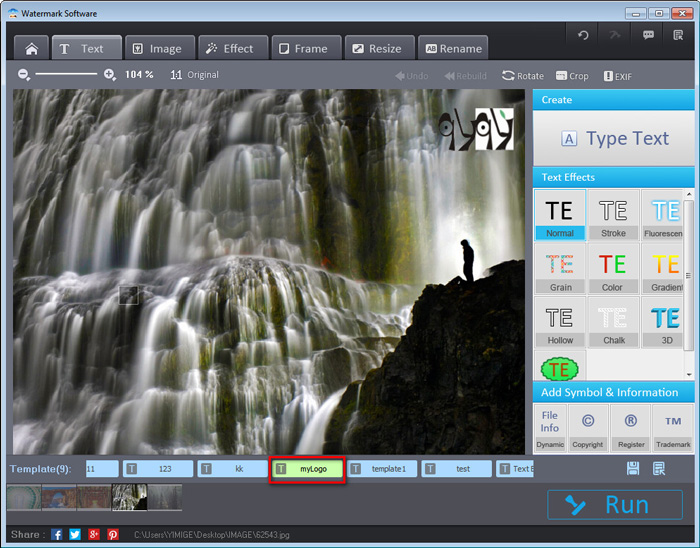 Custom pics
1. Open photo watermark software,
2. Load nature pictures in,
3. Find the specified logo watermark in [Template] bar and hit it,
4. [Run] this file size reducer.
Only within minutes, photos will be all signed with your previous custom watermarks. this software is much easier To retrieve photos of template logo.

Download Editors's Rating

The welcome watermark software, protects and template your logo watermark with a few clicks.
Learn More >
Submit Your Question to Us, Get an Answer within 24 hours.