Do You Want to Protect your Picture with Create Watermark
Do you want to protect your rights to photos or other artworks you created without affecting how they look? If your answer is "Yes", some tips in this article might be helpful for you.
There are a lot of methods can be applied to protect digital photos, say creating watermark, JavaScript, Java Applets & Perl Scripts, HTML, etc. Among them, creating a watermark is obviously the best way for most people.
The idea of adding a watermark (copyright info/logo) to photos could be fairly effective to prevent other users from trying to copy and reuse your photos without permission. While this will not completely eradicate image theft, it works in many cases. And every one can easily finish the task in minutes.
Some professional photographers also use watermark to claim copyright protection for their valuable graphic works. And they always make most of watermarks skillfully so that these watermarks will not dominate the photo. When you want to watermark photos, you could put a small size watermark on the bottom. To keep it safer, you can make watermark bigger with low opacity or redesigned watermarks to blend it with photos naturally.
Have you ever thought to create watermark like that on your artworks or photos to keep safer on web? It would be the most effective method if you know how to design and create watermark quickly. In fact, it is not that difficult. Watermark Software is just the right tool can do the whole task for you, which allows you to design and create watermark at your will. .
Watermark Software, a professional watermark creator can help you create/add text watermark, image watermark and logo to pictures/photos. As a powerful watermarking tool, it also provides you many other editing options, such as adding pretty frames, cropping images, batch renaming and photo resizing, etc. Watermark software well supports all popular image formats.
If you don't know how to create watermark with Watermark Software, the following introduction will quickly help you out.
Step 1 Open Program and Input Images
Click here to download Watermark Software, and then launch it. Choose the picture which you want to add watermark to by clicking "Add Image". After images have been loaded, click "Next Step" to jump to watermark editing interface, and click "Add Image" tab to start editing image watermark.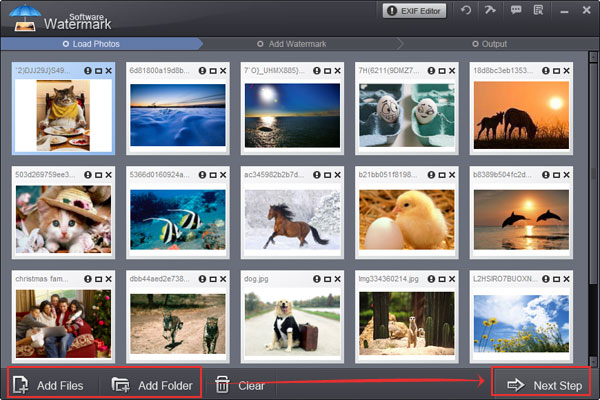 Step 2 Edit Image Watermark
Select an existing image watermark material or load new image from your hard disk by clicking "Browse" button.
After watermark has been added, you can adjust aspect ratio of image watermark (Default: W=1, H=1). Adjust Opacity for your need (0-100) and rotate watermark (0-360). Choose "Single" or "Tile" to place you text watermark on images (Single is to place only one watermark on images; tile is to repeat watermarks on images, which is a strong protection mode). Change the value of Alignment to control the position of watermark or you can drag watermark directly to position it.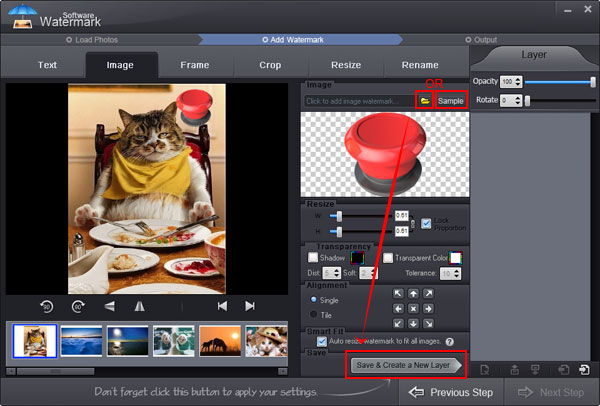 Step 3 Start Watermarking
Click "Run" after you finished your editing. The whole process will be completed in minutes.
Click here to learn more about Watermark Software >>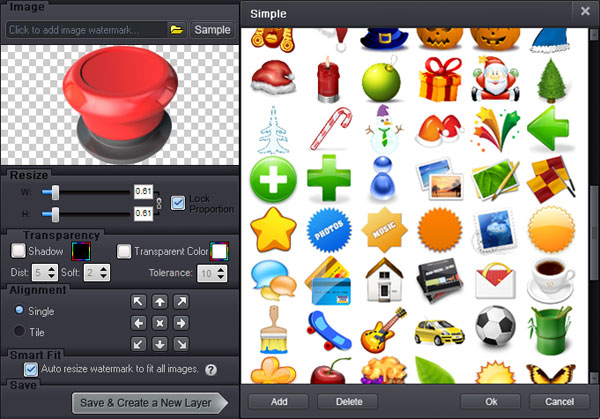 Step 4.
Click "Run" after you finished your editing. And soon later, the whole process will be OK.
Click Watermark Software to know More information about Watermark Software.
Still have trouble on creating watermark? Please contact us >>
Related Software
Watermark Software (photo edition) : This watermark tool provides professional image protecting solution for your online photos. The exclusive image processing technology lets you able to watermarking 500 photos within 1 minute.
Related Source
How to create a GIF from any video - the fastest solution for convert video to GIF animtion
Make watermark - for your digital photo
How to add signature to picture - there are mainly two types of adding signature to picture thats text watermark and image watermark
Add watermark - to photo quickly
Add text to picture - to watermarking your pictures
How could you add captions to photos effectively
Related External Source
Insert a watermark to word.
Special Offer: Watermark Software
Help you add text watermark, image watermark, logo and signature to photos without unauthorized using. The batch mode allow you watermark 500 photos in a minute.