Part 2: Why Do We Watermark Animated GIF
Part 3: How to Watermark Animated GIF You Made
About Animated GIF
GIF is an acronym for Graphics Interchange Format. As GIF only supports 256 colors, it is best for images that are flat, with limited colors and crisp detail. GIF files can also contain animation, creating files known as animated GIFs. Animated images in the graphics interchange format (GIF) are commonly found on websites, emails and in instant messaging. Unlike static GIFs, animated GIFs move and catch the viewer's eyes. Film clips can be turned into animated GIFs that play as if you're watching a short movie.
Why Do We Watermark Animated GIF
It may bother you sometimes that animated GIFs you share online will be used without your consent in a way that you never wanted to do. Although there's no good way to safely post images on the Internet, you still can add a watermark on your GIFs to claim the original author of these amazing GIFs.

How to Watermark Animated GIF You Made
Step 1 Import Your GIF File
Launch Watermark Software and open the animated GIF you would like to watermark by clicking "Add Files".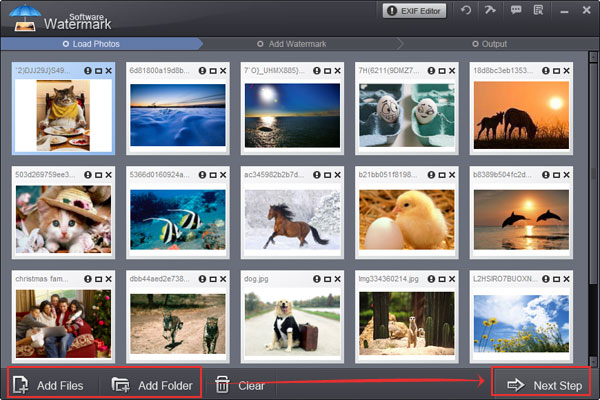 Step 2 Add Text Watermark
Click "Next", you will come to editing interface. You can add text, image and frame to animated GIF. Here we take text watermark as an example.
1. Input text in blank box at the upper right of interface.
2. Adjust value of "Opacity", "Rotate" and "Alignment" (position of watermark over the photo). You can also drag text watermark in preview window to change its position. Specify "Single"/"Title.
3. Click "Apply" to apply what you made.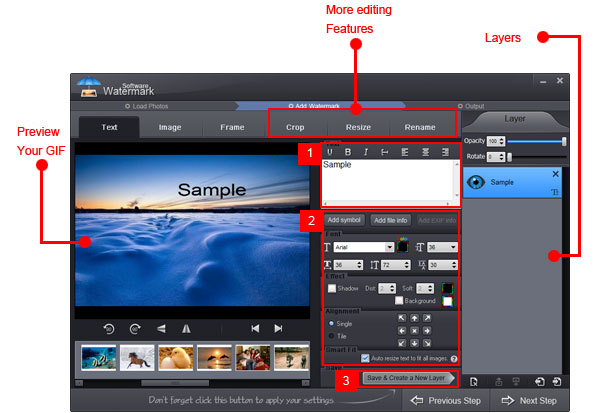 Step 3 Start Watermarking
Press "Next" button, you will come to export interface.
① Specify output format as GIF and choose output folder.
② Click "Run" to start processing watermark.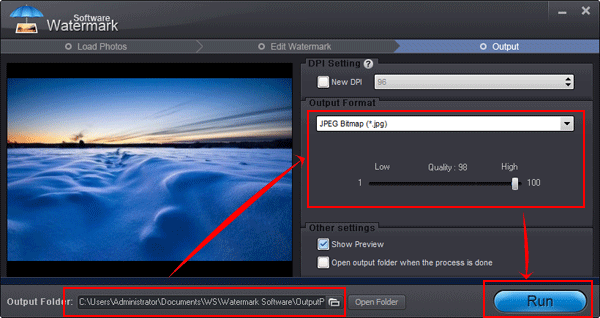 Still have trouble on watermarking animated GIF? Please Contact Us >>
Related Software
Watermark Software (photo edition) : This watermark tool provides professional image protecting solution for your online photos. The exclusive image processing technology lets you able to watermarking 500 photos within 1 minute.
Related Source
How to watermark photo - put image or text watermark into your photo
How to crop pictures in a better way
How to put watermark on photo - to protect online or sharing photos safety.
How to watermark and batch convert images
How to watermark video - and convert video format in one solution
Related External Source
Graphics Interchange Format is a bitmap image format that was introduced by CompuServe in 1987[1] and has since come into widespread usage on the World Wide Web due to its wide support and portability.
Special Offer: Watermark Software
Help you add text watermark, image watermark, logo and signature to photos without unauthorized using. The batch mode allow you watermark 500 photos in a minute.