At the beginning of the New Year 2014, we'd like to offer our readers with the most useful post about watermarking photos. Whether watermark or not, the debates will never end. Of course it's not the topic. Today we'd like to share more interesting things and will tell you what the top free watermark software of 2014 is.
Watermark first existed in paper. A watermark is a recognizable image or pattern in paper that appears as various shades of lightness/darkness when viewed by transmitted light (or when viewed by reflected light, atop a dark background), caused by thickness or density variations in the paper. It was created while the paper was still wet/watery and therefore the mark created by this process is called a watermark.
How is a Watermark Added to Image?
A transparent watermark is added to a photo by changing the image on the pixel level (a pixel is one dot of the image). The pixels that will make up the resulting watermark is changed more or less in the direction of the watermarking image, if e.g. the watermark is 50% transparent, 50% of the RGB (Red, Green & Blue) values are deducted from the original image, and 50% of the RGB values from the watermark are added to the image.
Choose High-quality Free Watermark Software
There are millions of free watermarking software programs now in the market. If you don't believe, just type the key words "Watermark Software" in Google or Yahoo, amazed at what you see? So as not to spend too much time searching for a smart one, I'd like to highly recommend top free watermark software by now. Photo Watermark Software is thought of #1 watermark software program by most people, especially when the latest version was released. You can download a free one to see if it's what you need.
Step-by-step Guide to Use the Top Free Watermark Software Perfectly
The full guide includes only three steps. First download the free watermark tool and install it on your computer. The install process is clean and fast.

Step 1: Launch the program and the interface is intuitive, friendly and pretty cool. Press the "Add Files" or "Add Folder" button to input pictures into the program. Or just drag them into it.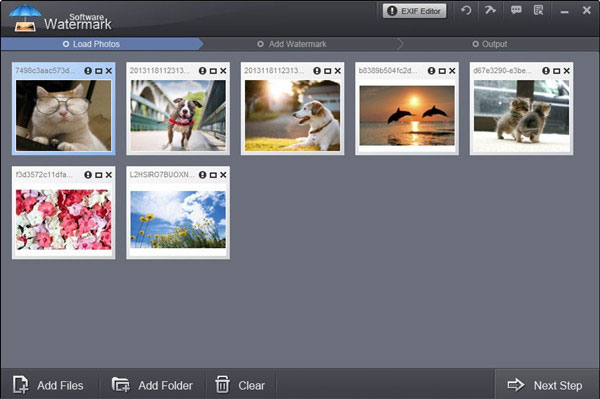 Note: Don't forget that you can also add EXIF info to your photos as invisible watermark.
Step 2: Simply click "Next Step". Six items are provides, including text watermark, image watermark, adding frame, photo cropping, resizing and renaming. Flexible features make the free watermarking software much more powerful than any other related programs.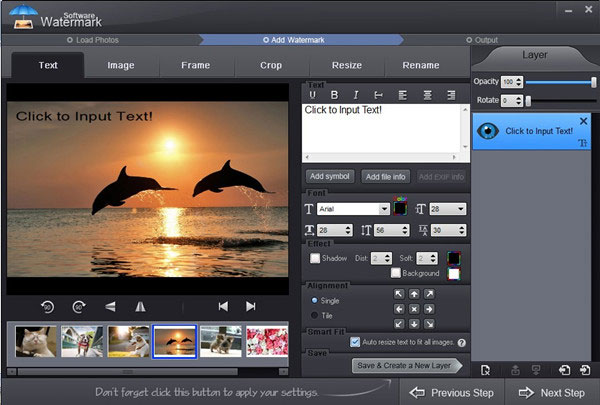 Step 3: Again press the "Next Step" button. If you want to change the original formats, then select Keep Original Format. But if you'd like to convert image formats, open the output format dropdown list and choose one from JPEG, GIF, BMP, TGA, TIF, PNG and any more.
Still have questions on free watermark software? Please feel free to Contact Us
Related Articles
How to Crop Pictures in a Better Way
It's not difficult to crop pictures or crop photos as you like. With a smart photo cropping tool, you can easily crop images as well as convert image formats in a better and faster way.
How Could You Put Logo on Pictures at Once
Put logo on pictures at once to protect your copyright. Now watermark 500 pictures in less than 1 minute.
Related Software
Watermark Software (photo edition) : This watermark tool provides professional image protecting solution for your online photos. The exclusive image processing technology lets you able to watermarking 500 photos within 1 minute.
Related Source
Photo watermark software - protect Your Pictures with Various Effective Watermarks
Watermark software for Windows 7/8/8.1
What is watermark software - what can it do for you
How to choose proper watermarking software
Add picture to GIF - with easy-to-use picture watermark software
Related External Source
Free Watermark Software - Brief Introduction If you are sharing photos to network, you never know what will happen...
Special Offer: Watermark Software
Help you add text watermark, image watermark, logo and signature to photos without unauthorized using. The batch mode allow you watermark 500 photos in a minute.