Part 1: Why Choose Photo Watermark Software
Part 2: More about Photo Watermark Software
Part 3: How to Choose Proper Photo Watermark Software?
The only reason why you choose photo watermark software is to protect your photo copyright. That means, if you are sharing your photos and artworks or demonstrating your company's products on the Internet, it's very necessary to add watermarks to protect them from illegal use. You really don't know who may copy them or disseminate them for some terrible reason. In other words, the pictures are spread without authorization. In fact, there are kinds of watermark software sold in the market now, but the best one I believe goes to photo watermark software. It's very easy to use and provides powerful functions to enable you to watermark photos. Now you can have a try and enjoy a wonderful watermarking experience. Click here to download a free trial!

More about Photo Watermark Software
Actually there are mainly two types of watermarks, such as text watermark and image watermark. Compared with other similar tools, the photo watermark software works the best and provides you a fun, easy and fabulous way to watermark photos creatively and effectively.
You are allowed to add text to photo. It's available to select current font, change font size as well as change font color. Meanwhile, you are also able to shadow your text watermark and add background color to make your photo cooler and more beautiful. And in addition, you can control the opacity of your text watermark.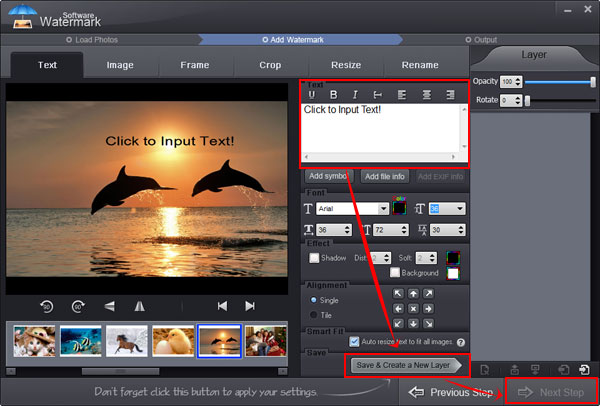 Note: With this watermark software, it's simple to add more than one layer, including text layer and image layer. You can add different text or image watermarks on the same picture.
Or Add Image to Photo
Add image watermark to photo is very interesting, it provides you with 150 + free watermark materials. Moreover, you can create your own watermark library by downloading watermarks.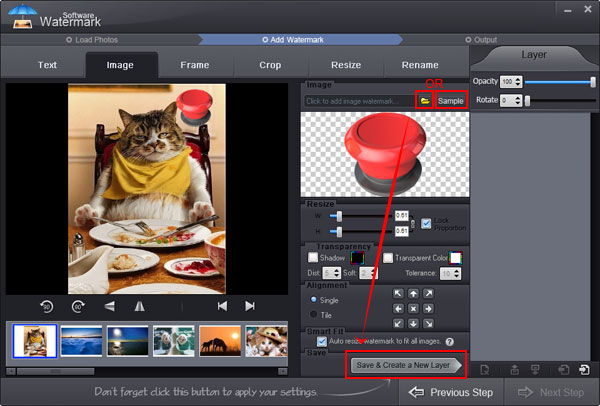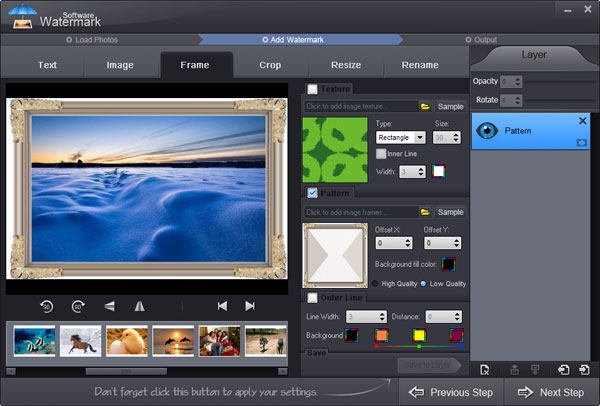 Or Add A Special Frame to Make Your Photo Remarkable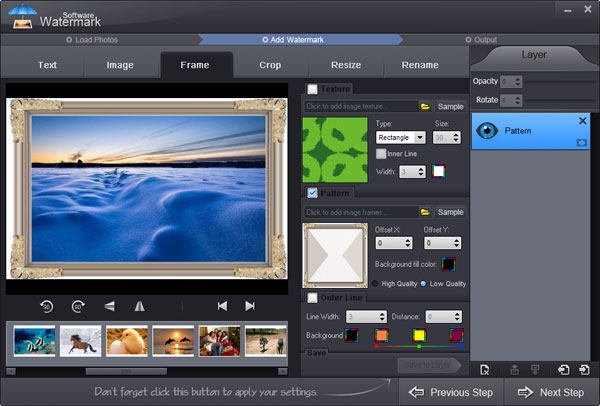 How to Choose Proper Photo Watermark Software?
Choosing proper photo watermarking software is very important. And here I'd like to give you some tips.
1. Protect your photo copyright effectively.
Should work well on protecting images. Can add text and image to your photos, prevent from removing watermark and stealing the photos, satisfy your basic requirements.
2. Support various photo formats.
Should support most of popular photo formats. There are a lots of different photo formats available here, this feature is very important.
3. Fast speed and good quality.
Should not spend a lot of time on the process. No one like waiting long time for anything, so batch watermarking mode is necessary.
4. Provide powerful functions.
Add text, image, icon, logo, design and make the watermark, these are the basic functions. A great watermarking software must have some additional and useful functions like photo frame, photo resize, crop, etc.
5. A user friendly interface and ease of use.
Beautiful, friendly and easy-to-use interface could bring a nice process. And, it also can save a lot of time for learn.
6. Cheap Price
Good stuff is not cheap, but, nothing is impossible.
The called Watermark Software is 100% proper photo watermark software for home user, it can helo you to add watermark to your photos in batch mode, will prevent from removing watermark and stealing the photos. Support most of popular photo formats, supports batch watermark at one time and enable users design by themselves. Offers fast speed, good quality, friendly and easy-to-use interface. It is only $24.90 for home user.
The Photo Watermark Software Screenshots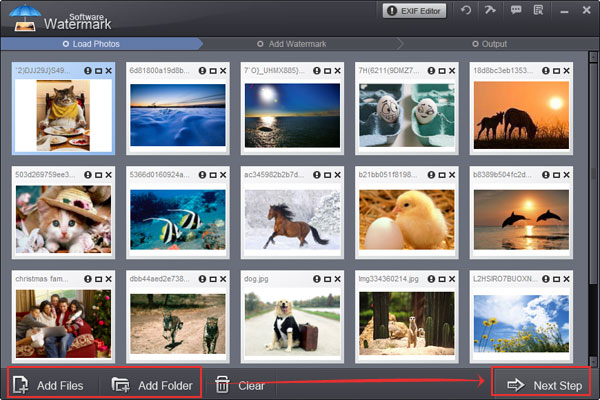 Click above image to see more screenshots!
Still have trouble on photo watermark software? Please Contact Us >>
Related Software
Watermark Software (photo edition) : This watermark tool provides professional image protecting solution for your online photos. The exclusive image processing technology lets you able to watermarking 500 photos within 1 minute.
Related Source
Photo Watermark - a software protect your shared photos
Watermark Photos - with the easiest way
Photo Resize - with fastest spped (batch mode)
How to Put Watermark on Photo - Understand photo watermark and learn how to put watermark on photo to protect online or sharing photos safety.
Related External Source
What is a watermark - dding a visible watermark is a common way of identifying images and protecting them from unauthorized use online.
Special Offer: Watermark Software
Help you add text watermark, image watermark, logo and signature to photos without unauthorized using. The batch mode allow you watermark 500 photos in a minute.