How to Convert YouTube to GIF in a Few Clicks
As one of the most popular video-sharing websites, YouTube is full of interesting videos. Maybe you find a funny part of a video on YouTube and want to turn it to a GIF file so that you can share with your friends to make them belly laugh. Or you may want to create or make some cool GIF avatars from YouTube videos for your profile image. There are many reasons that you'd like to convert YouTube to GIF but did you ever make a unique GIF image from a video by yourself? If your answer is "No", this article could really help you. Actually it's very easy to do and you'll have a lot of your own GIF images.
To find a video to GIF converter online is also easy. Indeed, there are many video to GIF converters on the internet. We just need to search the target keywords online, and then, we will get over hundreds of results. But among such results, which one is better? So don't waste time. The following is a full guide on how to easily convert YouTube video to GIF with a recommended video to picture converter.
First you are able to download a free video to GIF converter here.

Step 1 – Install the Converter and Add a YouTube Video File
Click the "Open" button to add a YouTube video file. You can clearly see the detailed information about this video file like its video size, time duration, frame rate and more.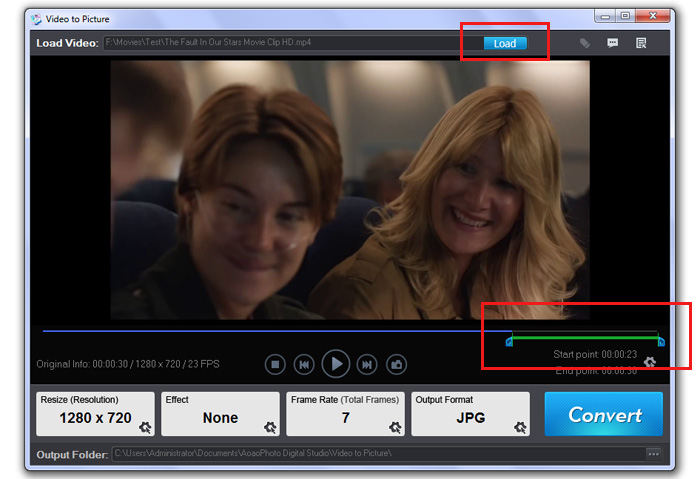 Step 2 – Control Which Part of the Video to Be Converted
If you want to convert this whole YouTube to GIF, you could just go to the next step. But if you just tend to convert a part of this video, you need to control output length of time by dragging the time-line bar. That is, set the starting time and ending time first like the image showed below.
Step 3 – Edit the Video
At this step, you need to choose one from the given output options including "Serial Pictures" and "Animated GIF". Besides, you are allowed to resize the original video size or apply some special effects such as Black and White, Brighten, Invert, Red, Green, etc.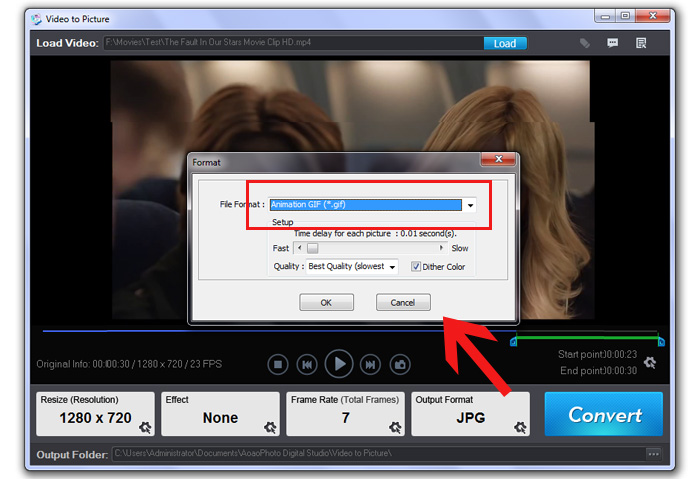 Step 4 – Choose Output Format
Click the "Run" button and you'll see another window. So you need to choose an output folder or just keep the original image folder as you like. Moreover, you can select the quality of the GIF file.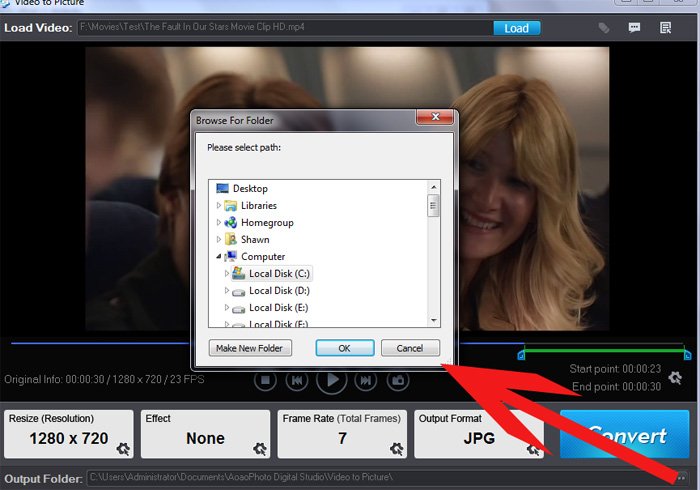 Converting video to GIF will be finished within minutes. You'll be satisfied with the result.
More about the Video to Picture Converter
Video to Picture Converter helps users to convert almost all frequently used video files including AVI, MPEG, WMV, DVD (VOB), DVR-MS RM and RMVB to a wide range of image formats like JPG, BMP, GIF, TGA, TIF, PCX, PNG and ICO. For example, you can convert MOV to Animated GIFs in just 3 simple steps with this professional converter.
Related Software
Photo Watermark Software is easy-to-use photo watermark software which can be an alternative to Photoshop, providing professional photo solutions for your digital photos. It's the best effective way to protect your photo's copyright and help promote your brand as well. With it, you can easily add text watermark or add kinds of image watermark to your photos. What's more, you can batch convert the images as well as watermark animated GIF. You can download a free trial of this simple-to-use watermark creator.
Previous: How to Convert YouTube to GIF in a Few Clicks
Next: Video to Picture software file formats supported