Part 1. What is Photo Watermark?
Part 2. Why We Need Watermark Photos
Part 3. How to Watermark Your Photos
Photo watermark is a special mark which can be words, signature, logo, etc. usually these marks are unique, and that is photo watermark which on behalf of the individual, groups or company's identity, and only that person who use this can use the mark, just like the name, with strong representation. It also widely used, it is often used for photo copyright protection.
Watermark photos is the powerful way to protect your photo's copyright. If you do not watermarking your photos and sharing or publishing them on website, internet, magazine or others, maybe some malicious people will copy or download your photo without your accede, and you would never know what would happen. So you need watermark your photos to protect your photo to avoid illegal using. If you are photographer, photo author, photo editor or picture taker, I think you love your artwork so much, so you need protect them.
Many people feel watermark photos too hard, because they do not know how to start. Actually, watermark your photos is a simple and fast process, you do not need much time to learn some technology, just need you able using computer.
Ready for start
1. Connect internet.
2. Download a program by click the button below, the name is Watermark Software, it will help you watermarking with batch mode.

3. Double click the installer to install Watermark Software to your computer
4. Launch to start the watermarking process.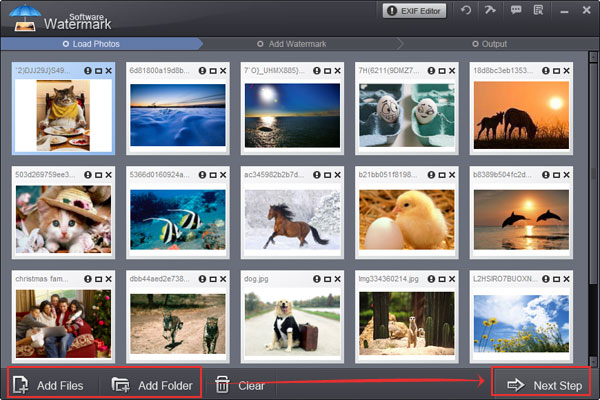 Watermark Your Photo by Few Steps:
1 Load your photos by click "Add Files", and then click "Next" button to into editing interface.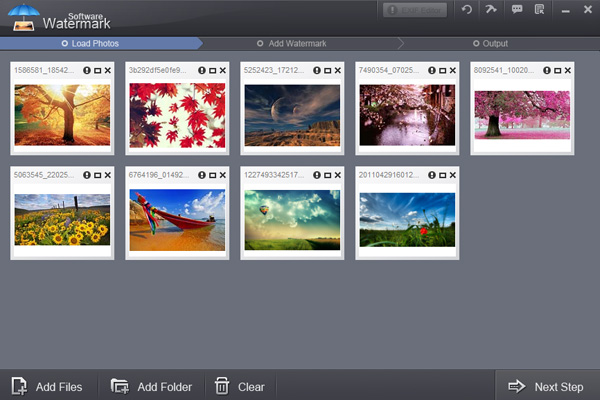 2 (2-1) For start image watermark setting, please click "Add image" tag.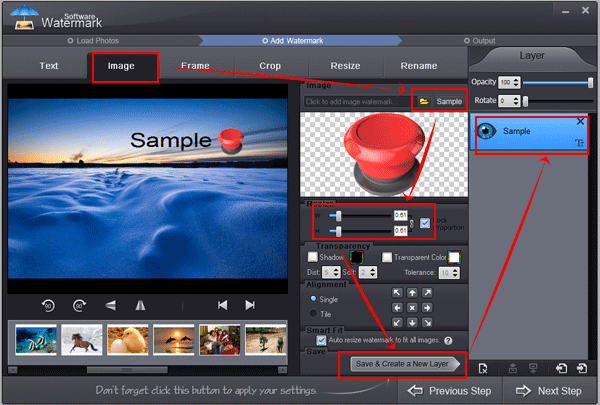 2-2 Click the "folder icon" into watermark list interface.
2-3 Here you can select existing watermark or load you own watermark by click "Load Watermark" button, and then click "Ok" button to apply and exit.
2-4 Resize watermark and drag watermark locality which you want.
2-5 Click "Ok" button to apply all of image watermark settings.
2-6 Into output setting by click "Run".
3 (3-1) In output interface, the first thing is select output folder.
3-2 Select a image format for output,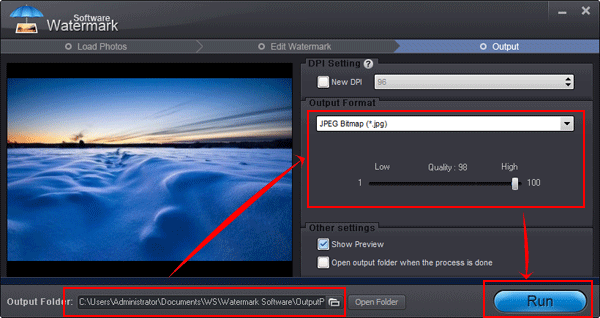 Watermark Software support all popular image formats such JPG, GIF, Animated GIF, BMP, TGA, TIF, PNG, ICO, etc.
3-3 Click "Run" to start output process with fast speed, such as watermark 100 photos will less that 1 minute.
Still have trouble on watermarking photos? Please Contact Us >>
Related Software
Watermark Software (photo edition) : This watermark tool provides professional image protecting solution for your online photos. The exclusive image processing technology lets you able to watermarking 500 photos within 1 minute.
Related Source
How Could You Add Captions to Photos - Do you know how to add captions to photos? With Photo Watermark Software, you are capable of watermarking photos by adding text and image watermarks to protect photo copyright.
How to Put Watermark on Photo - Understand photo watermark and learn how to put watermark on photo to protect online or sharing photos safety.
How to Put Words on Photo - How to put words on photo, protect your photo with free watermark software, free within one week, do not miss this opportunity.
Photo Watermark Software - Protect Your Pictures with Various Effective Watermarks
How to Put Text on Photo - Prevent your photo from unauthorized republish the effective way is put text on photo, with this page you will learn how to put text on photo quickly.
Related External Source
Adobe Photoshop is professional photo editor, and it also support watermark photos well...