How to Watermark and Batch Convert Images
A few days ago, I saw someone asked a question about how to protect his artworks online. And it seemed that he urgently wanted to know the answer. From this, I get that more and more people pay attention to protect their online property such as photos or videos. It's really a good tendency. What's more, there are also people looking for an ideal answer to how to convert their watermarked images to the suitable image format at one time. This helps save much time.
Today I'll help you learn how to watermark images with an easy-to-use watermark tool and with the same tool batch convert images as well. That is, if you can use one tool to watermark images as well as batch convert images instead of applying two separate tools.
Photo Watermark Software is considered by users as an alternative to Photoshop. It provides the simplest solution to image protection and is also a batch image converter.
Click here to download a free trial of Photo Watermark Software. You'll be amazed at its performance.
Step 1 – Input Image Files
Hit the "Add Files" button to input the images that you want to watermark and convert.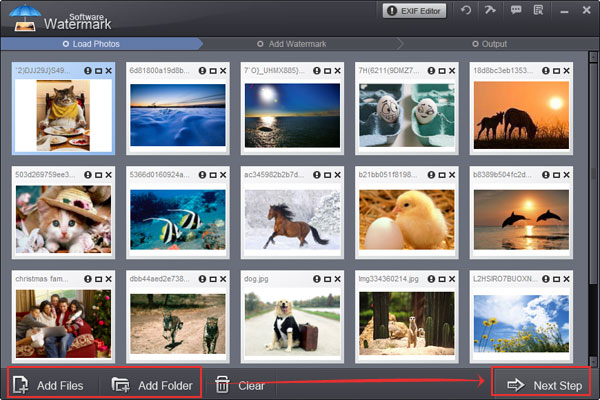 Note: You can clearly see some detailed information of these images like the image size and image format.
Step 2 – Watermark Images Flexibly
Click the "Next" button and another interface comes to your eyes. Here you could have multiple choices as you like. You can add signature to picture, add text to picture, add image to your photo or even add picture to animated GIF. Here I'd like to add some words to the images as an example.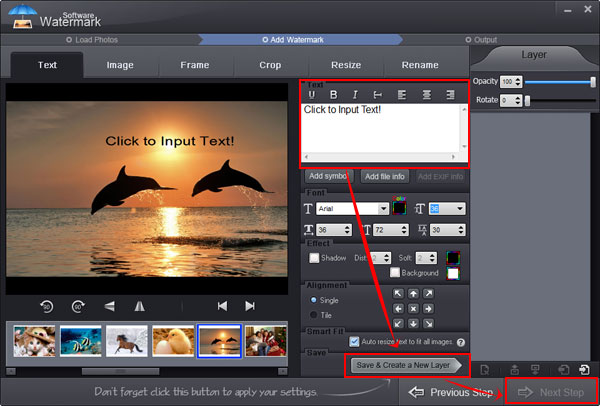 At next step, you are allowed to batch convert images.
Step 3 – Start the Whole Watermarking Process
Hit the "Next" button. Another friendly window will pop up. Here you can choose output folder and output format. That means you are able to batch convert images. Photo Watermark Software supports you to batch convert images to any pop image format like JPEG, BMP, TGA, GIF, TIF, PCX and more. For example, you are allowed to convert JPEG to BMP in batch as well.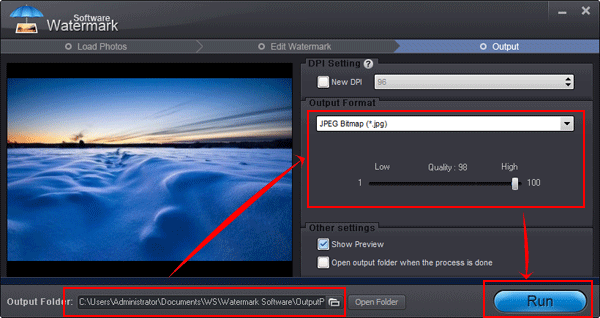 The whole process will be finished within minutes.
Still have trouble? Please feel free to Contact Us
Related Software
Watermark Software (photo edition) : This watermark tool provides professional image protecting solution for your online photos. The exclusive image processing technology lets you able to watermarking 500 photos within 1 minute.
Related Source
Batch watermark - photos to save your time
How to rename photos - in batch for better organization
Image watermark - for watermarking your photos within 3 steps
Copyright an image - with the fastest speed
Add image to video - with Video Watermark Pro
Related External Source
Batch Processing is the execution of a series of programs ("jobs") on a computer without manual intervention.
Special Offer: Watermark Software
Help you add text watermark, image watermark, logo and signature to photos without unauthorized using. The batch mode allow you watermark 500 photos in a minute.
You May Like:
Video Watermark Pro allows you to embed text, image, logo, signature and animated GIF to your video in batch mode. You are capable of watermarking video and converting video format, adding special effects to video or adding image to video as well. Download a free video watermark tool here.
SWF to GIF is easy to use software converting SWF to GIF with simple steps. You can also convert SWF to any other pop image format. In addition, SWF to GIF enables you to edit SWF file as well. Download a free SWF to GIF converter.