Often we would like to add beautiful watermark to photos in case of illegal copying. But there are times we need to remove watermark, or move watermark to other positions, or just hope to retouch the original photo. When these cases happen, watermarks will an irritating issue. So we collect all kinds of solutions to remove watermark from photo. And in the following part, we will introduce you with the better way.
First thing first, we must make it clear that the watermark can't be removed without no quality lost. That means the photo output from watermark removing, will never look exactly the same. Perfect watermark removing isn't a real thing.
On the bright side, we have some better tricks to make the effect of erasing watermark approximately. In order to do so, a related software is required. Some so-called watermark removers online are not a few. Nonetheless, most of them are not able to remove the whole photo watermark, plus some watermark removers ruin images to some extent, due to their improper algorithm to auto fill graphics in watermark part. After thousands tests, we find that Watermark Software is a fine watermark removal tool to well fix the problem.
In the rest parts, we will show you the classical ways to remove different kinds of watermarks. These ways to remove watermark can be easily done, regardless of your removing experiences. Click the below guideline links to go straight for the specific solution.

Download Editors's Rating

The newly-designed watermark software helps you to add or remove watermark from photo.
Learn More >

Picture cropping to remove watermark which is near border of image

Cover watermark with background cropping piece when background scene is alike

Apply Bokeh to remove watermark from picture when background is a bit blurred

Use Mosaic to remove text from photo when its color meets the neighbor color
Generally speaking, when a watermark is at the corner of a picture or near the border of a picture, it's strongly recommended to use "Crop" to remove watermark from images, since it's the best way to restore photo quality. All you need is three steps.
First, load the picture.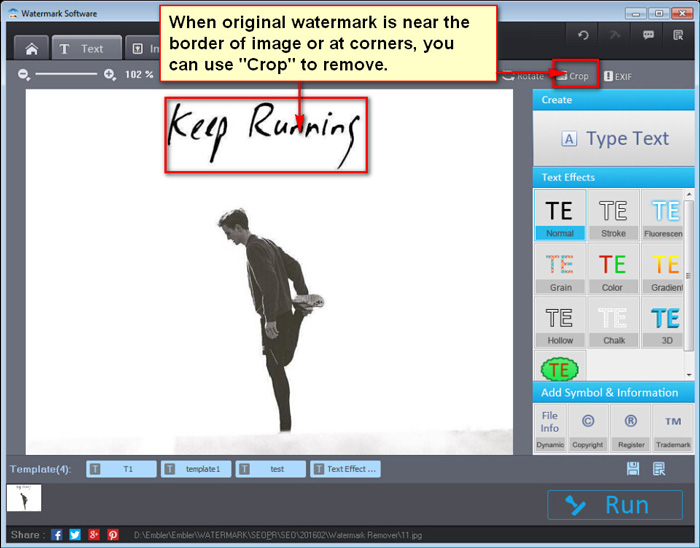 Second, use "Crop" on the right top. Drag and move the cropping line or corner to cover the signature. At last, click "Ok" to save.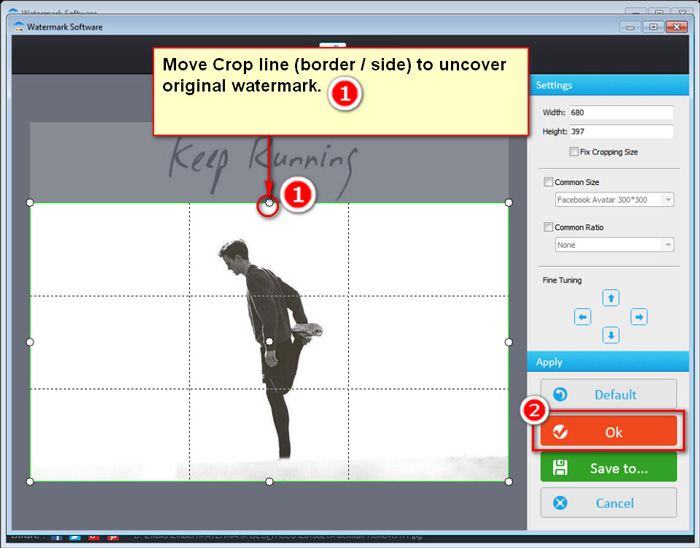 Third, "Run" the software to remove watermark from picture.
When your watermark is a small one and the background is almost the same, it's best to use covering method to overlap original watermark to erase watermark.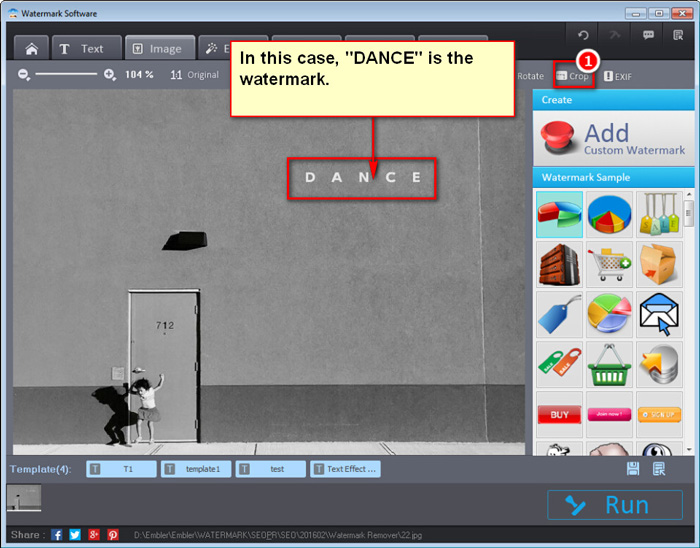 First, "Load" the watermark photos to the software. Click "Crop" to enter "Crop" window, select a background piece with the same size of original watermark. Click "Ok" to return to main interface. At last, "Run" to output the covering image watermark.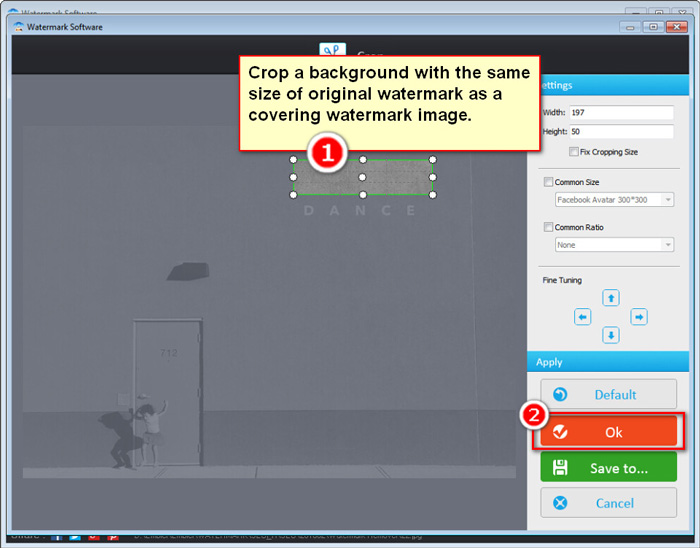 First, "Load" the watermark photos to the software. Click "Crop" to enter "Crop" window, select a background piece with the same size of original watermark. Click "Ok" to return to main interface. At last, "Run" to output the covering image watermark.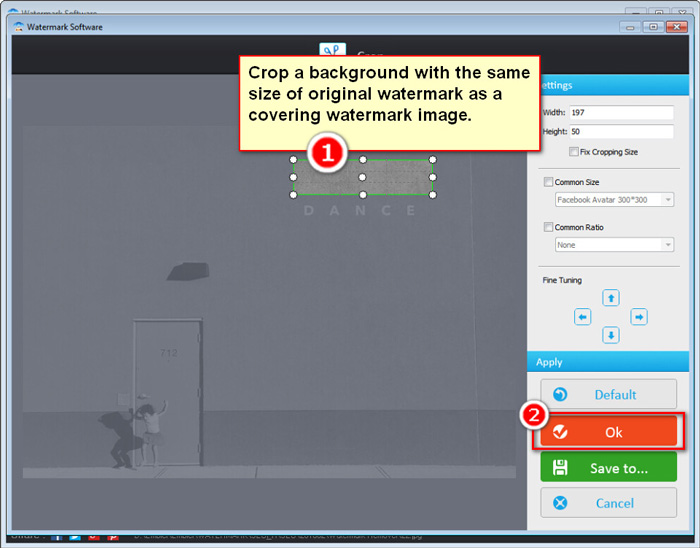 Second, click "house" and "Rebuild" button accordingly. Use "Image" mode. Then add covering image as an image watermark.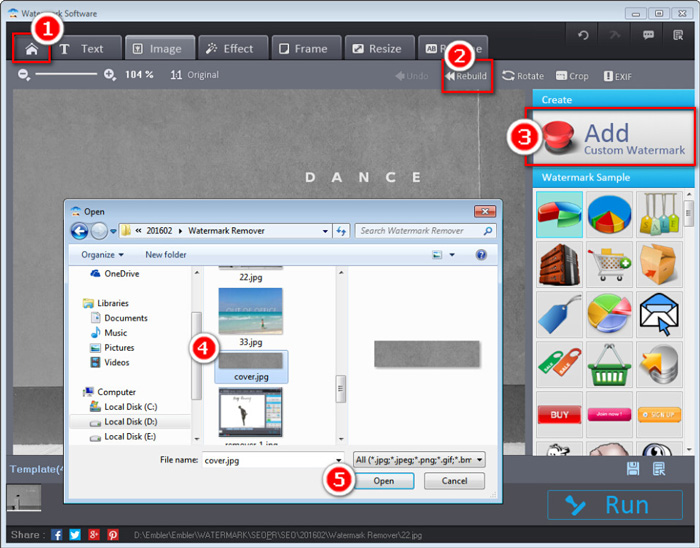 Third, drag and move the covering image to overlap original watermark. "Run" to output the photo without watermark.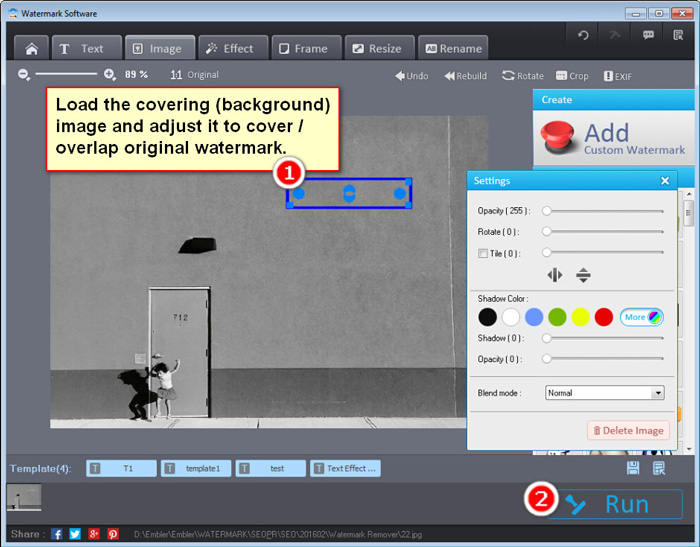 A case is that background is a bit blurring and not near the border of image. When this happens, a better way to remove text from photo is through "Bokeh".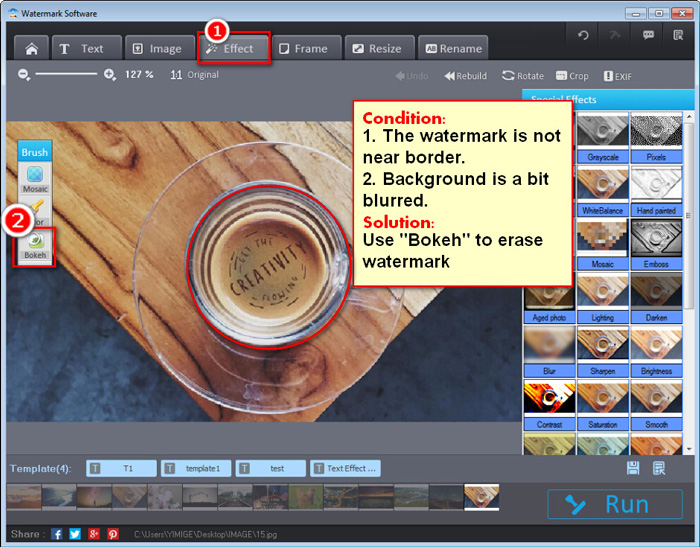 After "Load" photos, selecting "Effect" choice in the second step. Clicking "Bokeh" button, "Bokeh" window will alert. Adjust the size of the Brush and apply it on the other areas without watermark by clicking mouse. After done, "Ok" will be needed to keep the change. "Run" to output photo with no watermark.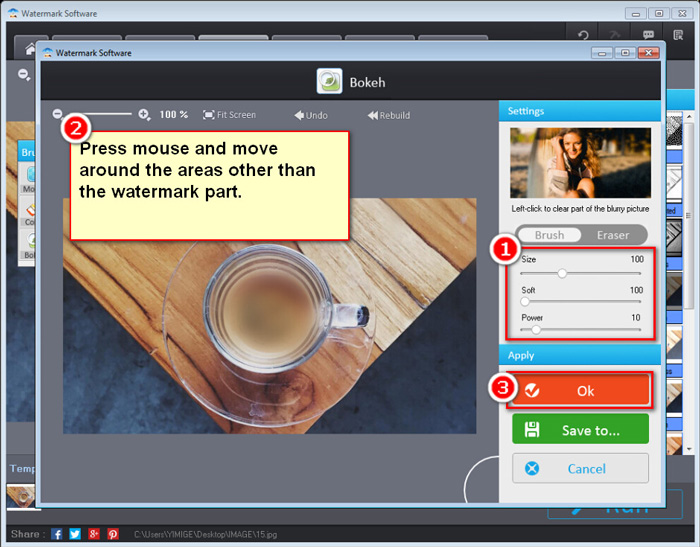 One case can be that the watermark is almost the same color. In this case, we suggest you using Mosaic to deal with unwanted watermark.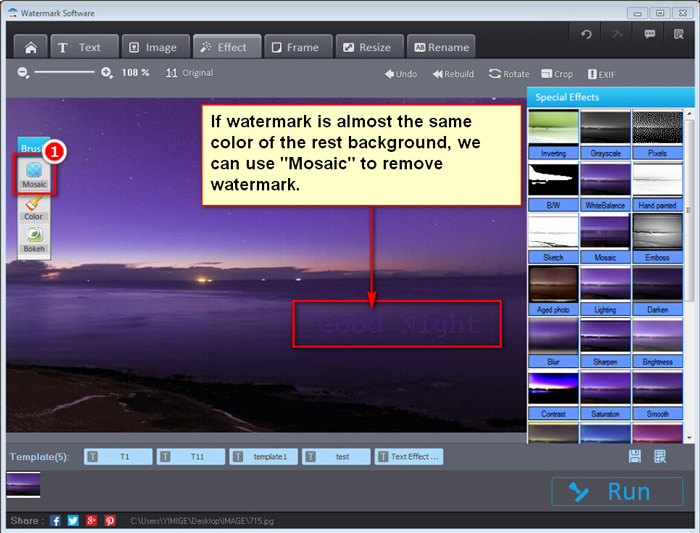 Enter "Effect" mode, press "Mosaic" to go to the window. Modify the Brush size by changing the position of the circle button on the "Size" bar. Then apply the Brush on the watermark with several mouse clicks. "Ok" is needed to save the modification. "Run" Watermark Creator to output your desired photo.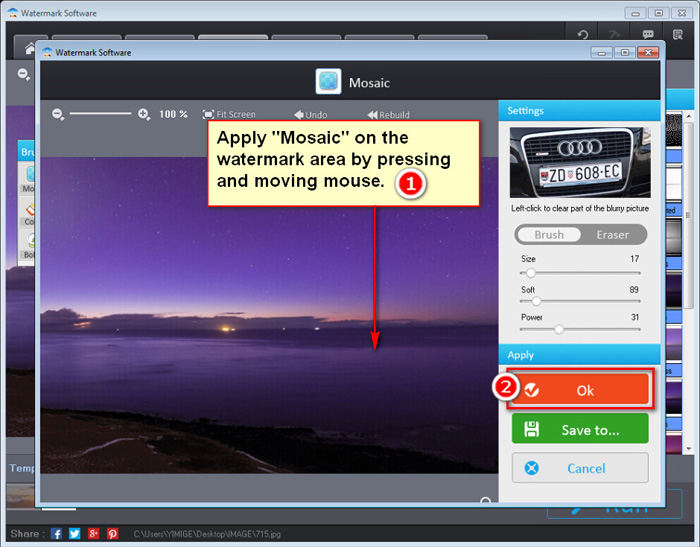 Related Software
Watermark Software (photo edition) : Above, we use the friendly Watermark Software to remove watermark from pictures. It's a nice watermark remover, which handles erasing watermarks smoothly. Besides, it supports adding all kinds of nice watermark in reverse as well as retouching photos with simple edits. It's also a batch EXIF editor and wins numerous photographers' favor.
Related Source
Picture Watermark Software - protect picture copyright quickly
How to Convert YouTube to Picture - it will be extremely easy with Video to Picture Converter, which enables you to convert all key video formats to seriate pictures or animated GIF.
Add Text to Picture - show your infotmaion on your shared pictures.
Put Logo on Pictures at Once - Put logo on pictures at once to protect your copyright.
How to Copyright Pictures - The copyright picture is protected object what holder does not would like anybody use it without his permission.
Discount Information
Special Offer: Watermark Software
Help you add text watermark, image watermark, logo and signature to photos without unauthorized using. The batch mode allow you watermark 500 photos in a minute.