Part 1: Planning a Travel and Tips
Part 2: Manage Your Travel Photos
Part 4: How to Put Text(Signature) on Photos
Planning a Travel and Tips
How fantastic it is to have a travel with all friends or family! Do you have any plan to enjoy hope, joy and nature of life? How about a driving tour? If you and your companions agree on it, here are some tips:
1. Check the certificates including purchase tax certificate, ID card and newly published map;
2. Bring water and food for emergency use;
3. Prepare a medical kit containing the medicines for dysentery and cold, especially for first aid;
4. Prepare stuff for photographing, for example, camera, camera charger, memory card with enough space and tripod.
Don't economize your fingers, just keep pressing the camera shutter, you will get many beautiful photos.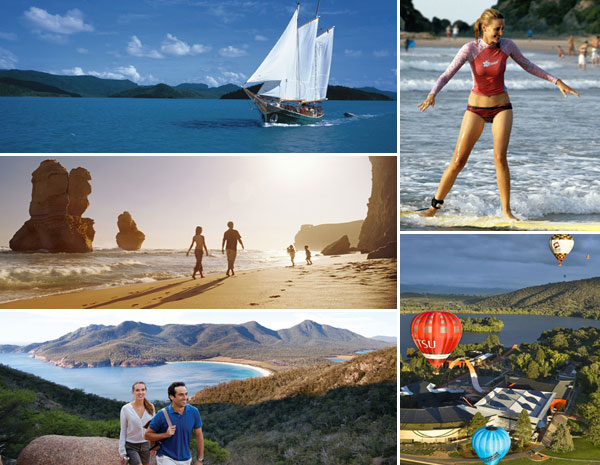 Manage Your Travel Photos
From travel back, the biggest gain are those who travel photos, maybe some day you have forgot this trip, these photos will help you remember the wonderful journey. So manage your travel photo is important thing, you can create a new folder in your computer and then put your photos on the folder, you can also print them on paper. But if you want to share your photos such as upload these photos on your Facebook, Twitter, Blog, etc. You have to keep its security, because these beautiful photos may be unauthorized copying and downloading, even fraudulent activitie.
So, the problem is... How to protect your photo. Undoubted answer is add watermark, the watermark should be your signature, logo, or any your own icons. In next segment we will keep talking signature watermark.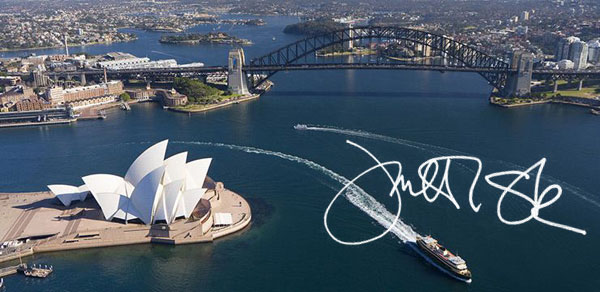 Why Put Text on Photo
We are use the internet and love the internet, but it has brought us convenience it also brings some risks, such as if you upload the travel photo on your Facebook and you did wrote an excellent travel article, maybe someone will downloading your photo and copying your article and transfer to his Facebook account or his website, when the people browse his Facebook or his website, they are never know you are the author of the photo and article, that's terrible thing, you must prevent this from happening. The one of effective way is put text on photo, that means put your name, signature or your logo on your photo, and then upload them. In this way, whoever republish your photo, people always see you text on the photo, you don't need worry about your uploaded photos be unauthorized using. The better, nobody able to remove the text from your photo, so put text on photo very important.

Ready for start:
1. Firstly please backup your original photo, because once the text embedded into photo, nobody able to remove it.
2. Download the tool watermark software(for Windows) at: https://www.watermark-software.com/products/watermark-software/watermark-software.exe

3. Install watermark software on your computer.
Full Guide for Put Text on Photo
Step 1. Load your photos by click "Add Files", and then click "Next" button to into editing interface.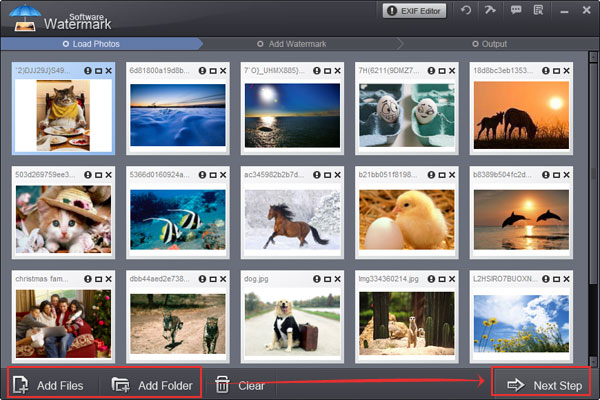 Step 2 (2-1) For start image watermark setting, please click "Add image" tag.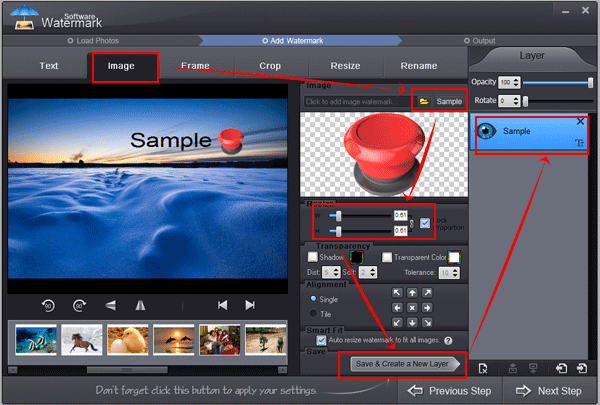 Step 2-2 Click the "folder icon" into watermark list interface.
Step 2-3 Here you can select existing watermark or load you own watermark by click "Load Watermark" button, and then click "Ok" button to apply and exit.
Step 2-4 Resize watermark and drag watermark locality which you want.
Step 2-5 Click "Ok" button to apply all of image watermark settings.
Step 2-6 Into output setting by click "Run".
Step 3 (3-1) In output interface, the first thing is select output folder.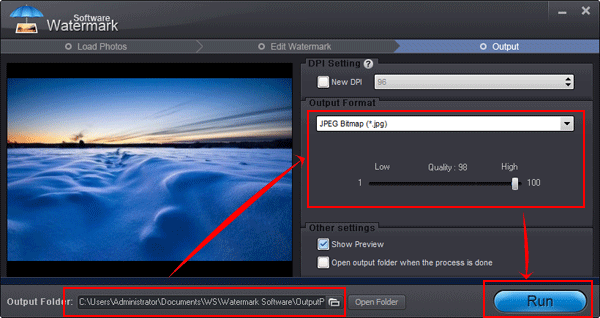 Step 3-2 Select a image format for output, Watermark Software support all popular image formats such JPG, GIF, Animated GIF, BMP, TGA, TIF, PNG, ICO, etc.
Step 3-3 Click "Run" to start output process with fast speed, such as watermark 100 photos will less that 1 minute.
Still have trouble on watermarking photo? Please feel free to Contact Us
Related Software
Watermark Software (photo edition) : This watermark tool provides professional image protecting solution for your online photos. The exclusive image processing technology lets you able to watermarking 500 photos within 1 minute.
Related Source
Add Text to Picture - to Watermarking Your Pictures
Add Text to GIF animation - in an Easier Way
Add Text Watermark - for Your Photo
Related External Source
Photography - is the art, science and practice of creating durable images by recording light or other electromagnetic radiation, either chemically by means of a light-sensitive material such as photographic film, or electronically by means of an image sensor.
Special Offer: Watermark Software
Help you add text watermark, image watermark, logo and signature to photos without unauthorized using. The batch mode allow you watermark 500 photos in a minute.