How to Rotate And Flip Horizontally

How to Rotate And Flip Vertical?
Times Needs to Rotate And Flip A Photo
Getting photos in the wrong direction, or shooting in vertical direction, you will want to rotate and flip these photos to the right position. In some situations, it's not an easy thing. Alternatively, asking help from a rotate tool, there is no big deal to flip a photo.
In the below contents, a photo software, well-known as Watermark Software will be used. As a nice rotate tool, it's convenient to accurately rotate and flip pics. To follow us in steps, simply click [Free Download] button below. The installation is automatical. Your operations shall be finished within one minute.

Download Editors's Rating

The newly-updated watermark software, rotate and flip any photo with a few clicks.
Learn More >
How to Flip Horizontally And Rotate Jpg, Png or Other Still Image?
Our very first step is to launch batch watermark tool and to load Jpgs, Pngs or other still images in. After that, the main windows presents in front of your PC monitor.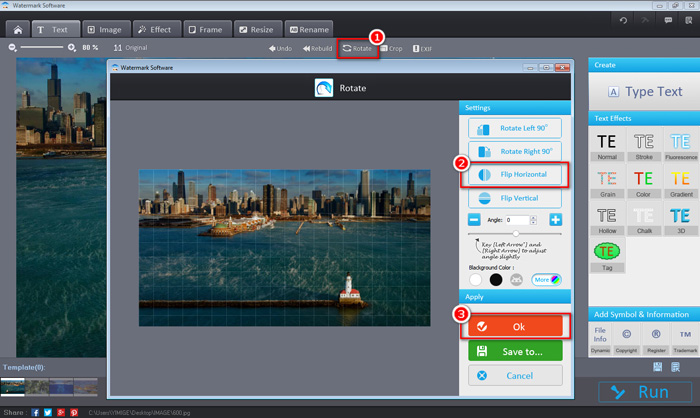 how to flip a photo horizontally
Second steps will be the part to flip horizontally. After choosing [Rotate], separate windows of [Rotate] shows. In the [Settings] section, simply click [Flip Horizontal], and then press [Ok]. Left graphics will be on the right, and original right graphics will show on the left. After that, separate windows will close and all loaded images demonstrate horizontal flip finally.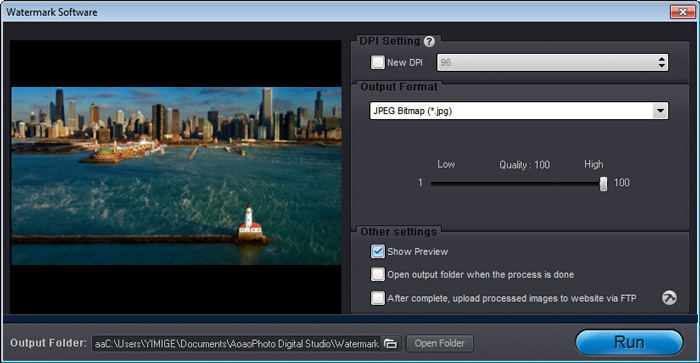 horizontal flip and rotate jpg
In the third step, simply click [Run] to enter output windows. Choose your output format accordingly. Saying, if you hope to rotate jpg, selecting [JPEG Bitmap(*.jpg)] there. While if you like to rotate png, using [Portable Network Graphics(*.png)]. In this step, you only have to select a proper format and [Run].
Using this picture converter to flip horizontally needs six clicks in total. Being familiar with the operations, you can finish the clicks in seconds.
Save Flip Horizontally to A Template
If you still find above six clicks operation irritating, this watermark creator also enables you to custom pics and save all photo edits to a template. Next time, you just need to load photos and hit your template. Whoosh, pictures flip horizontally in no time.
How to Rotate And Flip Vertical?
To flip a photo, or to flip pics vertically is also feasible and swift.
After launching photo watermark and loading photos in, a click on ①[Rotate] will take you into the windows to vertically rotate. Do nothing but to press ②[Flip Vertical] in [Settings], and use ③[Ok] to close separate windows. Merely [Run] the photo watermark software, you can output flipped pictures. As a result, vertical flip will turn upper graphics down, while the bottom images up.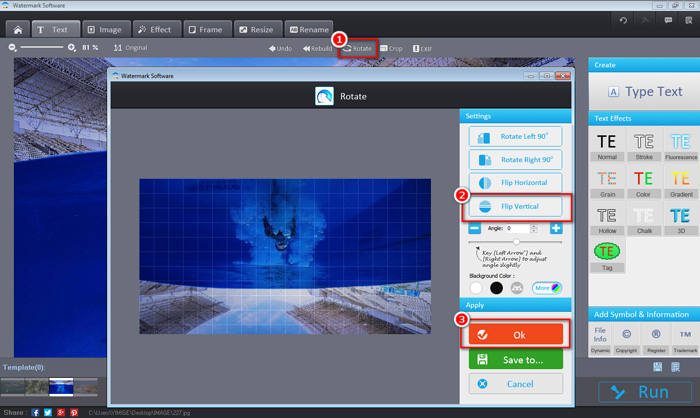 how to flip a photo vertically
Likewise, you can save your flip vertical operation as a template and save photo edits.
See? This quick tip to rotate and flip a photo is very brief, concise and easy to operate.

Download Editors's Rating

The concise watermark software, flip a photo or flip pics vertically and horizontally within seconds.
Learn More >
Submit Your Question to Us, Get an Answer within 24 hours.