Add text to pictures is common way to protecting copyright. If you are sharing your picture on website, you are at the risk of losing them. Someone would take the pictures for their own using, or malicious revised, you might never even know. So watermarking is necessary if you want to share your pictures on internet, add text to picture is easiest way to watermark your picture. When we look a picture if the picture just a picture, we can not read more from the picture, if the picture has text information like "Andy, on Apr, 12. 2011 New York's Central Park", we are able read more. So I suggest everybody add text to picture before sharing, it's real useful for you.

Part 1. Without Payments - Watermark Software Giveaway Should Have
Part 2. How to Get the Watermark Software Giveaway to Add Text to Picture
Part 3. How to Add Text to Picture
Without Payments - Watermark Software Giveaway Should Have
After making sure you should add text to picture to watermarking your picture, the next step is find appropriate software to do the watermarking process, it must have:
1. Must protect your picture copyright
It should work well on protecting pictures. Can add text watermark to your pictures, photos or digital images, Could prevent from removing watermark and stealing the photos, satisfy your basic requirements.
2. Must support different picture formats
It should support most of popular photo formats like JPEG, GIF, PNG, BMP, TIF, TGA, ICO, etc. this is very important. We do not want after adding text to picture, and switch to another program to converting the format.
3. Good quality, fast speed, and easy to use one less
a. We need the watermarked picture keep original quality, we do not hope get output pictures with low quality.
b. The software also should not spend a lot of time on the process, no one like waiting long time for anything, so batch watermarking mode is necessary.
c. Many internet users are not professional picture user, they just want to get simple software.
4. Cheap price
Good stuff is not cheap, but, nothing is impossible. I want to get free watermarking software, HAHA.
Watermark Software is professional picture watermarking program for protect online picture's copyright. It can add text watermark, image watermark, logo and signature to photos without unauthorized using. Watermark Software also support batch mode, the process of adding watermark to 500 pictures will less than 1 minute.
Watermark Software giveaway now, it's real free for every users. Hold opportunity, the giveaway up to end of this month.
Get free license key of Watermark Software by below steps:
1. Download the software to free trial: https://www.watermark-software.com/products/watermark-software/watermark-software.exe
Tips: unregistered version will put "DEMO" on output pictures, but have not function limitations.
2. If you like the software, please send email to support@watermark-software.com to request a free license key.
Tips: giveaway version does not support live update, no technical support. Registered user will get free live update, free technical support, license key get back and 30-day money back.
Supports Windows 8.1 / 8 / 7 / Vista / XP / 2000 / ...
If you don't have the installation file of Watermark Software, download it:

Step 1
Load your photos to list and go to next step.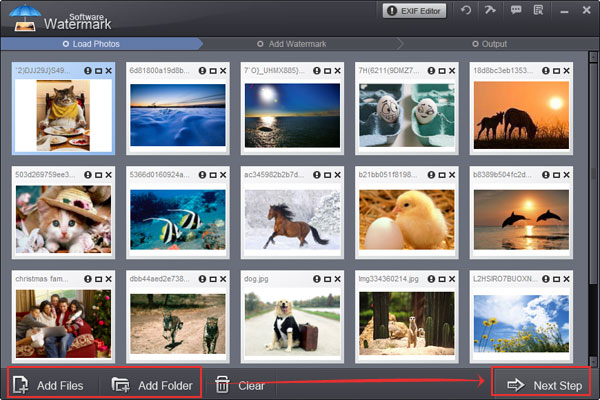 Step 2
Photo watermark setting
1) Click the tag to image watermark setting interface.
2) Load your own watermark by clicking yellow "Folder" button.
3) You can also choose our watermarks by clicking "Sample" button.
4) Apply all settings, click "Save & Create a New Layer" to save current settings. You can also save the project for next using.
5) Go to next step.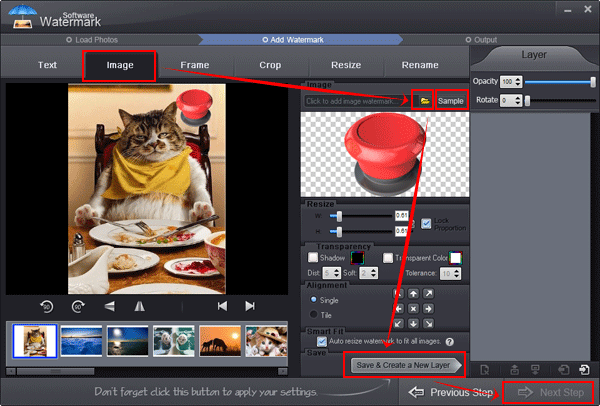 Step 3 Output process.
1) Select output folder.
2) Set output image format and set quality.
3) Start output process, the speed of process so fast, put watermark on 100 photos less than 1 minute.
Tips: after process done, the software will popping up output folder.
Still have questions on add text to pictures? Please feel free to Contact Us
Related Software
Watermark Software (photo edition) : This watermark tool provides professional image protecting solution for your online photos. The exclusive image processing technology lets you able to watermarking 500 photos within 1 minute.
Related Source
Put text on photo - prevent your photo from unauthorized republish the effective way is put text on photo
Add text watermark for your photo - to protect your photo's copyright and deliver your thought all over the world
How to add text to GIF in an easier way - if you want to know how to add text to GIF, the best watermark software will help you
Add text to picture - brand your work
How to add signature to picture - there are mainly two types of adding signature to picture thats text watermark and image watermark.
Related External Source
Digital watermarking A digital watermark is a kind of marker covertly embedded in a noise-tolerant signal such as audio or image data.
Special Offer: Watermark Software
Help you add text watermark, image watermark, logo and signature to photos without unauthorized using. The batch mode allow you watermark 500 photos in a minute.