Bokeh photography to build picturesque scenery can be realized, either with professional camera shooting skills, or with the help of a bokeh software. Keep reading and find the ways to create dramatic bokeh effects.
Bokeh tips commonly applied in picturesque photos, bring differences and unusually visual shocks. Bokeh photos can take the nature to viewers, while keeping some mysteries by blurring. It brings viewers in a situation where they only know some factors, while still much enjoyable. Below is all about how this widely used technology can help you catch blurring picturesque scenery with DSLR cameras or create them in Bokeh software - Watermark Software.

Download Editors's Rating

The newly-designed watermark software, protect and retouch your photo & video all with a few clicks.
Learn More >
We introduce three different skills in shooting to capture better blurring effect. Also, mentioning the ways to create the similar blurring effect in a useful Bokeh software. Choose your preferable method to create spectacular photo.

Part 1: SGetting closer to single little object to blur

Part 2: Moving vertically to catch blurring of forest or subject set

Part 3: Adding Sunshine to blur
Bokeh Tutorial Tip 1 - Getting Close to The Subject.
Small or singular subject, like flower or insect, can get a magical view if shot in a micro closing distance. It compels us to look at things in totally different angle. This way must be done by professional shoots on DSLR camera. A subtle shake in shooting or improper distance will ruin the effect. Patience and practice is a must.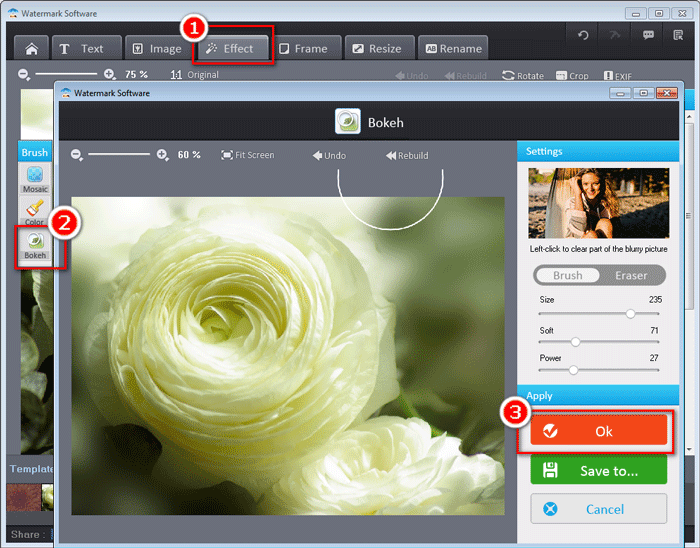 Bokeh software processes single subject photo
If you don't have a DSLR camera or simply can't shoot it right, another way to make the same Bokeh image is through a Bokeh app - photo signature software.
 1.Load clear picture into the watermark photos software,
 2.Find "Effect" > "Bokeh", adjust Brush's "Power" and "Size" to apply,
Then you can get Bokeh photo by running the application.
Bokeh Photography Tutorial Tip 2 - Blurring Photo Vertically.
Given the condition that you are about to shoot tropical forest( multiple trees or similar subjects ), your best chance can be grasping the following tips to realize surreal Bokeh effect: Choose slower shutter speed to shoot, vertically panning DSLR camera right off the bat. It will create a kind of ethereal effect. Again, "no pain no gain" also works for this shooting, which requires excellent shooting skill.
Likewise, if you can't make it in a short period of time, you can refer to batch EXIF editor, which is capable of creating the similar effects.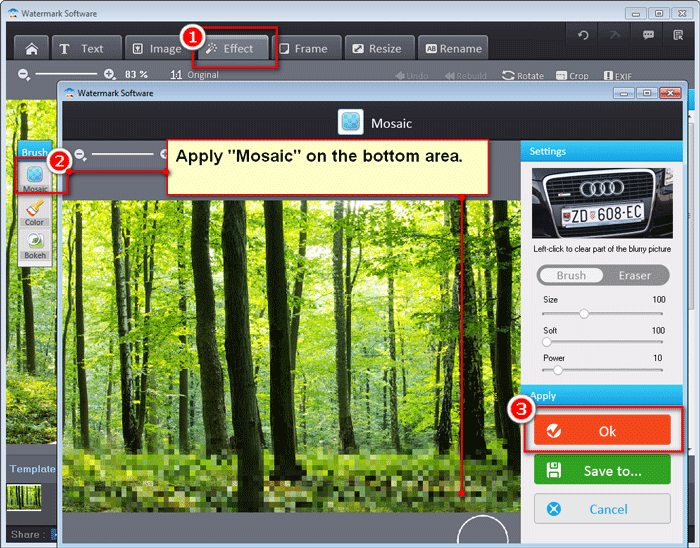 Using bokeh app to realize forest photo bokeh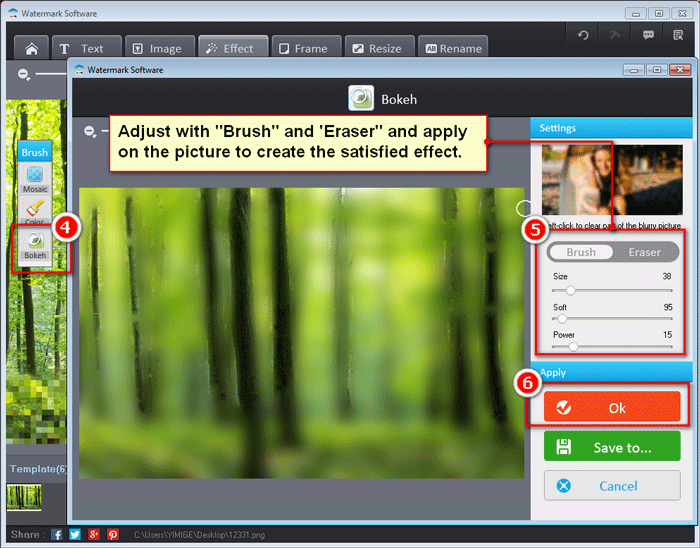 Using bokeh app to make picturesque scenery
Simple operations will be like:
 1.Load tropical forest picture into the photo watermark,
 2.Apply "Mosaic" in the bottom fields,
 3.Apply "Bokeh" to make better picturesque scenery.
After the steps, photo bokeh will be output immediately after you run the software.
Bokeh Photography Tutorial Tip 3 - Let Enough Sunshine In
Picturesque scenery always has one key essential - warm sunshine. When sunshine flies above the subjects, the scene brings beauty and warm. Shooting this kind of scene, you should never shoot along the direction of sunshine, or it will fail your camera. Nor using any filter, since you won't want to see flares on your photos. Simply shoot when sunshine falling on your back, or shoot on sunrise or sunset.
Bokeh software, like batch watermark, can also develop the similar sunny scene easily.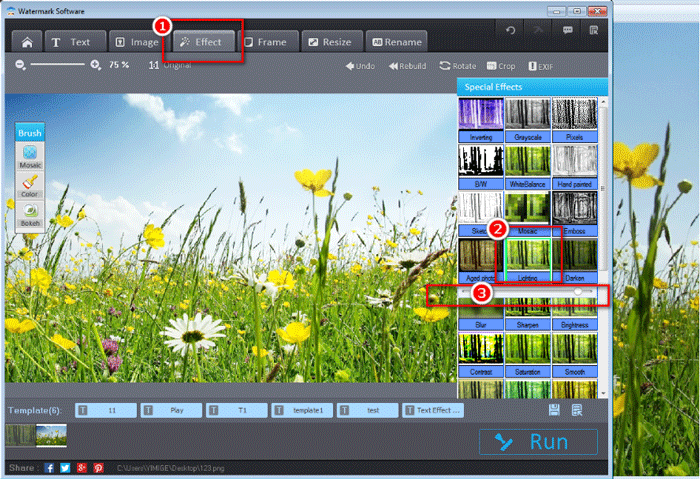 Control the lighting degree in a bokeh image
The fast way to generate more lights on subjects will be:
 1.Load the picture into the image software.
 2.Select "Effect" > "Lighting" and drag and move lighting bar.
Run the software to get the brighter picture.
Submit Your Question to Us, Get an Answer within 24 hours.