Nowadays, people like to deliver their digital photos and pictures onto the Internet, and then share them with their family and friends. However, lacking protection, their pictures may be spread without authorization. In order to protect these pictures not to be used illegally, you need to cultivate a habit of watermarking photos. There are kinds of photo watermark software in the market at present. But Photo Watermark Software can be the best one. Now, you can follow the tutorial below step by step to learn how to add captions to photos. You will be satisfied with its performance.
Step 1 – Launch Photo Watermark Software and Add Photos (Click Here to Download)
First you need to install this wonderful photo watermark software and then open it immediately. After that you will see a simple friendly user interface from which you can understand what to do at a glance. Next you need to press "Add Files "button to choose which photos should be watermarked. Then, click "Next "button to go to step 2.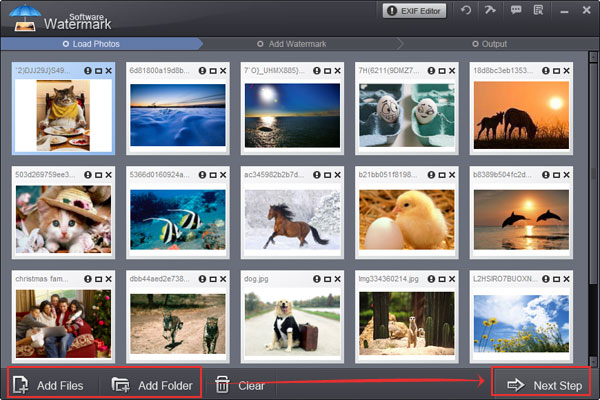 Step 2 – Click "Add Text" Button to Add Captions to Photos
After choosing some photos, you can start adding captions to photos. Moreover, it's also available to crop, resize or rename original photos.
Click "Text Setting" button. You need to type captions in the blank and then select current font, change font size as well as set font color. In addition, you are also able to shadow your captions or add background color to enrich your captions. If all have been finished, click "Apply "button.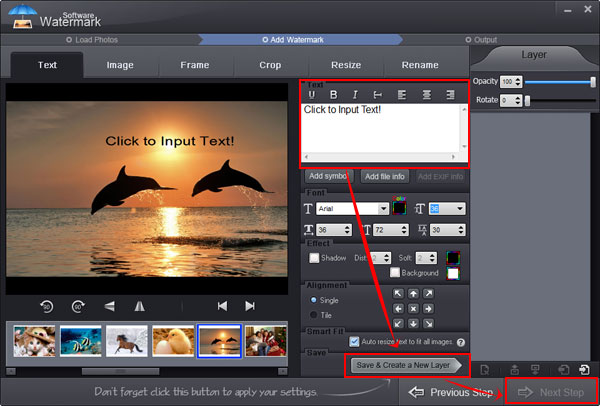 Note: Photo Watermark Software not only helps you control the opacity of your captions but also allow you to add more than one text layer. In other words, you can add different text watermarks to the same photo and place them wherever you want.
Step 3 – Click "Next "Button and Select Output Folder
Click "Next" button. You'll see another window. Here, you need to select an output folder. Moreover, if you want to change your photos' original format, this watermark software will satisfy you. Converting your photos to various pop formats, such as JPG, BMP, TGA, PCX, etc is OK. At last all you need to do is to press the big blue "Run "button. All tasks will be accomplished well in minutes. See the following picture.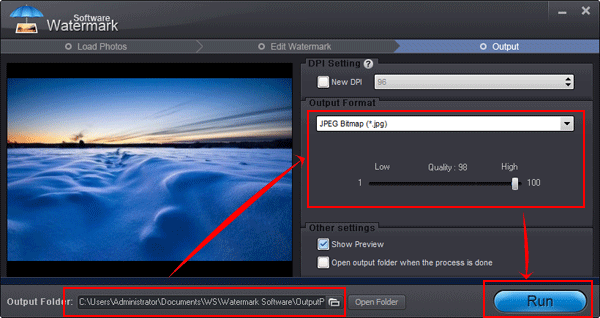 Still have questions on adding captions to photo? Please feel free to Contact Us
Related Software
Watermark Software (photo edition) : This watermark tool provides professional image protecting solution for your online photos. The exclusive image processing technology lets you able to watermarking 500 photos within 1 minute.
Related Source
How to add signature to picture - actually there are mainly two types of adding signature...
Add text to picture - to watermarking your pictures
Add text to GIF - in an easier way
Put text on photo - prevent your photo from unauthorized republish the effective way is put text on photo
Related External Source
Photography is the art, science and practice of creating durable images by recording light or other electromagnetic radiation.
Special Offer: Watermark Software
Help you add text watermark, image watermark, logo and signature to photos without unauthorized using. The batch mode allow you watermark 500 photos in a minute.