Part 1. Protect Image Copyright to Upload Your Photo on the Internet
Part 2. How to Protect Image Copyright
Part 3. How to Protect Your Image Copyright with Watermark Software
Protect Image Copyright to Upload Your Photo on the Internet
What is the first thing you do when you upload your photos to sharing websites? Spread it as possible as you can? Make your photo looks better? Or just leave it alone there? There is one thing that you should pay your attention to. Your photos on the Internet may be used as bad influence stuff that you don't know. And maybe your special photos will never be special for a lot of unknown people will copy your photos from Internet and use as their own photos. Have you ever consider protecting your image copyright? I believe you do, but maybe don't have any clear ideas on how to do that.
How to Protect Image Copyright
It's not difficult to protect your image or picture when you share it on the Internet. The easiest method is to add image or text watermark on your image or photos before you upload them to some websites. You can design your own image watermark or text watermark as you like. No matter what kind of image formats they are, you can add watermarks on them quickly. Is it a funny thing to do? You can create your own style watermark on your image or even edit image size, etc.
But actually you can't do it without some watermarking programs' help. So, here I will introduce you some methods to choose a right watermark software program as there are a lot of watermark software on the Internet. When you choose watermarking software, the most important thing is to know what that software can give you. What can you do with that software? Is it easy-to-use? What are other users' reviews about it? And what's the price if it is a shareware? Compare these factors, integrated all elements above, you will easily find the most suitable watermarking software.
If you don't have enough time to choose, I can recommend you some great watermarking programs for you. They are all very excellent with easy-to-use interface and powerful functions.
Among them, a software named Watermark Software should be the best one. It is the professional watermarking software which upgrade frequently according to users' feedbacks. It is the easiest solution for most users to protect image copyright. It owns a lot of abilities on watermarking. You can learn more information about this perfect watermark software here: http://www.watermark-software.com/
This software is the easiest program I have ever used. Its user tutorial is very easy to get the point. If you still have any question, you can easily click the link below to consult the online guide. http://www.watermark-software.com/tutorial.html
Step 1 Load Photos to Program
Download and launch, choose photos which you want to apply image watermark and click "Next" to editing window, then, click "add image" to go to image watermark editing interface.
Step 2 Add Image Watermark to Photos
Select existing watermark image provided by Watermark Software or new image from your hard disk. Click "Browse" button to select new image watermarks from hard disk, click "OK" to apply all of changes.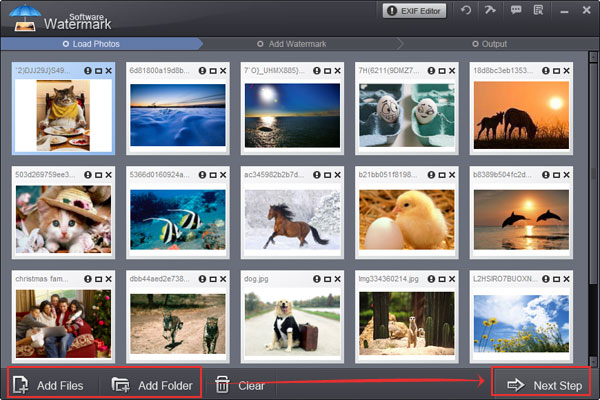 Step 3 Edit Image Watermark
The simple interface will tell you how to adjust aspect ratio of watermark (Default: W=1, H=1), selected lock box to binding width and height for your photo. You can adjust "Opacity" (0-100) and adjust "Rotate" (0-360) as you wish. You can choose "Single" or "Tile" to place you text watermark on images, "Single" is to place one text on images, "Tile" is to fill full text on images ("Tile" is a strong way to protecting image copyright). "Alignment" setting is to control image watermark's position over photos.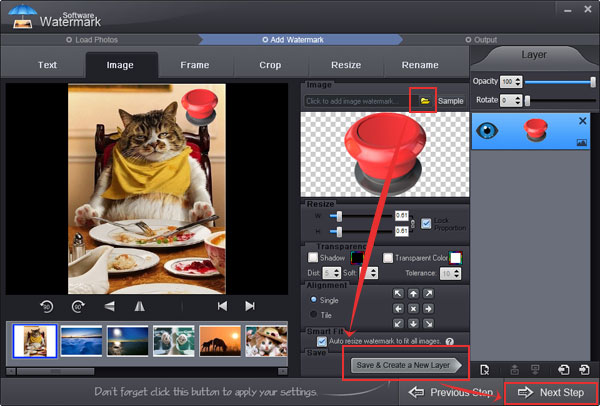 Step 4 Start Processing Photos
Click "Next" after you finish all your settings, you will come to output interface. Specify video format and output folder. At last, click "Run" button to start conversion. The whole watermarking process will be OK with a few seconds.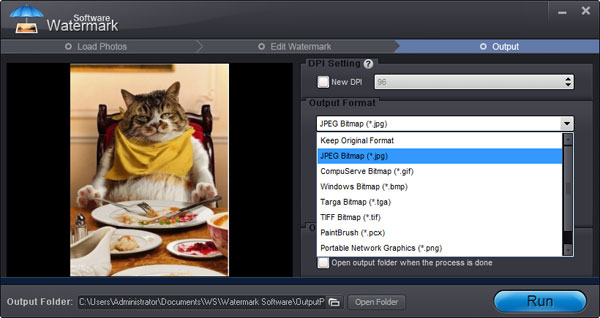 Click Watermark Software to know More about Watermark Software.
Still have trouble on image protection? Please Contact Us >>
Related Software
Watermark Software (photo edition) : This watermark tool provides professional image protecting solution for your online photos. The exclusive image processing technology lets you able to watermarking 500 photos within 1 minute.
Related Source
Image Protection - how to protect shared image
How to Copyright an Image - use photo watermark to protect your photos' copyright with the fastest speed
How to Copyright Pictures - The copyright picture is protected object what holder does not would like anybody use it without his permission.
Copyright watermark - for strong photo protection
Related External Source
Special Offer: Watermark Software
Help you add text watermark, image watermark, logo and signature to photos without unauthorized using. The batch mode allow you watermark 500 photos in a minute.