Part 1. Add Watermark as Information to Your Photos
Part 2. How to Add Watermark into Your Photo? (Detailed Guide)
Step 4. Apply watermark on photos
Add Watermark as Information to Your Photos
Now here, we said add watermark means put digital text, signature, image, log to photos in order to achieve the purpose of protecting them. According to Wikipedia, digital watermarking is the process of possibly irreversibly embedding information into a digital signal. The signal may be text or images. If the signal is copied, then the information is also carried in the copy.
Actually, there are two types of watermarking, visible and invisible. The visible watermark will display on the photos. Typically, watermark may be text or an image which identifies the ownership of the picture. Visible watermark on a picture can be seen directly by anyone who views this picture.
The invisible watermarking is a little complicated, the copyright information is added as data to picture, but it cannot be perceived. EXIF Copyright protection system is an important application of invisible watermarking, which is intended to prevent or deter unauthorized copying of digital picture.
Usually, we add watermark means we put the visible watermark information into photos. The information means the difference between the watermarked signal and the cover signal. The signal where embedded the watermark be called the host signal. Usually, a watermarking system is divided into three distinct steps, embedding, attack and detection. In embedding, an algorithm accepts the host and the data to be embedded and produces a watermarked signal.
Anyway, digital watermark could be text, pictures, images or something else which could be embedded into your photos for protecting your photo copyright; we also call it copyright information.
Add watermark to your photo is very easy if you choose a right watermarking tool, here we use Watermark Software to guide you how to add watermark to a photo quickly.
Note: This software also allow you to embed invisible watermark data into photo.
Step 1, Start.
Click here to download Watermark Software, and then launch it.
On its main interface, click "Add Files" to load pictures which you want to watermark, click "Next Step" to its editing window, and then click "Image" tag to start edit image watermark.
Note: you can also drag your photos to the main interface.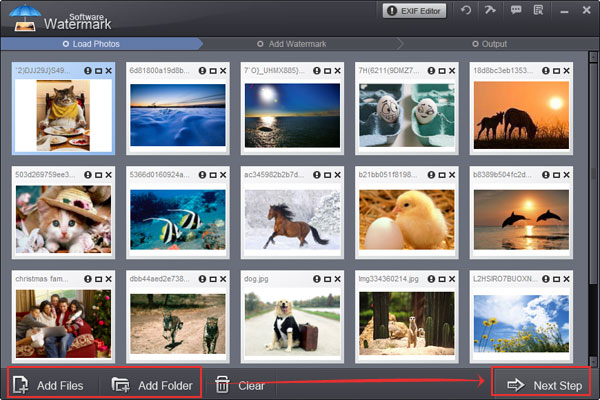 Step 2, Add Image Watermark(there are 6 useful features for photo)
Select a logo/image from your hard disk by clicking "Folder" icon. Click "Sample" for selecting an existing watermark image from free watermark materials provided. After that, click "Save & Create a New Layer".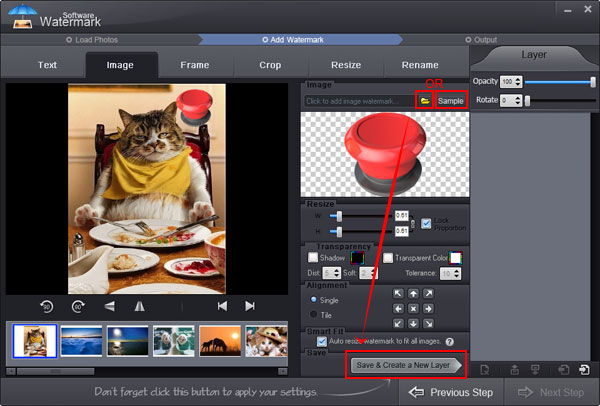 Step 3, Edit More on Image Watermark
With its intuitive interface, you can also customize image watermark effortlessly. Here you can adjust aspect ratio of image watermark (Default: W=1, H=1), adjust Opacity for your need (0-100), rotate image watermark for your need (0-360) and drag watermark directly over images to position it.
You can choose "Single" or "Tile" to place you text watermark on images. (Single is to place one text on image, tile is to repeat watermarks on image. Tile is a strong protect copyright mode.)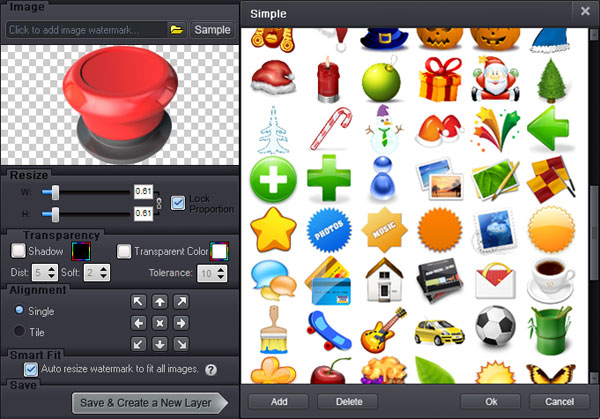 Step 4, Start Watermarking Images
Click "Run" after you finished your editing. The whole process will be OK in seconds.
Now, click to have a free try of this powerful watermarking program to protect and brand your photos.
Still have questions on adding watermark? Please feel free to Contact Us
Related Software
Watermark Software (photo edition) : This watermark tool provides professional image protecting solution for your online photos. The exclusive image processing technology lets you able to watermarking 500 photos within 1 minute.
Related Source
How to add signature to picture - there are mainly two types of adding signature to picture thats text watermark and image watermark
How could you add captions to photos effectively
Add image to video - with Video Watermark Pro
Add text to picture - to watermarking your pictures
Add effects to video - in a better way
How to add picture to GIF - with easy-to-use picture watermark software
Add text to GIF - in an easier way least time
Related External Source
Add Watermark Android Apps on Google Play
Special Offer: Watermark Software
Help you add text watermark, image watermark, logo and signature to photos without unauthorized using. The batch mode allow you watermark 500 photos in a minute.