The copyright picture is protected object what holder does not would like anybody use it without his permission. The idealess situation is adding watermark to pictures which means during the watermarking process without quality lost and resize.
You need proper picture watermark program to accomplish the job. You can find it via search keywords "watermark software", "picture watermark software", "a software for copyright pictures"... on Google.
The name of Watermark Software is best one of them, it able help you copyright pictures with little times and support add text watermark, image watermark, logo, sign to pictures for protect the pictures without unauthorized using. Watermark Software has simple operating step let you watermarking pictures within 3 steps, the better is process of watermarking over 500 pictures less than 1 minute.
I do not want to you lose your original pictures from operating errors, so the first thing please backup your original picture to another folder or portable storage like USB flash drives, actually you should have habit of backup original files.
The process of add copyright to picture is irreversible. Once your pictures are watermarked, you can not longer get the original pictures, so backup originals is requisite.
As we know Watermark Software is the proper picture watermark program for copyright pictures, so the second step is finding the program and installing it to your computer. Here are two ways to find Watermark Software:
1. Directly visit the website: http://www.watermark-software.com/
2. If you can not remember the domain name, you can find it from Google, input words "watermark software" and click search button and click top 1 item.
Here you can download the program at below button

Install Watermark Software to your computer after downloaded and keep reading how to copyright pictures with the program.
1. Launch and load your pictures, and then click NEXT button to continue.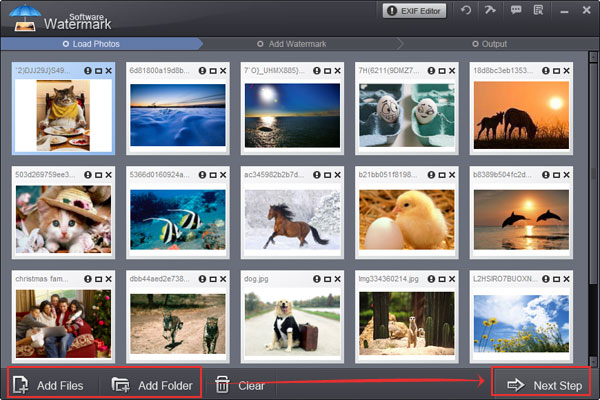 2. Central step - set your watermark(s)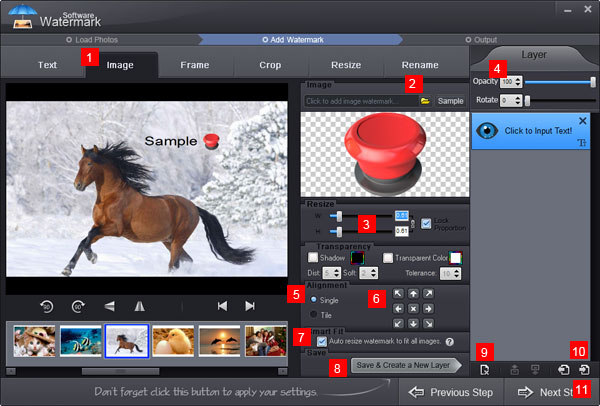 2-1 Here are 6 tags include "Add Text", "Add Image", "Add Frame", "Crop" "Resize" and "Rename". Click "Add Image" tag.
2-2 Click the folder icon or double click the umbrella icon to open watermark loading interface. In the watermark loading interface, you can select watermark to copyright pictures or loading your own watermark, loaded watermarks will save to User-defined category.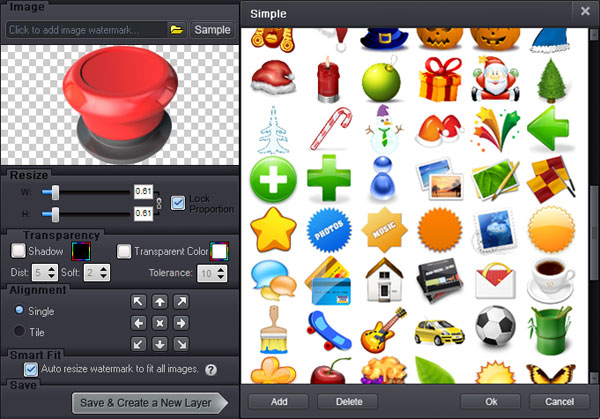 2-3(optional) Resize your watermark.
2-4 (optional) Adjust opacity and rotate watermark.
2-5 (optional) Arrangement with two modes.
2-6 Arrangement, you can also drag watermark to a locality which you want.
2-7 (option) Auto resize watermark for batch mode. If you have add copyright watermark to lot of pictures, selecting the box you will get watermark resize automatically adapt each picture size.
2-8 (important) Click "Ok" button to apply all of settings.
2-9 (optional) Save current settings to single file for next using and load the file.
2-10 (optional) Create new text watermark and image watermark or delete them.
2-11 (optional) Click "Run" button to continue.
3. Output setting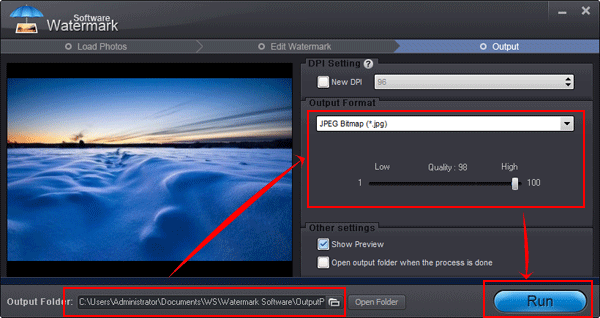 3-1 Select an output folder for save copyrighted pictures.
3-3 Choose output format from all popular image formats.
3-3 Click "Run" button to start output process, if you add watermark to 100 picures, just waiting less than 1 minute.
Sample: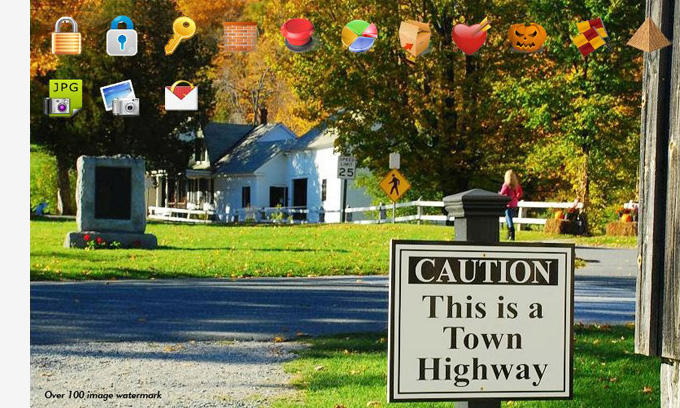 Still have trouble on copyright pic? Please Contact Us >>
Related Software
Watermark Software (photo edition) : This watermark tool provides professional image protecting solution for your online photos. The exclusive image processing technology lets you able to watermarking 500 photos within 1 minute.
Related Source
How to copyright an image - the best and simplest solution to help you batch watermark hundreds of photos in 1 minute.
Add copyright watermark to your photo
Protect image copyright - when you upload your photo on internet
How to add text to picture - is simple and easy as a piece of cake
How could you put logo on pictures at once - you need this easy-to-use batch watermarking tool
How to add picture to GIF - as a watermark (real animated GIF image)
Add text to picture to watermarking your pictures
Related External Source
Copyright is a legal concept, enacted by most governments, that grants the creator of an original work exclusive rights to its use and distribution, usually for a limited time...
Special Offer: Watermark Software
Help you add text watermark, image watermark, logo and signature to photos without unauthorized using. The batch mode allow you watermark 500 photos in a minute.