Part 1. How to Create Bokeh Effect on a Photo?
Part 2. Several Clicks, Create Your Bokeh Photo Effects
Part 3. Not Over Yet, More Big Surprises!
In photography, bokeh is a common means to reflect the aesthetic quality of the blur, which is produced in the out-of-focus parts of a photo shot by a lens. It is a very recognizable technique and is being learned and adopt by photographers. Bokeh aims to make certain subject of the photo stand out from the background.
In our daily life, people without skilled photography, are more inclined to add bokeh to photo by means of some bokeh effect software like PhotoShop for beautification and aesthetic enhancement in post-production. But you know, for general user, it may be not the right tool due to complex operations and outrageous price. Another most common case is, I bet most of you have taken some plentiful "frustrated" photos with unwanted visitors or messy stuff in the background. They may screw up your photogenic pose and performance. So you can certainly make a background bokeh and emphasize yourself to rescue those perfect shots you are reluctant to abandon. Thus, the bokeh effect photo editor emerges as required.
How to Create Bokeh Effect on a Photo?
A clean and lightweight bokeh photo editor - Watermark Software is the shortcut to fast edit pictures with bokeh. Compared to those bulky and costly photo editors, this handy bokeh filter is more suitable for general users at all levels of experience, even you're a beginner. Without complicated operation and difficult steps, making bokeh photo effects is much easier than you think. Free Download and install this bokeh effect editor on your Windows PC, then follow the simple steps below.
Several Clicks, Create Your Bokeh Photo Effects
Step 1
Launch the bokeh picture editor, import your photos by clicking "ADD IMAGES" or "ADD FOLDER". Then you will be taken into the main interface. There is one more amusing design that the main background picture will be changed once you re-open this program.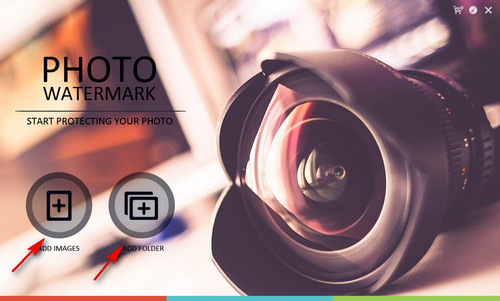 Run Watermark Software
Step 2
Press "Effect" tab on the top navigation bar and hit the bokeh filter "Bokeh" on the left to open the editing workplace window.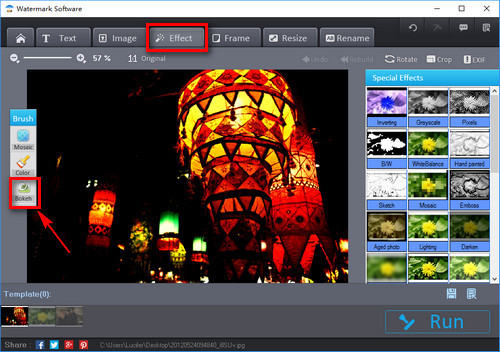 Enter Bokeh Settings
Step 3
You'll find the photo becomes blurring and mouse cursor turns into a circled bokeh brush. Paint the part you want to highlight and click OK to apply & return to main interface. Then press "Run" button in the bottom right corner.
Tips: Make use of the setting tools on the right to adjust the brush size, background bokeh power and the level of edge feathering. Use "Eraser" to optimize your operation, meanwhile correct the irreparable errors by clicking "Undo" or "Rebuild".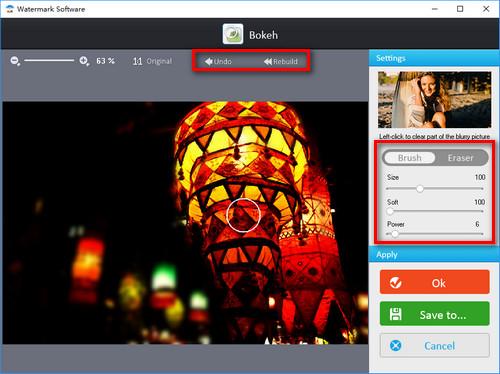 Add Bokeh Effect to Photo
Step 4
Specify your output folder path and output format, then hit "Run" button to start to create your bokeh photo effects.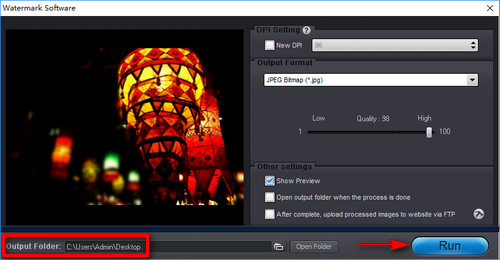 Output Bokeh Photo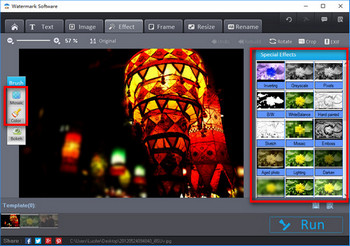 Choose Other Special Effects If Possible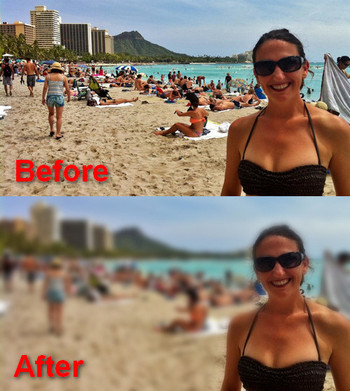 Before and After Comparison
Likewise, blurring unwanted people as well as giving prominence to yourself is no longer a problem. Just repeat the steps above to quickly and easily resurrect your castoff pictures. After that, go ahead to audaciously share your photos on social medias.
Now, please download the watermark software to complete your jobs.
Not Over Yet, More Big Surprises!
You see, creating bokeh photo effects is as easy as a pie. Besides, this handy bokeh picture editor is not limited to this. As its name implies, it's also a one-stop photo watermark software to retouch and protect your photos all with a few clicks.
1. Create text/image watermarks with rich fonts, symbols, shadow and effects. That means you are able to batch add copyright information like signature to photos, put logo on pictures, etc for images credit.
2. A photo beautifier that empower you to make photos eye-catching by decorating and gussying up images with abundant effects, such as adjust color tones, catch picturesque scenery, etc.
3. It is quite qualified for a simple photo editor which enables you to convert photo formats, resize photos, rename photos, add frame to photos and more.
More amazing features are waiting for you to explore. Can't wait to have a try? Don't hesitate to Free Download this bokeh effect picture editor and get started!