Attention! You may face the risk of being stolen by someone out there and used without your permission when you're sharing your photos on blog or Facebook. While as the symbol of your photos, a watermark is in a position to well protect them from illegal use or dissemination. It's quite the thing nowadays.
How will you choose a photo watermark software? You may be rather familiar with Adobe Photoshop, the leading image processing software. The images, watermarked by Photoshop, have a wonderful effect. But the case against is twofold: too expensive and too inconvenient.    It is not cheap, at the price of varying from dozens of dollars to hundreds, as you get what you pay for. Furthermore, how to add watermark in photoshop is a cumbersome process. Click to view the tutorial on how to make a watermark in Photoshop: https://clickitupanotch.com/2014/03/how-to-make-a-watermark-in-photoshop/
Apart from Photoshop, other image processing softwares emerging on the market not aim at photo watermarking exclusively. Compared with Photoshop, Watermark Software, for only $24.90, did even better. The tutorial below will walk you through the simple way to use Watermark Software to add a watermark to your photos.

Download Editors's Rating

The newly-designed watermark software, protect and retouch your photoall with a few clicks.
Learn More >
Protect Your Photos with a Watermark after Only a Few Easy Steps(Load Photos>Add Watermark>Output)
Step 1. Load Photos (Batch Watermarking Mode)
1. Load Photos (Batch Watermarking Mode)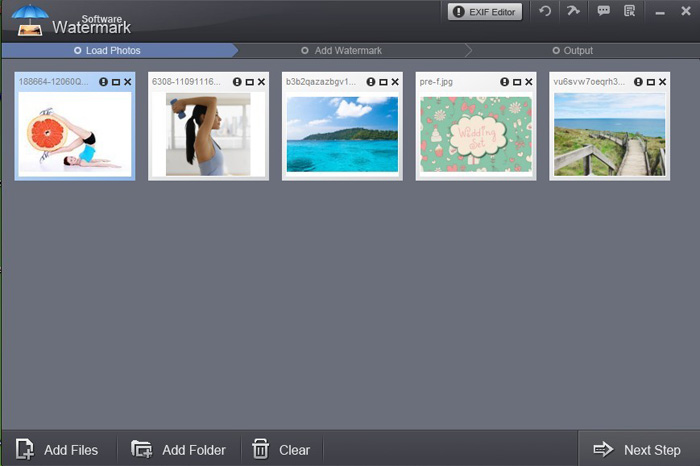 Watermark Software provides you a batch watermarking mode option. It can process watermarking 300 Photos in only one minute.
2. Add Watermark
a. Adding Text Watermark to Photo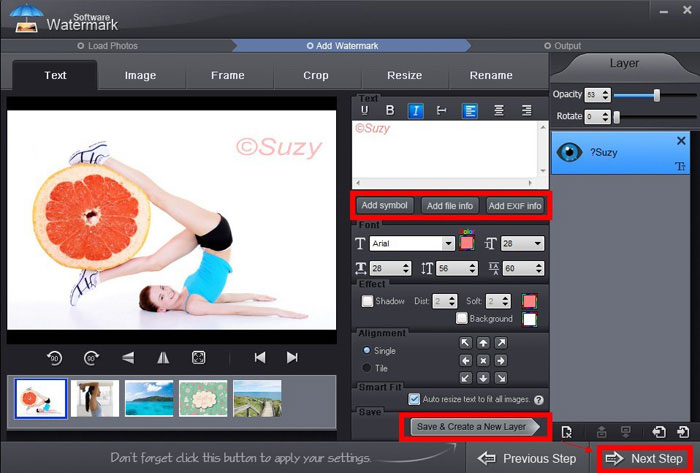 On a photo, you can add symbol (©Symbol C, ®Symbol R, ™Symbol TM), file information (File Name, File Size, Current System DateTime, Last Modified DateTime, Original DateTime), EXIF information (Copyright, Software, Artist, Manufacturer, Model Number of Digicam), or any text you wish like a description or comment on the picture, a copyright notice, a "No copy" caution and more. After tagging your textual content, please click "Save & Create a New Layer" to save the setting, and then go to "Next Step".
b. Adding Image Watermark to Photo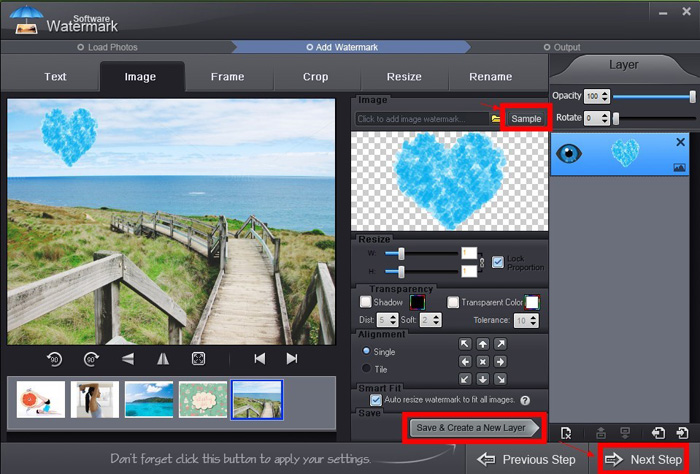 Go to "Image" window to add image watermark to your digital photos. Either an existing image watermark in the selected group of "sample" or a photo watermark in your computer, uploaded by clicking "Browse" is available.
c. Add Frame Watermark to Photo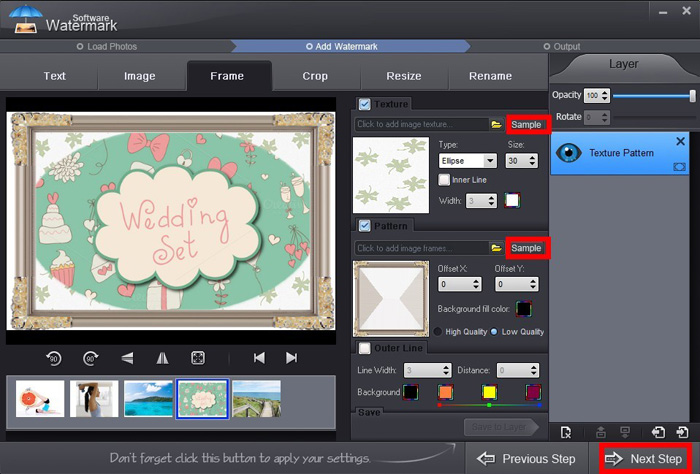 Watermark Software has included a frame watermark alternative to freshen your photos up. A combination of "Texture" and "Pattern" serves you.
3. Output
If you want to make your own watermarked photos instead of applying the default parameters, change the "Output Format" of photos like JPG, GIF, BMP, PNG, TGA, TIF, ICO, PCX, etc, "DPI Setting", "Quality" and "Output Folder".
Believing that man makes discoveries by steadily intending his mind in a given direction, Watermark Software has always specialized in providing users the most concise, effective photo watermarking methods.
Find more details and download it in the official website: https://www.watermark-software.com/
Related Software
Watermark Software (photo edition) : This watermark tool provides professional image protecting solution for your online photos. The exclusive image processing technology lets you able to watermarking 500 photos within 1 minute.
Related Source
Picture Watermark Software - protect picture copyright quickly
Add Text to Picture - show your infotmaion on your shared pictures.
How to Copyright Pictures - The copyright picture is protected object what holder does not would like anybody use it without his permission.
How Could You Add Captions to Photos Effectively - With Photo Watermark Software, you are capable of watermarking photos by adding text and image watermarks to protect photo copyright.
Rename Photos in Batch - Hundreds of photos can be renamed in less than 1 minute. You can rename files fast in a flexible and easy way.
Photo Watermark Software - Protect Your Pictures with Various Effective Watermarks
Additional Offer Today
Special Offer: Watermark Software
Help you add text watermark, image watermark, logo and signature to photos without unauthorized using. The batch mode allow you watermark 500 photos in a minute.