`
Like to share your travel photos online? An excellent way to show your wonderful life. However, you are running the risk of losing your photo's copyright. After much effort and time has been put to your photos, suddenly they are presented by others without your permission and authorization, while you don't have any way to defend your copyright. Thus, you need Watermark Creator.
Watermark creator is a specialized software tool for protecting photo owner's copyright by adding text, image, signature or logo to your photo. It perfectly avoids unauthorized use by others. Besides, it also can retouch your photos, making photos more vividly.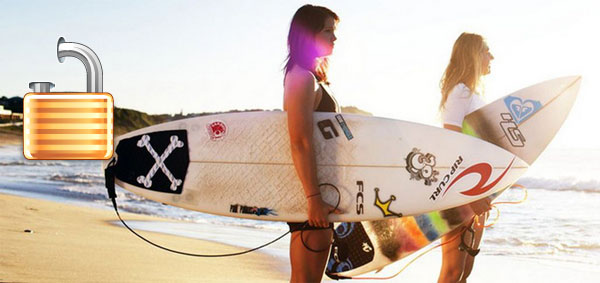 Watermarks are various, image, text, logo, even users' own designs, no matter in what form they appear on photos, they all can protecte the copyright. When create watermark to photo, manufacturer may use a stylized logo, fine art photos may create an unique pattern to cover entire sheet of photos, and others may use the photos' information(recycled content, name, shoot time, etc.
Watermark Software is a versatile and easy-to-use watermark creator. It can create text watermark and image watermark to photos or digital images. 150 + watermark materials have been embedded in it. If you don't like them, you can also design your own or upload to it. After watermarking photos, these watermarks can't be removed by others. Besides, it supports almost all input/output image file formats, no missing batch watermarking is also available.
With fast speed, zero quality loss, easy-to-use interface, this program will be your first choice. Below is a tutorial of creating watermarks:

Step 1
Launch, choose the pictures which you want to adding watermark to your photos and click "Next Step" to edit window. Then, click "Image" item to editing page.
Tip: It also enables you to directly drag the pictures to the software. And adding a whole image folder is also allowed.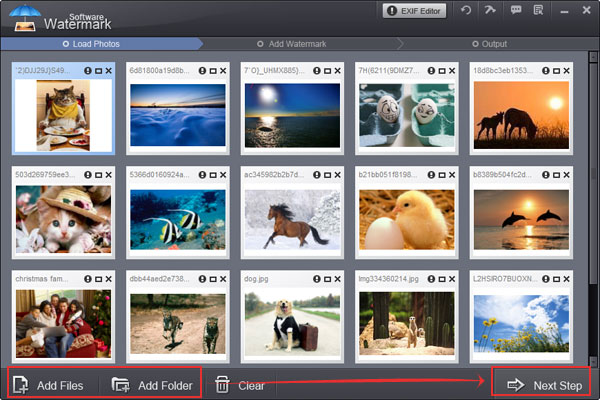 Step 2, Add files.
Select existing watermarking image from Sample. Click "OK". Or you can just load your own watermarks from hard disk.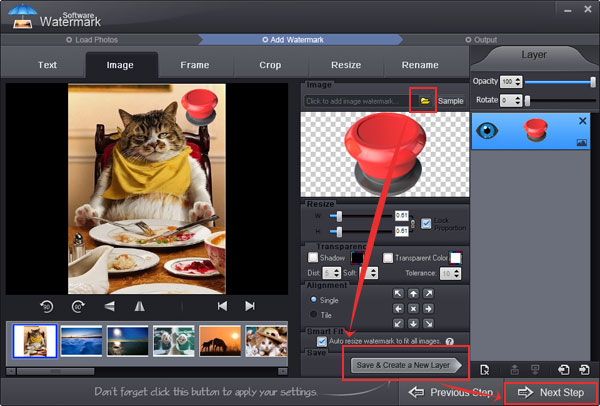 Step 3, Edit.
Watermark software's simple interface will tell you how to set here to adjust aspect ratio of image watermark(Default: W=1, H=1), selected lock box to binding width and height for your photo. You can adjust Opacity for your need (0-100) and adjust rotate for your need (0-360). You can choose "General" or "Tile" to place you text watermark on images, general is to place one text on images, tile is to fill full text on images. (Tile is a strong protect copyright mode)Alignment setting to control text's azimuth on images.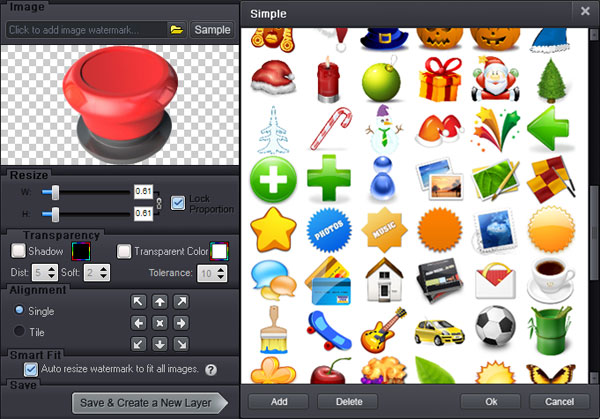 Step 4.
After all the settings are done, hit the "Next Step" button. We come to the last step. Click "Run". And soon later, the whole process will be OK.
Watermark your photos is very easy, why not protect your photo copyright with watermark software right now?
Buy Watermark Software today will get the discount price $24.90, you can save $5. Have a free trial now!!!
Related Software
Watermark Software (photo edition) : This watermark tool provides professional image protecting solution for your online photos. The exclusive image processing technology lets you able to watermarking 500 photos within 1 minute.
Related Source
Create Watermark - to Your Photo with Watermark Software
What is Watermark Software - a simple program for watermark protection
Watermarking Software - how to choose and use proper watermarking software to protect your photo copyright easily and fast
Photo Watermark Software - Protect Your Pictures with Various Effective Watermarks
Best Free Watermark Software - of 2014
Create a GIF - from Any Video Easily
Related External Source
Digital watermarking - is a kind of marker covertly embedded in a noise-tolerant signal such as audio or image data.
Special Offer: Watermark Software
Help you add text watermark, image watermark, logo and signature to photos without unauthorized using. The batch mode allow you watermark 500 photos in a minute.