Why We Need Batch Watermark Photos
Digital watermarking is the process of embedding information into an image. The information in the image or photo typically identifies the author or copyright holder. The main purpose for the use of visible digital watermarks is copyright protection and visual marketing. However, when you confront a large number of photos, it can be a time-consuming process to add a watermark manually to each photo using your image editor. Luckily, this problem can be easily worked out with batch watermark function of Watermark Software.
Watermarking 500+ Pictures within 1 Minute
With this powerful software, you can batch watermark photos and process hundreds of photos by a single click. Batch watermark, change the image resolution, convert the image format and rename a great deal of photos with ease. It well supports a wide range of image formats, like JPEG, PNG, GIF, TIFF, BMP and more. Furthermore, it can convert your photos into other image formats you want.
How to Select a Right Watermark Program to Batch Watermark
Watermark software is a professional photo watermarking tool. It can help you add text and image watermark to your pictures to build brand awareness. This program is more than an image watermarking software, it still can be used as an image editor, which enables you to crop, trim and resize your photos freely. It is your best choice to batch watermark your photos.

How to Batch Watermark Photos with Watermark Software
Watermark Software supports adding image, text and logo to photos. Here we take text watermark as an example. Let's take a quick look at how to batch watermark photos with Watermark Software.
Step 1 Launch Program
Click here to download Watermark Software, and then launch it. Choose the picture you want to watermark, click "Next" to go to editing interface.
Step 2 Add Text Watermark
① Input text in blank box at the upper right of interface.
② Then you can modify more about font size, character style, color, etc by clicking "Text Setting".
③ Adjust value of "Opacity" and "Rotate". Adjust "Alignment" - position of watermark over the photo. You can also drag text watermark in preview window to change its position. Specify "Single"/"Title".
④ Click "Apply" to apply what you made.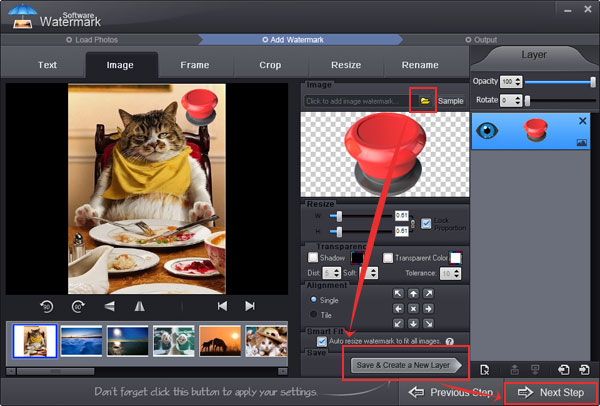 Step 3 Batch Watermarking Your Photos
Hit button, you will come to export interface.
① Specify output folder and output format.
② Click "Run" to start processing watermark.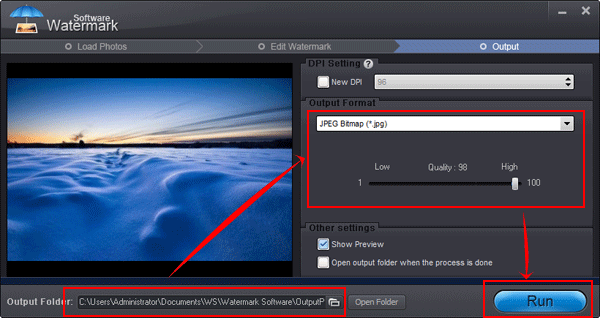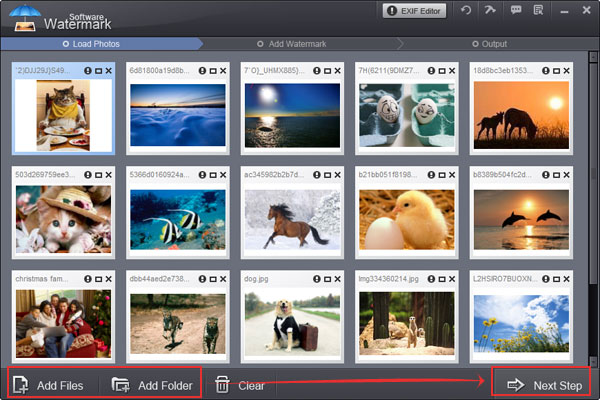 Batch Watermark your photos is an extremely easy work with Watermark Software, so why not protect your photo copyright right now? Click Watermark Software to learn more about Watermark Software.
Still have questions on batch watermark photos? Please feel free to Contact Us
Related Software
Watermark Software (photo edition) : This watermark tool provides professional image protecting solution for your online photos. The exclusive image processing technology lets you able to watermarking 500 photos within 1 minute.
Related Source
How to rename photos - in batch for better organization
How to watermark and batch convert images
Batch watermark photos - to save your time
Create watermark - to your photo with watermark software
Add image watermark - to your photos within 3 steps
Related External Source
Digital watermarking A digital watermark is a kind of marker covertly embedded in a noise-tolerant signal such as audio or image data.
Special Offer: Watermark Software
Help you add text watermark, image watermark, logo and signature to photos without unauthorized using. The batch mode allow you watermark 500 photos in a minute.