Picture watermark is almost the same as image watermark.They are both used to protect picture copyright and prevent people from using your pictures illegally. So it's very useful to watermark pictures. A picture watermark is actually an image or a logo which could be inserted into pictures or photos. The symbolized image/text/logo can be designed at your will for making your pictures or photos unique. If you watermark pictures effectively, they can only belong to you. Anyone who wants to use your pictures knows that the copyright is yours. That means, no one can steal your photos illegally. Nowadays, more and more people use picture watermark to protect and personalize their photos, or even spread their products.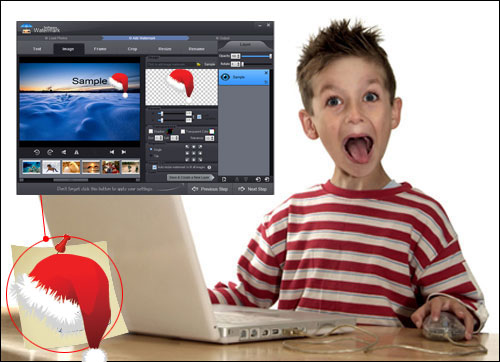 We embed an image watermark to this picture above and no one can remove it from the picture. It is very easy to protect your photos by adding picture watermark. Picture Watermark Software, a great tool, lets you add image watermark into your photos effortlessly.
You should first choose a professional watermark software program. Here I recommend you with this wonderful and easy-to-use picture watermark tool.
This is professional watermark software, protecting your pictures with text watermark and image watermark, etc. It's easy to use and even provides a marvelous batch mode that you can add watermark to group of pictures at the same time within minutes. Besides that, it's also available to crop, resize or rename photos at once.
Step 1 – Launch & Add Pictures
Click here to download this watermark software first, install it on your computer and then launch it. You need to import the picture that you want to add watermark to and then click "Next" button to Step 2.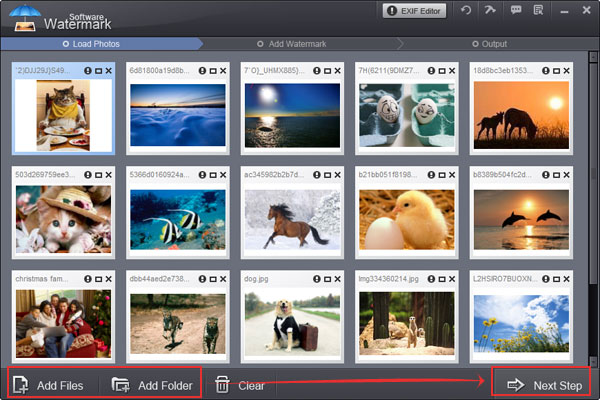 Note: You are allowed to add different types of watermarks, such as text watermark or image watermark. Meanwhile adding a cool frame to make your photos more beautiful is also available.
Step 2 – Click "Add Image" to Add Picture Watermark
Click "Add Image "button. After that, you can begin to customize your own watermark. Placing it wherever you want is quite interesting and cool. Moreover, controlling the transparency of the image watermarks is available as well. You can see the second image layer in the image below that we change its opacity.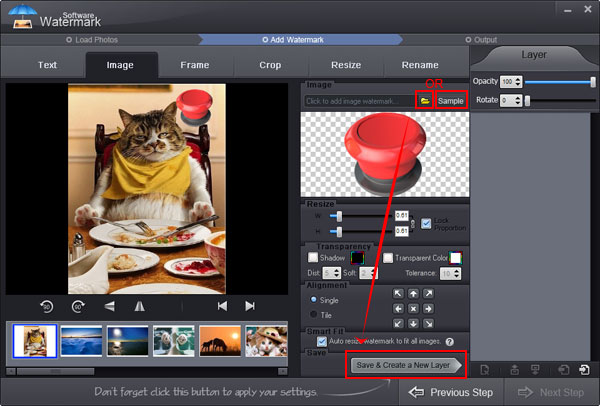 Note: With this program , you are able to add more than one image layer. That means, you can add different images on the same picture just like the picture above.
Besides, apart from the free watermark materials this watermark software provides, you can load watermarks to create your own fantastic watermark library.
Step 3 – Click "Next "Button and Start to Watermark Pictures
Press "Next" button. You'll see another window. Here, you need to select an output folder. Moreover, this software also supports you to convert your photos to various pop formats, such as JPG, BMP, TGA, PCX, etc.
At last all you need to do is to hit the big blue "Run "button. Within minutes the whole process will be OK.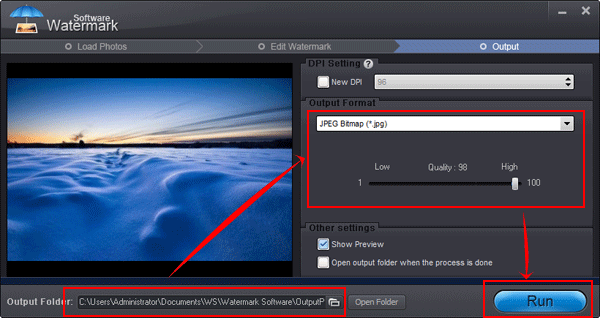 Watermarking pictures is very easy. Why not protect your image copyright with this tool now?
Related Software
Watermark Software (photo edition) : The top one watermark software provide professional image protection solutions for your online photos. 1 Minute watermark 500 photos, support all image formats and animated GIF.
Related Source
Watermark Picture - with Image, Text, Logo and Signature
How to Add Text to Picture - with fast batch mode
How to Copyright Pictures - it's protected object what holder does not would like anybody use it without his permission.
How to Add Signature to Picture - actually there are mainly two types of text watermarks...
Most Popular Picture Sharing Websites for 2014 - find your favorite picture sharing website
Related External Source
The good rating picture watermark software on CNet
Special Offer: Watermark Software
Help you add text watermark, image watermark, logo and signature to photos without unauthorized using. The batch mode allow you watermark 500 photos in a minute.