Did you ever see photos with watermarks on the web pages which you were browsing? Do you want to watermark photos just like those? A lot of great photos of yours are used by so many strangers, and those people may ruin them. Such great photos would be transferred here and there, and as time goes by, no one knows who shoot them. That means, you lost your photo's copyright. To protect your property online, doing some useful watermarking is necessary now. But, what is photo watermark?

What is Photo Watermark
It's a special mark, which is on behalf of the individual, groups or company's identity. It's just like the name, signature or logo, with strong representation. Watermark is widely used for image copyright protection. Add your particular image watermark to some objects such as pictures/artworks. So no one can use your pictures without your authorization.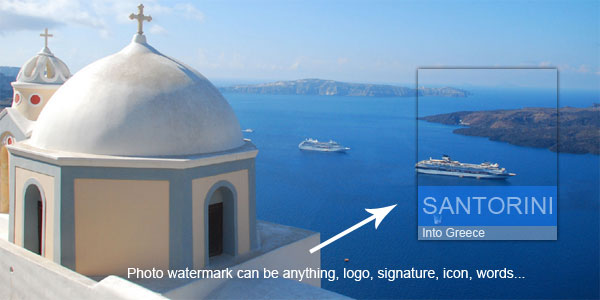 How to Use Photo Watermark
First, you should choose a useful tool which will help you watermark photos quickly. Watermark Software is such powerful but easy-to-use application, enabling you to put watermark on your photos or digital images with the easiest and most efficient way. Besides, if you have hundreds of pictures to be watermarked, the advanced batch watermarking mode will let you watermark them in just 1 minute!

And now follow the step-by-step guide on how to watermark photos effectively below. You'll easily handle the skill and become an expert.
Step 1 - Add Your Image Files
Before adding, make sure you have downloaded, installed and open this software on your computer.
Click "Add Files" to import images to the software.
Press "Next" to the editing window.
Select the "Add Image" item and you'll get to the Image Watermark window.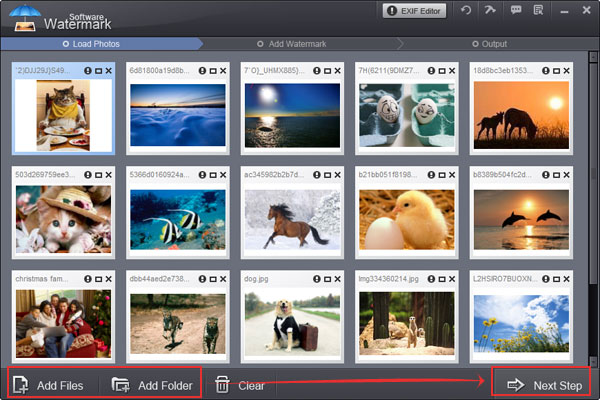 Note: You are also allowed to import a whole image folder if needed. Meanwhile, after adding some photos, you can see its detailed information on the right side of the main interface directly like photo size, format, etc.
Step 2 - Add Image Watermark with Customized Settings
Click "Browse". You can choose the existing image watermarks.
If you want to use your own logo, signature image, you can hit the "Load Watermark "button. Then click "OK".
Click the "Apply" button to create the watermark layer.
Hit "Next".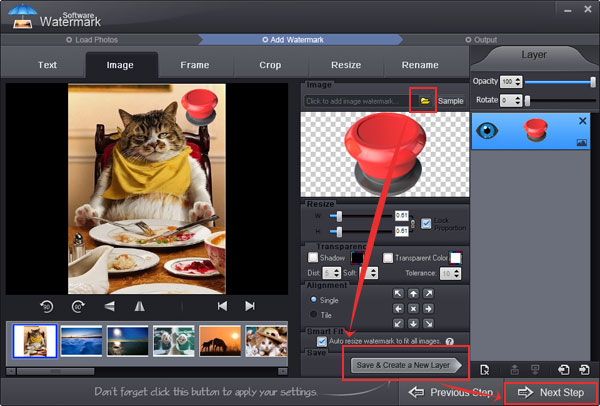 Note: You are also able to resize the image watermark or adjust Opacity (0-100) and set rotate (0-360).In addition, it allows you to place the watermark wherever you want.
Step 3 – Start the Watermarking Process
Specify output folder and output format.
Click "Run" to start the whole process.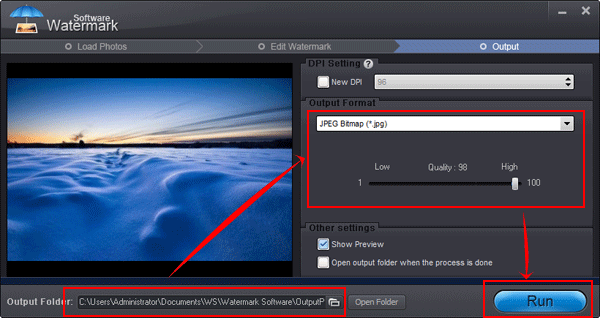 See? The process of watermarking your photos is very easy! Why not protect your photo copyright right now with the photo watermark tool?
Buy Photo Watermark Software today will get the discount price $24.90, you save $15.
Still have trouble on photo watermark? Please Contact Us >>
Related Software
Watermark Software (photo edition) : This watermark tool provides professional image protecting solution for your online photos. The exclusive image processing technology lets you able to watermarking 500 photos within 1 minute.
Related Source
Watermark your photos - to protect your photo's copyright
Watermark Photos - with the easiest way
Photo Resize - with fastest spped (batch mode)
How to Put Watermark on Photo - Understand photo watermark and learn how to put watermark on photo to protect online or sharing photos safety.
Photo Watermark Software - Protect Your Pictures with Various Effective Watermarks
How to Put Text on Photo - Prevent your photo from unauthorized republish the effective way is put text...
Related External Source
Adobe Photoshop is also good photo watermark tool, but too dear.
Special Offer: Watermark Software
Help you add text watermark, image watermark, logo and signature to photos without unauthorized using. The batch mode allow you watermark 500 photos in a minute.