Want to add image watermark to your photos to protect your photos' copyright? It's definitely necessary to do that for your creative works. And it is fairly an easy way to state the owner of these awesome works so that most of them will not be copied and used without your consent.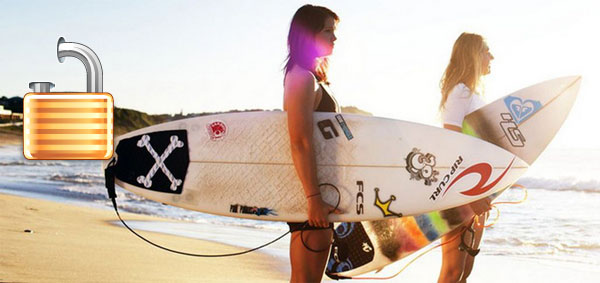 But what is an image watermark? Let's have a quick look. It is a special symbolized image which could be embedded in picture or photo. These symbolized images can be designed at your will for keeping your pictures or photos safe from unauthorized use and make them special. There are some forms of symbolized image such as opaque, transparent. You can put maybe your company logo or personal signature on your photos to mark them as yours. Anyone who views your pictures will learn that these are copyrighted pictures and if anyone else wants to use these creative pictures, they need to get your permission in advance. Nowadays, more and more users use image or picture watermark to protect their photos, what about you?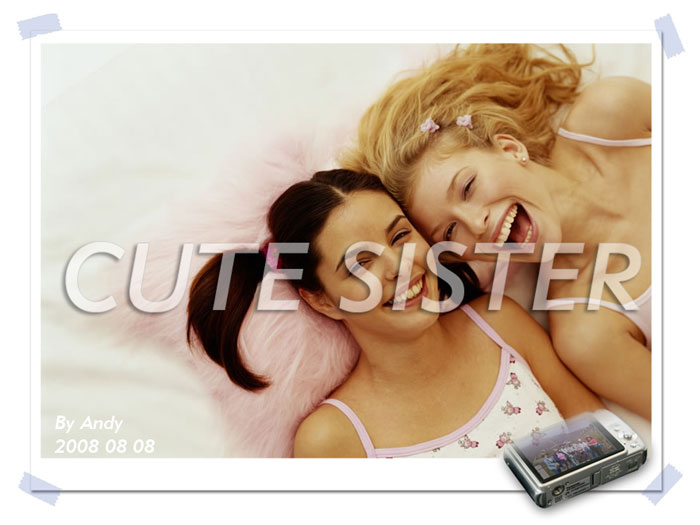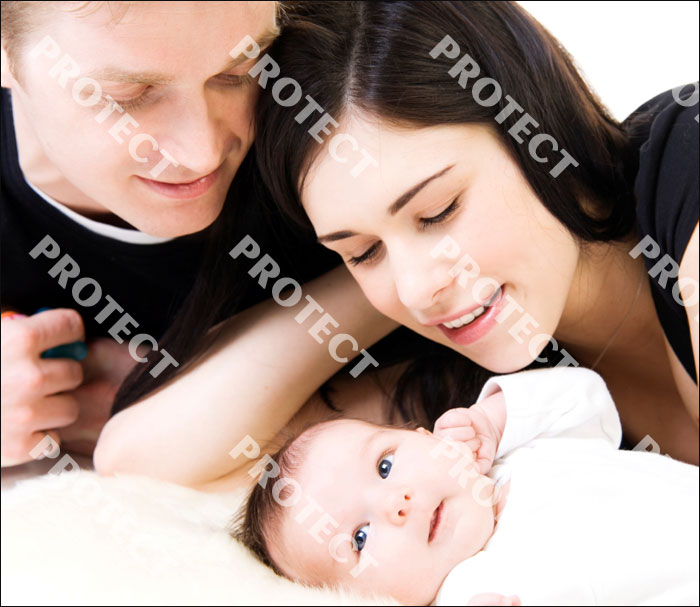 The photos above have been protected with watermark, and no one can remove it out from the photos. It is very easy to protect your photos by adding image or picture watermark. But how to add it quickly? Here you need a watermarking tool to help you out. Watermark Software is just a right tool for you. It is a great tool which can help you add image watermarking into your photos effortlessly.
Choose A Good Image Watermark Software for Watermarking Image
Watermark Software is a professional watermark creator. It can help you add text, logo and image to your pictures to protect your photo copyrights; it is able to verify your pictures are protected from unauthorized use. Watermark Software is not only a watermarking tool, but also can add pretty frames to touch up your photos, crop pictures, batch rename and resize photos etc. It's a fast batch photo processor supporting all popular formats. Free Download > the all-in-one program now.

Step 1 Add Image Files
Launch the Program. The interface is very friendly and intuitive.
Drag the photos that you'd like to protect to the program. Or you can click "Add Files" to input the photos. And then press the "Next Step" button.
Note: Loading a whole picture folder is available as well. Double-click a photo, it can be previewed at once.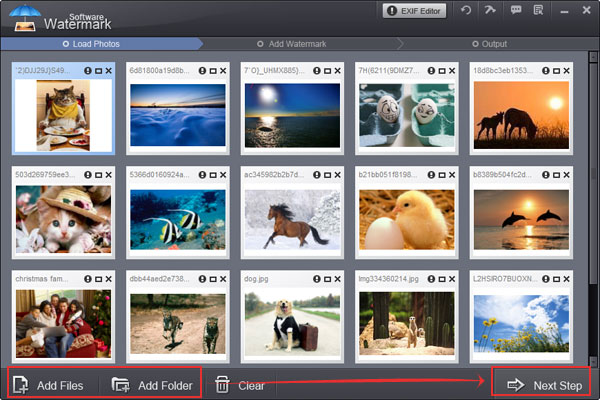 Step 2 Add Image/Picture Watermark
Press "Image" item and select existing watermarking image from Sample. Or you can just load your own watermarks from hard disk.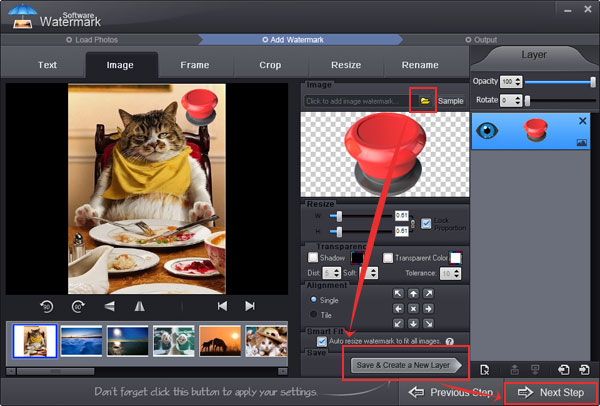 Step 3 Optimized Settings
Watermark software's simple interface will tell you how to adjust aspect ratio of image/picture watermark (Default: W=1, H=1) and slide lock box to binding width and height for your photo. You can adjust Opacity for your need (0-100) and adjust rotate for your need (360). You can also choose "General" or "Tile" to place you text watermark on images, general is to place one text on images, tile is to fill full text on images. Tile is a strong protect copyright mode, alignment setting to control text's azimuth on images.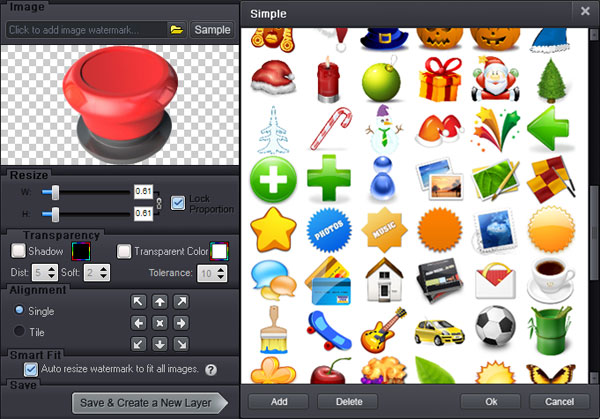 Step 4 Start Watermarking
Click "Run" after you finish your editing. And the whole process will be OK in seconds. Use a professional watermark software to copyright your images is very easy and significant; why not protect your photo copyright with Watermark Software right now?
Still have trouble on image watermark? Please Contact Us >>
Related Software
Watermark Software (photo edition) : This watermark tool provides professional image protecting solution for your online photos. The exclusive image processing technology lets you able to watermarking 500 photos within 1 minute.
Related Source
How to copyright an image - use photo watermark to protect your photos' copyright with the fastest speed
Add image to video - with Video Watermark Pro
Protect image copyright - when you upload your photo on internet
Watermark image - to protect your photo copyright
How to watermark and batch convert images
How to protect image from web stolen - image protection becomes more and more important for web users.
Related External Source
Watermark A watermark is a recognizable image or pattern in paper that appears as various shades of lightness/darkness when viewed by transmitted light...
Special Offer: Watermark Software
Help you add text watermark, image watermark, logo and signature to photos without unauthorized using. The batch mode allow you watermark 500 photos in a minute.