If you like to upload photos to sharing websites, and have been slightly frustrated with the situation that some people copy and use your photo maliciously without your consent. Watermark graphics (incl. copyright info) which can protect your works from unauthorized using is probably what you are looking for. Here we list three major reasons why we protect online photos with watermark graphics.
1. Add watermark graphics to photos before share them on the web is a direct and effective way to copyright online photos.
2. Watermark graphics could be a logo/signature with author info and copyright info, which lets viewers learn more about author or your groups.
3. Watermark graphics could be a small and translucent icon on photo, creative signature or anything you want. Create a personalized watermark graphic image for your photo could help to retouch your photo in some degree.
Part 1. What is Watermark Graphics
Part 2. What Can Watermark Graphics Do for You
Part 3. How to Add Watermark Graphics to Photos
Watermark graphics is a small image watermark and it can be personal signature, company brand icon, group logo, date, name, etc. Watermark graphics is probably the most effective picture protection solution and is intended to serve for universal internet users like photographer, cameraman, webmaster, blog holder, art worker, photo user, and more internet users.
The best part is watermark your original works could be extremely easily for every ordinary computer user if you find a proper watermarking program. With a good watermarking program, even green hands can create a personalized watermark to make photos more unique.
After understand what watermark graphics is, we also need understand what it can do for us. The following part list two remarkable benefits:
1. Protect the original work from the exploitation. With copyright, others need to get your permission or even pay the money before they use your work commercially.
2. Promote your brand free. If you add company logo or website URL on photos, every viewer will see the copyright info on them which is a good way to increase exposure.
Firstly you need a watermark creator to do that, and the program must be easy and cheap. You could search "image watermark software", "watermark creator" on Google to find the right tool you need. Here we will use Watermark Software developed by watermark-software.com as an example to guide you watermark your works with three simple steps. Watermark Software is a straightforward program for photo copyright protection; user can create and add text watermark, image watermark, logo, signature to photos quickly. The whole process of adding watermark graphics to 500 pictures will be completed in a minute. Click button below to free download it.

Step 1 Add Image Files
Launch the Program. We can see its interface is very friendly and intuitive.
Drag the photos that you'd like to protect to the program. Or you can click "Add Files" to input the photos. And then press the "Next Step" button.
Note: Loading a whole picture folder is available as well. Double-click a photo, it can be previewed at once.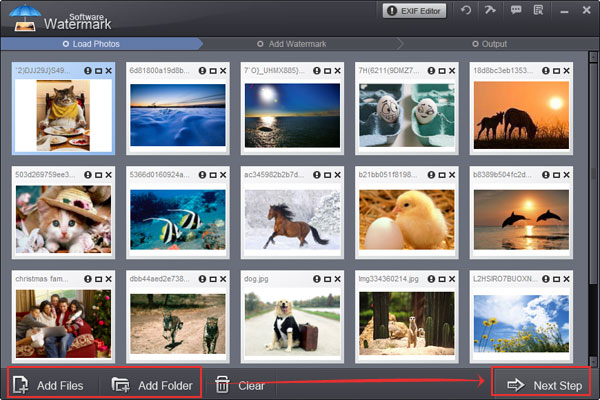 Step 2 Add Image/Picture Watermark
Press "Image" tab and select an existing image watermark from Sample. Or you can just load your own watermarks from hard disk by clicking "Browse" icon.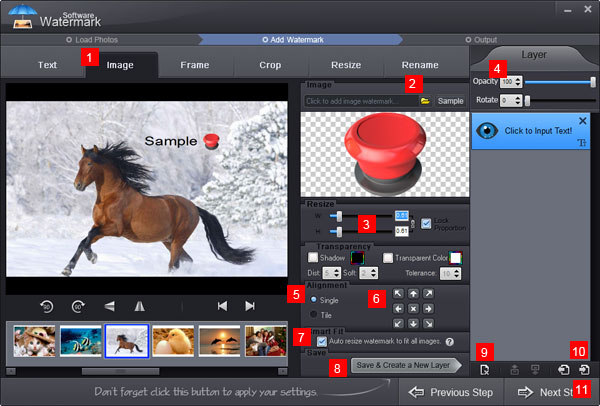 Step 3 Optimized Settings
Watermark software's simple interface will tell you how to adjust aspect ratio of image/picture watermark (Default: W=1, H=1) and slide lock box to bind width and height for your photo easily. You can adjust Opacity for your need (0-100) and angle for your need (360). You can also choose "Single" or "Tile" to place you text watermark on images, single is to place one text on images, tile is to repeat watermarks on images. Tile is a strong copyright protection mode.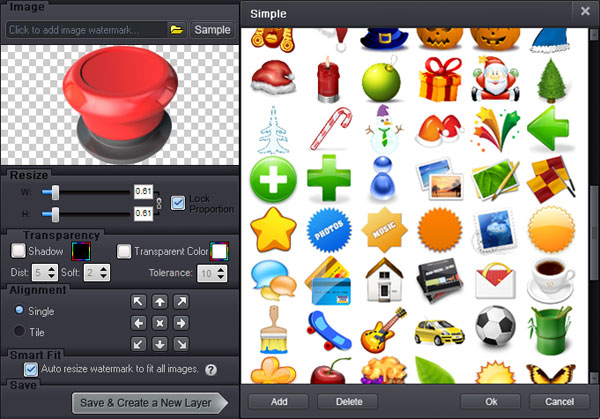 Step 4 Start Watermarking
Click "Run" after you finish your editing. And the whole process will be OK in seconds.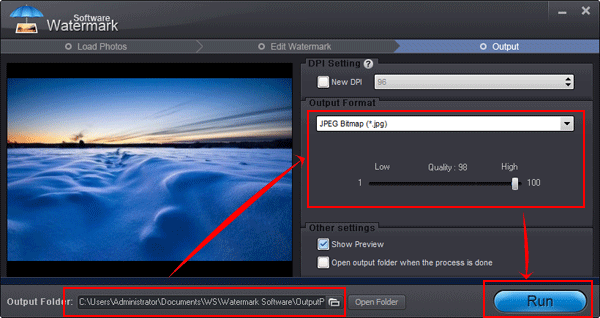 Sample of Copyrighted Pictures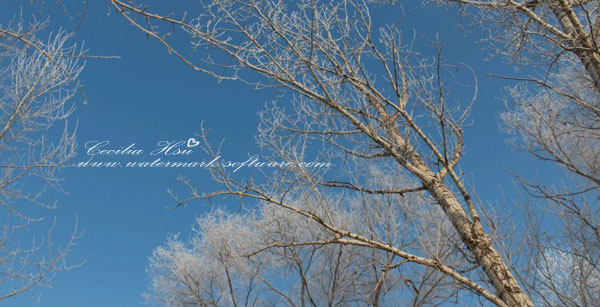 Still have trouble on watermark graphics? Please Contact Us >>
Related Software
Watermark Software (photo edition) : This watermark tool provides professional image protecting solution for your online photos. The exclusive image processing technology lets you able to watermarking 500 photos within 1 minute.
Related Source
Watermark image - to protect your photo copyright
Photo watermark software - protect your pictures with various effective watermarks
Watermark photo - with the easest way
Digital watermarking - for online photos
Batch watermark - photos to save your time
Related External Source
Add a Graphic Watermark in Paint.NET- from About.com
Special Offer: Watermark Software
Help you add text watermark, image watermark, logo and signature to photos without unauthorized using. The batch mode allow you watermark 500 photos in a minute.