If you want to make your photos, pictures or your web looks more attractive, you may insert watermark to them which is to embed lightly shaded image behind text and other graphics on a page as a background for making special effect. Some special watermark software allows you to create watermarks from an image on file or from a clipart image. You can have a maximum of two watermarks in each document. You can adjust the shading of watermarks within each document to make them lighter or darker. You can also suppress or delete a watermark. Insert watermark into your file or document can make it colorful and turn on special effect at your will.
You can insert watermark behind text such as word file, or graphics such as excel file as a background. Maybe, you insert watermark into your photos just for special appearance effect. But, have you ever thought to insert watermark into your precious photos and not only for special effect as a background image?
Have you ever noticed the photos with watermarks on the web pages which you are browsing? Do you want to apply watermarks to your photos just like those? Do you know a lot of your photos are used by so many strangers, and those people may ruin them? Great of your photos are transferred from here and there, and as time goes by, no one knows who made them. That means your photos copyright lost. For protecting your photo copyright, insert watermark into your photos to perfectly prevent your photos from unauthorized and illegal using.
Insert watermark to your photos to protect your photo copyright is an effective method for you. But there still a problem - How to insert watermark into photos? Also, it is very easy to done. Is it the same as inert watermark behind text or other graphics? OK, let's make it clear.
First, pick the right watermark software. Watermark Software will help you insert watermark into your photos or images. This photo watermark program is professional and powerful. It allows users to edit and design photos and images, whole process is very easy. And now, the few steps to put photo watermark with Watermark Software is below:
Step 1, Start.
Click here to download watermark software, then launch watermark software, choose the picture which you want to add watermark and click "Next" to edit window, then click "add image" to image edit page.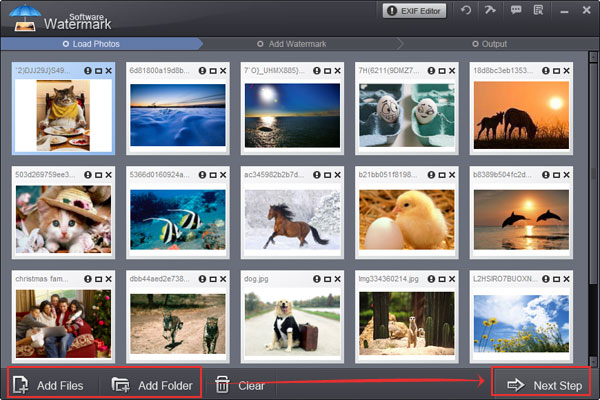 Step 2, Add files.
Select existing watermarking image or new image from your harddisk. Click "Browse" for selecting new images for harddisk, click "OK" to select existing images.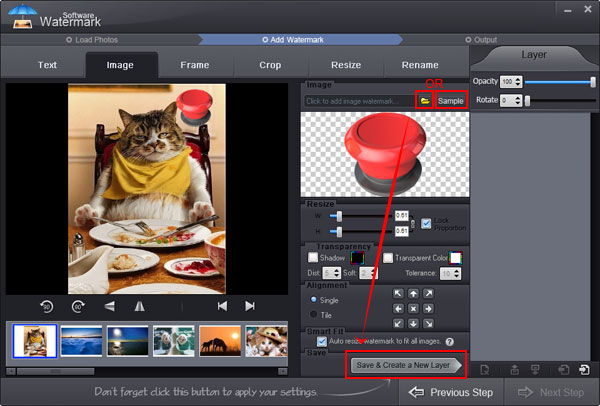 Step 3, Edit.
Watermark software's simple interface will tell you how to set here to adjust aspect ratio of image watermark (Default: W=1, H=1), selected lock box to binding width and height for your photo. You can adjust Opacity for your need (0-100) and adjust rotate for your need (0-360). You can choose "General" or "Tile" to place you text watermark on images, general is to place one text on images, tile is to fill full text on images. Tile is a strong protect copyright mode, alignment setting to control text's azimuth on images.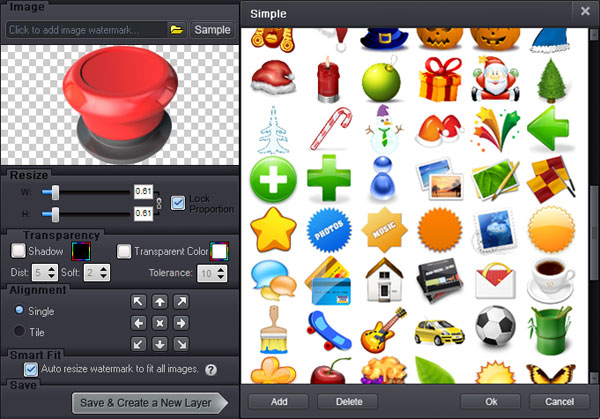 Step 4.
Click "Run" after you finished your editing. And soon later, the whole process will be OK.
Insert Watermark into Your Photos is very easy, why not protect your photo copyright with watermark software right now?
Still have trouble on watermark? Please Contact Us >>
Related Software
Watermark Software (photo edition) : This watermark tool provides professional image protecting solution for your online photos. The exclusive image processing technology lets you able to watermarking 500 photos within 1 minute.
Related Source
How to add signature to picture - there are mainly two types of adding signature to picture
How to add image to video - with Video Watermark Pro
Add text to picture - to watermarking your pictures
How to add watermark to photo quickly
Add captions to photos effectively - do you know how to add captions to photos
Add picture to GIF - with easy-to-use picture watermark software
Related External Source
Insert a watermark or change a watermark in word
Special Offer: Watermark Software
Help you add text watermark, image watermark, logo and signature to photos without unauthorized using. The batch mode allow you watermark 500 photos in a minute.