Watermark Software and Visual Watermark are two leading digital image watermarking software in the public market - place. They have same place already, have different place again.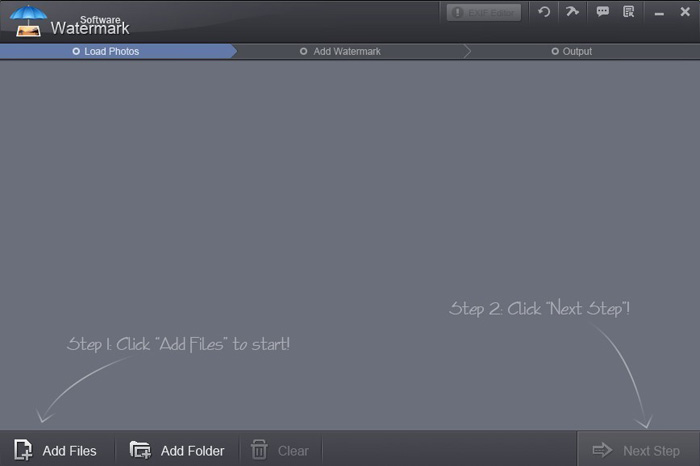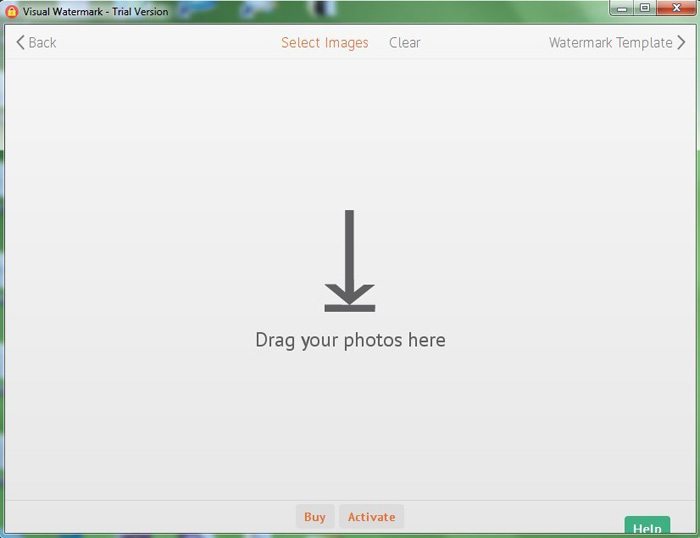 Watermark Software and Visual Watermark have same place already, have different place again.
Similarities:
1. They both are specialized photo watermark software.
2. Simple, clean, clear and friendly interface with light grey or white background colors.
3. They both provide users a batch watermarking mode option.
Differences:
1. Only text watermark's supported by Visual Watermark; While Watermark Software is capable of supporting text, image and flame watermark simultaneously.
2. The output photo will be marked individual characters for trial version. A patternembedded with DEMO in the upper left for Watermark Software, and a line of text says "Protected with trial version of Visual Watermark Full version doesn't put this mark" at the bottom of each photo for Visual Watermark.
In summary, if you'd like to add an image watermark to your digital photo, or you wish for the watermarked photo tagged with fewer contents indicating you're using the trial version, Watermark Software may fit you better. The step-by-step instructions below will walk you through the simple way to use Watermark Software to add watermark to photo.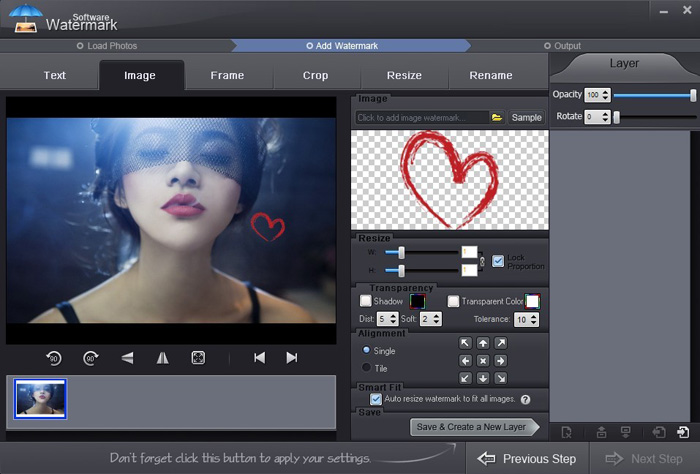 Step 1 Load Photos
Watermark Software allows users to load photos in batch mode. It can watermark 500 photos in only one minute.
Step 2 Add Watermark
a. Adding Text Watermark to Photo
Under the category of "Text", you can put text on your photos including symbol (©Symbol C, ®Symbol R, ™Symbol TM), file information (File Name, File Size, Current System DateTime, Last Modified DateTime, Original DateTime), EXIF information (Copyright, Software, Artist, Manufacturer, Model Number of Digicam), or any content you wish like a description or comment on the picture, a copyright notice, a "No copy" caution.
b. Adding Image Watermark to Photo
Go to "Image" window to add image watermark to your digital photos. Either an existing image watermark in the "sample" or a photo watermark in your computer, uploaded by clicking "Browse" is available.
c. Add Frame Watermark to Photo
Watermark Software has included a "Frame" watermark alternative to freshen your photos up. A combination of "Texture" and "Pattern" serves you.
In the process of making a watermark, if you have any special request for the watermark like Font, Effect, Transparency, Alignment, Opacity, Size, just feel free to adjust the value. Besides, there are three categories set for altering pictures, which are "Crop", "Resize" and "Rename". After stamping the watermark, please click "Save & Create a New Layer" to save the settings, and then go to "Next Step".
Step 3 Output
Select the "Output Format" and "Output Folder", then click on the button "Run" and wait for the output photo within seconds.
Adding a watermark as the copyright marking to your photos to guard against any unforeseeable steal and unauthorized using, you cannot make a better choice than this. No individual, groups or tools have the power to remove the watermark.
If you want to get more detailed information about Watermark Software, or still have any question on how to make a watermark, please visit the official site: http://www.watermark-software.com/
Related Software
Watermark Software (photo edition) : This watermark tool provides professional image protecting solution for your online photos. The exclusive image processing technology lets you able to watermarking 500 photos within 1 minute.
Related Source
Picture Watermark Software - protect picture copyright quickly
Put Logo on Pictures at Once - Put logo on pictures at once to protect your copyright.
How to Copyright Pictures - The copyright picture is protected object what holder does not would like anybody use it without his permission.
Additional Offer Today
Special Offer: Watermark Software
Help you add text watermark, image watermark, logo and signature to photos without unauthorized using. The batch mode allow you watermark 500 photos in a minute.