Nowadays, all the smartphones we are using, come with a higher resolution and a better photo-taking quality, which makes more and more people enjoy taking photos in their life journey. Sharing journey photos on social channels, like Flickr, Facebook, Twitter, Imgur, blog and etc, becomes a tendency. Who shares the most beautiful, funny and happy pictures catches the masses' eyes. Using photo suite to beautify digital photos is the common method applied by artists. So why not grasp a powerful photo suite yourself and start to enjoy your own creation like them? Simply using a superior photo suite, you can brighten up any of you photos totally and easily within minutes.
Below we are about to review top 3 photo suite and hope to find a better photo suite for your using.
No.1 Image suite - Perfect Photo Suite 9 Premium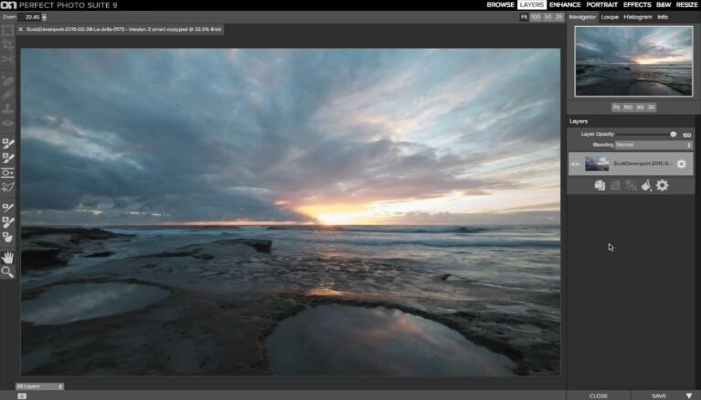 Software Name: Perfect Photo Suite 9 Premium
Software Version: Current Version 9.5
Running OS: Macintosh & Windows
Supported Language: English and German
Windows Installation Size: 552M
Producer: OnOne Corp.
Download: Free
Photo Suite Price: $119.99
Perfect Photo Suite 9 Premium is an all-round image suite. It is a standalone software, which has two versions separately work on Windows and Mac OS. It combines functions of Photo Resize, Effects, Enhance, Portrait, Layers, Black & White and Browse. It has a great performance on its browse, retouching portrait and enhancing. You can import images from online storage webs. What makes it outstanding? It supports easy selecting straight edges and editing parts of images. Many celebrities love this image suite just like their praised remarks online.
PROS: It supports almost all kinds of technical editing features on graphics, allowing to beautify digital photos in many ways. The interface is black and cool, so that you won't feel visual fatigue. If you find Photoshop expensive on the price, then it's a good substitute.
CONS: Although Perfect Photo Suite 9 Premium gets famous and welcomed by many users, it still doesn't support easy operations. Before you beautify your photos, you need to learn a lot to grasp the operations. That's the only pity for Perfect Photo Suite 9 Premium.
This is a kind of photo suites goes for the masters, who know too well on how to use all picture suites, like PhotoShop.
No.2 Image suite - PhotoDirector 7 Essential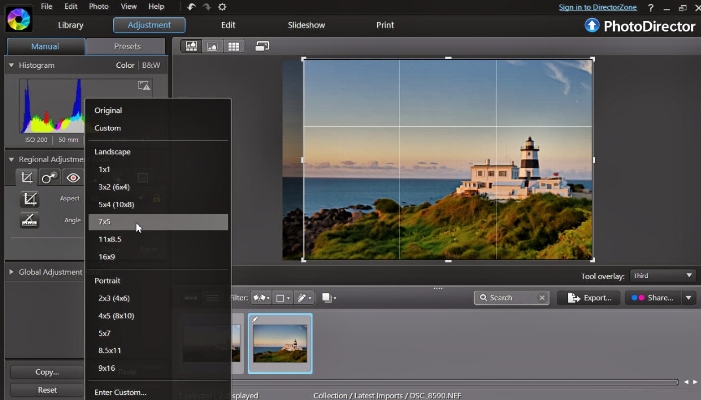 Software Name: PhotoDirector 7 Essential
Software Version: Current Version 7
Running OS: Macintosh & Windows
Supported Language: English, Chinese (Traditional), Japanese, Spanish, Korean, Chinese (Simplified), German, French, Italian, Dutch
Windows Installation Size: 311.76 MB
Producer: Cyberlink Corp.
Download: Free
Photo Suite Price: $99.99
PhotoDirector 7 Essential is a powerful photo editor, which supports all kinds of photo design and adjustment. Some features are worthy of mentioning. They are Layer Editing, Filters, Effects, Blurs, Beautifying Tools, Removal, Photo Merging, RGB Curves and CyberLink Cloud to use. PhotoDirector 7 are inferior to Perfect Photo Suite 9 Premium in the System Requirement and photo importer. If you have a small memory then it can't work on your PC - details are required a minimum of 2 GB, recommended 3 GB for 32-bit Operation System, needed 6 GB for 64-bit Operation System.
PROS: PhotoDirector 7 Essential is another powerful editor, taking an all-in-one interface, using clear layer system. Most of editing needs can be satisfied in this photo suite.
CONS: PhotoDirector 7 Essential requires much on your PC. And operations are a bit complex. Also it's not cost-effective.
This tool are designed to satisfy the group of people who have experiences with some mainstream photo editor tools.
No.3 Image suite - Movavi Photo Suite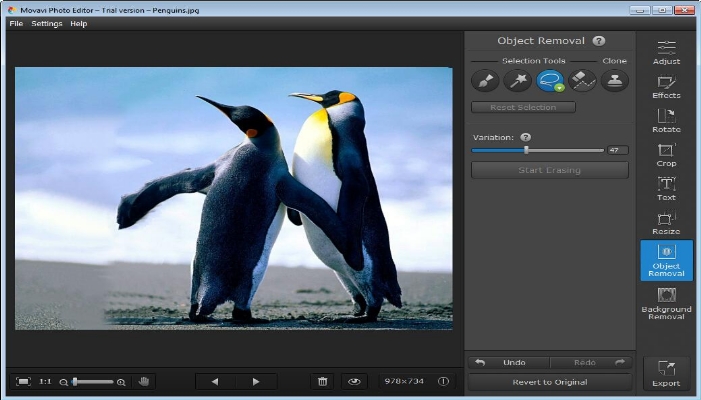 Software Name: Movavi Photo Suite
Software Version: Current Version 3.2.0
Running OS: Windows & Mac OS X
Supported Language: English, Japanese, Spanish, German, French, Italian, Dutch, Portuguese and many more
Windows Installation Size: 194M
Producer: Movavi Corp.
Download: Free
Photo Suite Price: $95.95
Movavi Photo Suite is user-friendly software with a cool operating interface. You will see icons of Movavi Photo Editor 3, Movavi Photo Batch, Movavi Slideshow Creator and Movavi Photo Studio on your desktop after installation. Magic Enhance, Adjust, Effects, Rotate, Crop, Text (saying: adding captions to photos or adding signature to photos), Resize, Object Removal and Background Removal are all its capability. Compared with Perfect Photo Suite 9 Premium and PhotoDirector 7 Essential, it doesn't allow Cloud operations, but it's more convenient in the operations.
PROS: Movavi Photo Suite is a set of photo software, which is easier to use than PhotoDirector 7 Essential and Perfect Photo Suite 9 Premium. Its functions cover most of photo editing needs.
CONS: Movavi Photo Suite carries several sub programs, it doesn't integrate them well. Also, using it to batch edit is not easy. Last, it's still not cost-effective.
If you know how to use a random software, saying you frequently use several software in daily life, then it won't hard for you to use this software.
Not Satisfied? Here Is The One Suits You
Although these image suites are gorgeous in many facets, we still see this and that shortcomings. Additionally, their prices and complex operations are not endurable. So you may wonder is there a simpler, easier, more cost-effective photo suite?
The answer is yes. And the software is named "Watermark Software". Let's check some simple and useful features below.
1. Differed from above photo suites, it takes a module named Bokeh, which enables you to easy blur other parts of the photo.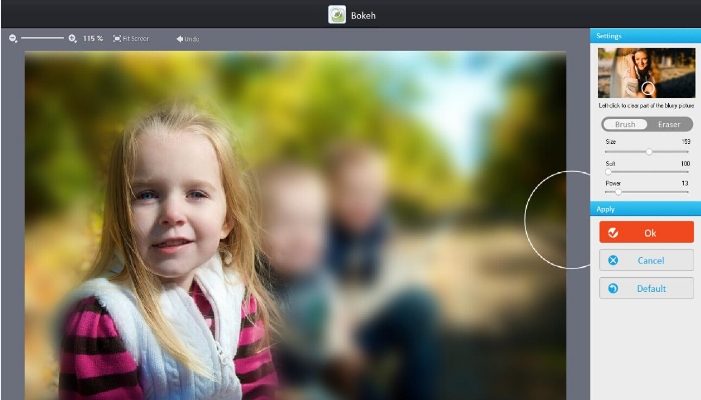 2. Also, another shining feature which is worthy of mentioning is the Text Effect. The choices are multiple and selective.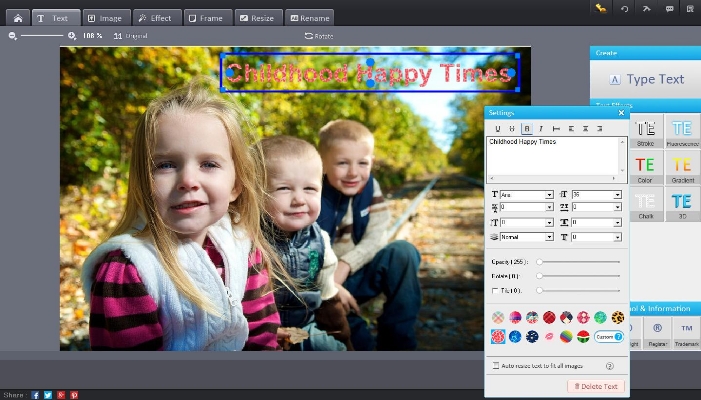 For your information, the photo suite is superior and better. It won't need complex operations, that is, more user-friendly. Beautifying photos, removing pinkeye, batch renaming, batch adding notes (caption, signature and other text) are all fine with it. You can pick from among ten default selections to add effect to your digital photos. Batch resizing or cropping your smartphone photos can be applied easily within a few clicks. Smartphone photos from your journey can be modified to brand new beautiful standard with it conveniently.
And this image suite supports free download and free trial using. So believe it or not, why not have a try on your own?
Free Download Link: http://www.watermark-software.com/products/watermark-software/watermark-software.exe
If interested in this photo suite, you can go to its detailed page, have a deeper look and know deeper.
More about Watermark Software: http://www.watermark-software.com/
Hope you enjoy reading! And if you have some points of view, you are welcome to discuss with us. We are looking forward to your precious tips.
Related Source
What is the Best Alternative to PicMonkey?
Top 5 Photo Watermark Software
Watermark Images with PhotoShop for Beginner
Best 3 Watermark Online Tool Review
Related External Source
Special Offer: Watermark Software
Help you add text watermark, image watermark, logo and signature to photos without unauthorized using. The batch mode allow you watermark 500 photos in a minute.