Part 1. Easy-to-use Yet Professional Photo Watermark Creator
Part 2. How to Batch Watermark Photos
- - - Step 2. Start Watermarking
- - - Step 3. Run to apply watermarking
I am invited to review the Photo Watermark Software from AoaoPhoto Digital Studio. I am really very glad to do so because I think it is important to keep the images, photos in my blog from being pirated and Photo Watermark Software is the very tool I need to add text and image watermarks to my blog images, which are generally the screenshots of programs I review. I tried the program for over two days and found it extremely easy to use and thus I'd like to recommend it to all others. I will show you how well this professional photo watermark creator works for me and you will see my all images been watermarked from now on.
Easy-to-use Yet Professional Photo Watermark Creator
Watermark Software performs professionally to watermark a single photo or a batch of photos with text and image watermarks as well as logos. It applies professional and abundant watermarking tools and with the TechSite editor you are easy to use the program to add symbols, add file info/EXIF info, change font and apply effects. To add a frame, do a cropping or resize and rename photos are all within a few mouse clicks. Some advanced functions come with a question mark that shows what the specific function is or how it works with a mouse click or mouseover. This is quite user-friendly to beginners like me.  It is meritorious to get a warning that you should not forget to click the button "Save & Create a New Layer" before you go to the next step.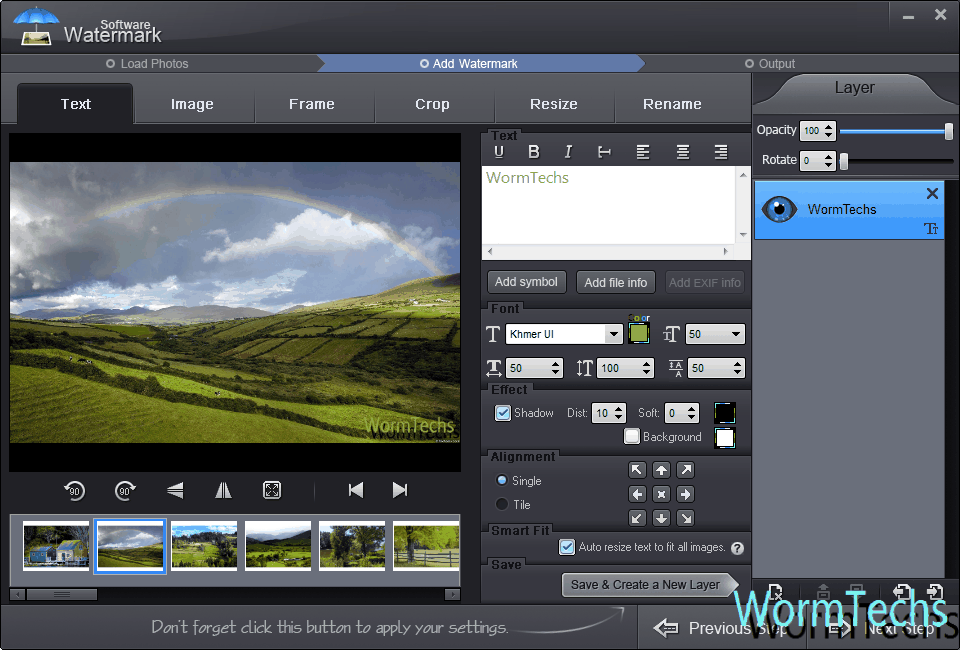 How to Batch Watermark Photos
My favourite feature is to batch watermark all my photos. You can export and import your previous project and apply to your batch watermarking and saves you a lot of time. I am gonna show you how to do batch watermarking with Watermark Software.
Getting Ready:
Download, install and launch it
Move all the photos you want to watermark to a folder
Step 1. Add Folder
Click Add Folder to add all images in a folder to enable batch watermarking. You'll be presented to select your folder. Click Ok and all photos will be added to the program. And Click Next Step to go to step 2.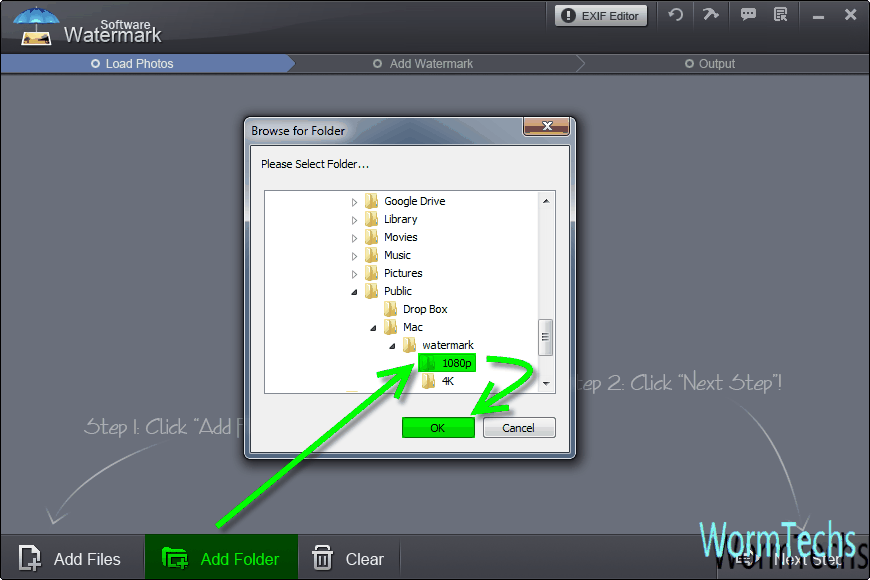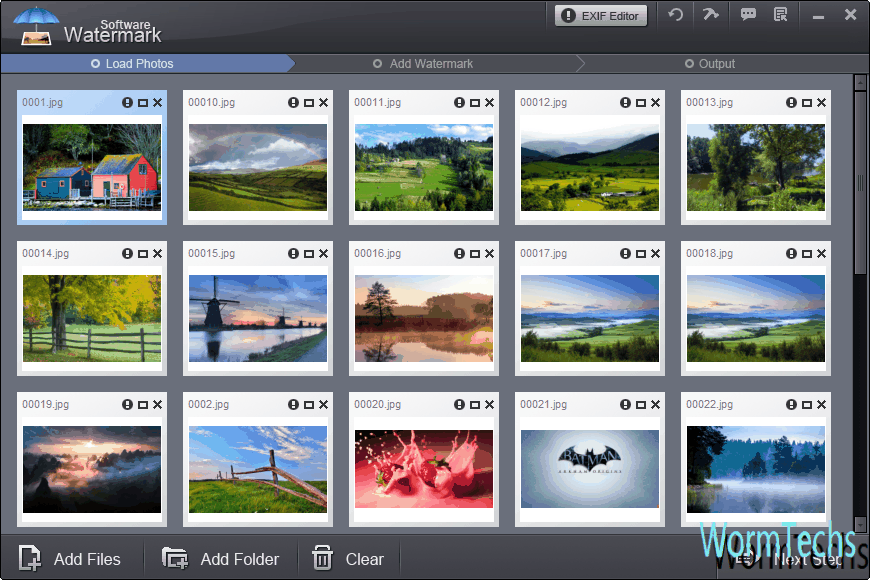 Step 2. Start Watermarking
Click Next Step and start watermarking! Here you are free to add texts, images and even your logos to the photos. The TechSite edittor makes it super easy to add a symbol, change font and alignment. I like shadows so I will always enable it.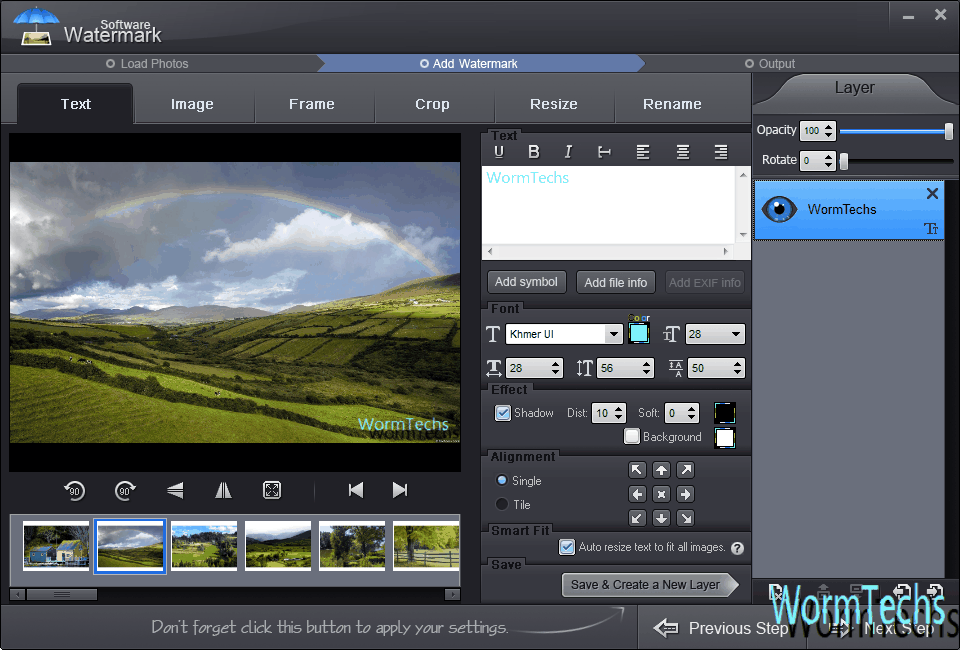 You can double click every single photo to preview. And I myself suggest you to export your project so next time you won't have to go adding texts, images, changing fonts, alignments over again, you just will have to import your project and go to the next step!
Step 3. Run to apply watermarking
This program only takes 3 steps to apply the watermark to all the photos and images in the folder.  Here in the last step you can set the DPI and output format as well. JPEG comes the default but I recommend PNG. You will see the process is very fast and you are free to cancel the watermarking anytime you like.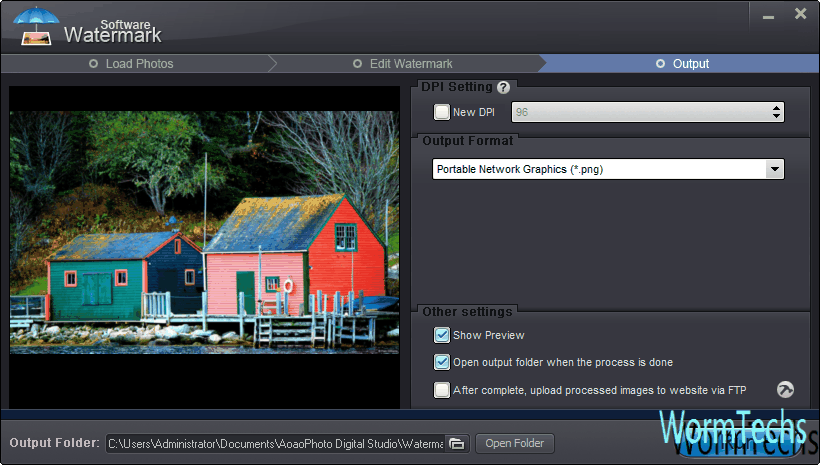 Pros:
- Super easy to use with the TechSize edittor.
- Professional and abundant watermarking tools: add symbols, add file info/EXIF info, change font and apply effects, add Frame, Crop, Resize, Rename etc.
- User-freiendly UI with meritorious warning or guide
- Batch watermarking
- Export and import project for quicker access next time
Cons:
- I don't find a way to delete a singe photo I don't want. Although it is my favourite to add folder to do batch watermarking, I usually carelessly add wrong photos to the folder and need it removed. I find nowhere I can do so.
- You will have to use its Video Watermark Software if you want to edit and add watermark to videos. I myself assume it would be a good idea to combine the two programs to do both photo and video watermarking.
Summary:
Photo Watermark Software from AoaoPhoto Digital Studio is my first watermarking program and I guess my watermark does not look very nice but I do like the program due to its easy to use and professional in watermarking my photos and it's working great on me. If you are still wondering a valuable watermark software to keep your photos and images unique or from being pirated. It will be your top choice. Just give it a try. Facts speak louder than words.
If you found this guide helpful, please leave me a comment below to let me know or share it to Facebook, Twitter, Google Plus bla bla bla to let everyone know!
Related Software
Watermark Software (photo edition) : This watermark tool provides professional image protecting solution for your online photos. The exclusive image processing technology lets you able to watermarking 500 photos within 1 minute.
Related Source
Picture Watermark Software - protect picture copyright quickly
How to Convert YouTube to Picture - it will be extremely easy with Video to Picture Converter, which enables you to convert all key video formats to seriate pictures or animated GIF.
Add Text to Picture - show your infotmaion on your shared pictures.
Put Logo on Pictures at Once - Put logo on pictures at once to protect your copyright.
How to Copyright Pictures - The copyright picture is protected object what holder does not would like anybody use it without his permission.
Special Offer: Watermark Software
Help you add text watermark, image watermark, logo and signature to photos without unauthorized using. The batch mode allow you watermark 500 photos in a minute.