Video master or video liker always uploads videos to YouTube, the world's largest platform for video sharing & watching. As a video maker, you may also want to follow this lead to get your videos known by more people. There are two tips you need to know before you start: Firstly, YouTube Standard License allows YouTube to play or sell your videos with no pay. Secondly, everybody is able to download your videos and play them on their site without your permission. What's worse? There is no way to track it or make it stop. Once your video becomes hot, nobody will know the video they watch is out of your hands.
So a better way to avoid this kind of troubles and protect your legal right is to add your channel logo on your YouTube videos. Though YouTube carries an online tool named "Branding", it doesn't attach a stable logo to videos. If anyone download the video with some third party YouTube downloader, you will find your channel logo disappear and no longer exist on your video. So we try our best to provide you with this tutorial, which tells about how to add channel logo on YouTube video better. Luckily, we find a solution to solve this issue.
How to Add Channel Logo On YouTube Videos?
We list two way to fast add logo on YouTube video. The first way is the traditional way - using YouTube Branding Tool. If you are familiar with YouTube watermark, you may want to skip to the second way.
YouTube Branding Tool:
YouTube watermark allows you to add logo on YouTube video by its Branding tool. With only three steps, you can finish adding channel logo on YouTube videos.
1. Go to YouTube homepage and choose "My Channel".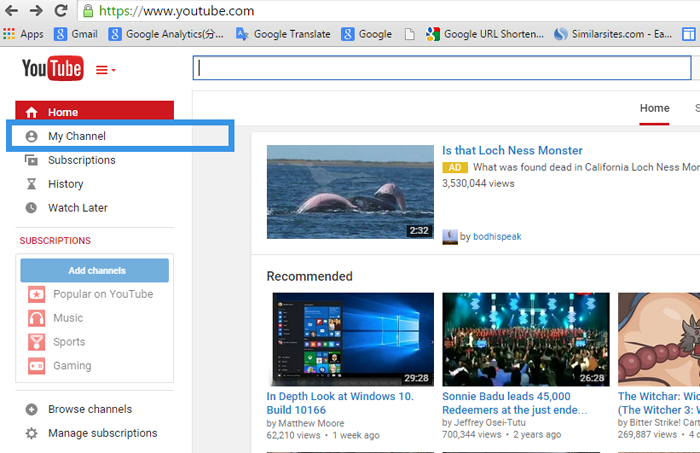 2. Select "Video Manager"

3. Click "Channel" and hit "Branding". Then you can add your channel logo on your YouTube videos.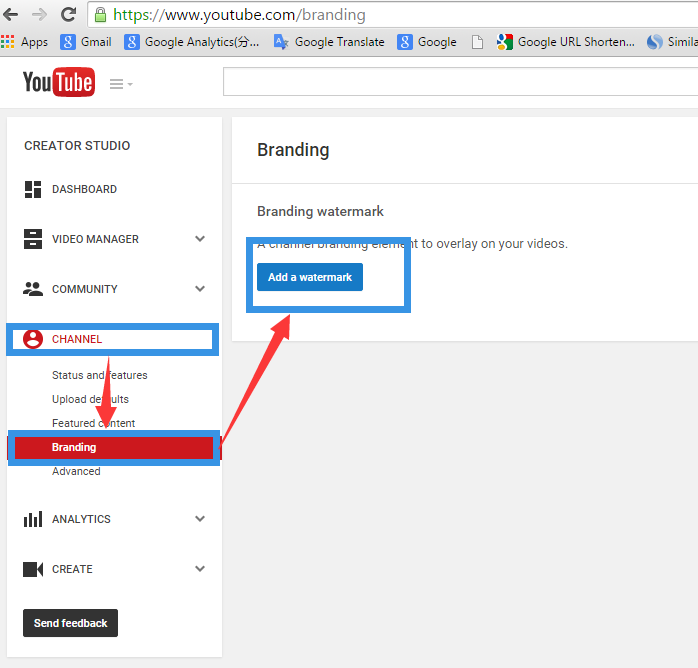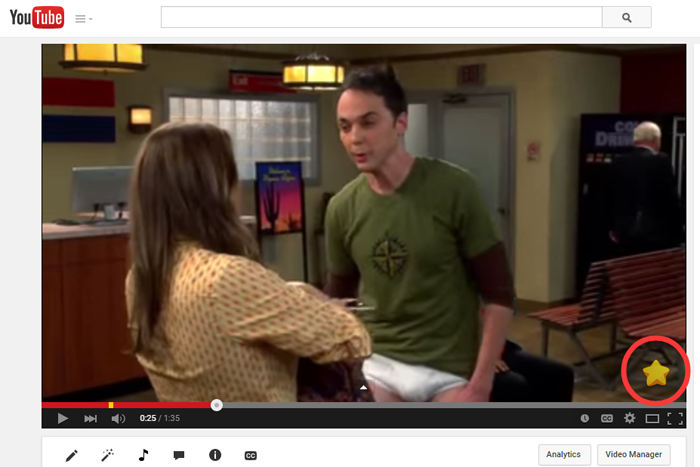 After applying YouTube Branding tool, your YouTube videos will carry channel logo all the time only if it's playing on YouTube. Just as we said before, it has a setback, which only leaves your channel logo on YouTube. Downloading through a certain third-party software, you can steal the original videos. Believe it or not. We find a proof anyway and the third-party software is "WonderFox HD Video Converter Factory Pro". This software can bypass YouTube protection and download the original videos perfectly, leaving no YouTube watermark. The truth is in the screenshot of the video downloaded from HD Video Converter Factory Pro. Please justify it yourself: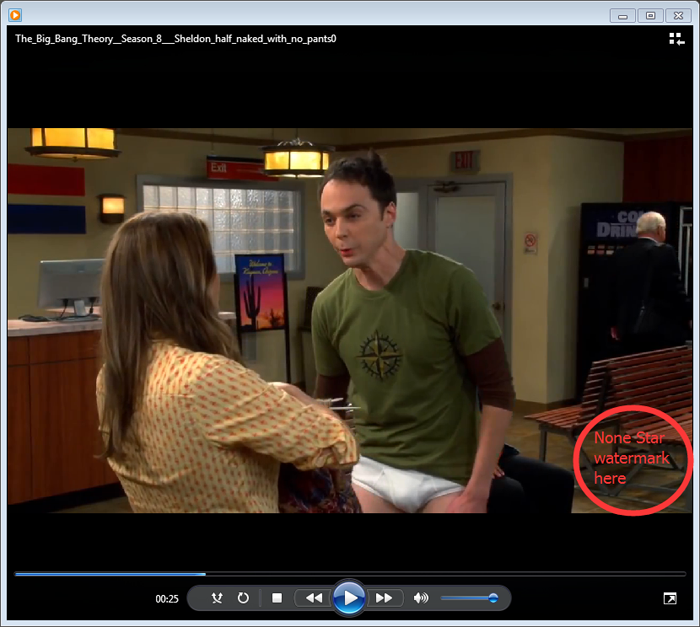 As you can see from the screenshot, although applying YouTube Branding Tool to add logo on YouTube video, we still find no sign of watermark in the video, which we download from YouTube with the third-party downloader - HD Video Converter Factory Pro.
After comparing, you may unprecedentedly notice that YouTube watermark is not that powerful as it broadcasted to the masses. So we need to seek a better way to iron channel logo to videos.
Video Watermark
If YouTube Branding can't prevent other people from stealing our videos, maybe it's time for us to look out of the box and seek help from a third-party police who is in charge of video copyright - Video Watermark Pro. Video Watermark Pro, a professional video watermark software, supports channel logo ironing and protects your legal copyright of videos. It's not made for YouTube watermark specially, but it can strongly iron stable watermark to YouTube videos, which bans any kinds of thieving abuse.
Download Video Watermark Pro:

Download Editors's Rating

Add text, image, logo, signature to videos in batch mode, support all of popular video formats.
To add channel logo on YouTube videos, you only need to:
1. Install and launch Video Watermark Pro, choose [Add Video] to load videos.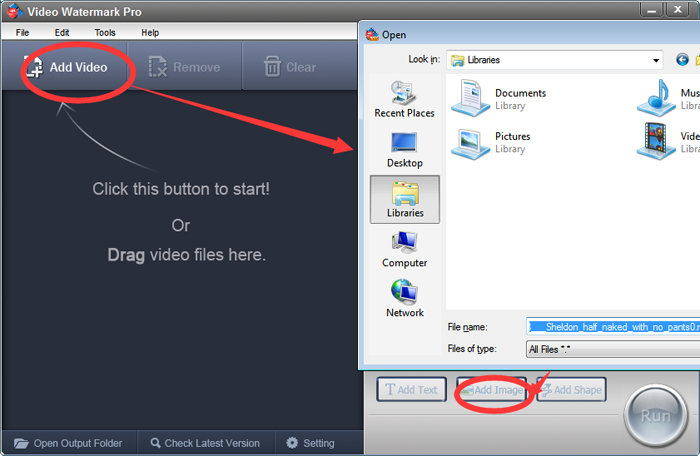 2. Add Logo to Video: Click [Add Image], then a window named "Image Watermark" will show above. Choose [Browse], [Load Watermark], [Add] in sequence to load your channel logo. You can adjust the logo position by dragging and releasing your mouse.
If you want your watermark appeared whole time. You can finish this step by clicking [Ok].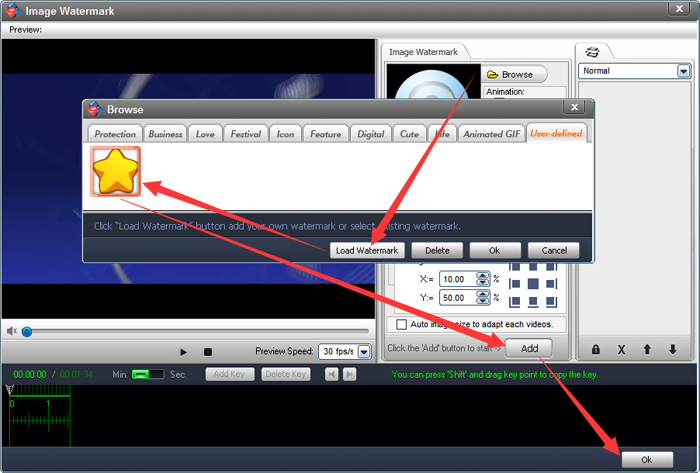 But if you need your watermark logo appear at some periods, there is some difference in operating video watermark. Before clicking [Ok], you must press [Add Key] at least two times or more times. Several "time joints"  will show as green points in the time line. Drag the first point to the time point where you wish the logo to start. Adjust the second point's Opacity to 0, if you want this parts of video to be shown without any picture watermark. The rest is the same, the tricks is in Opacity.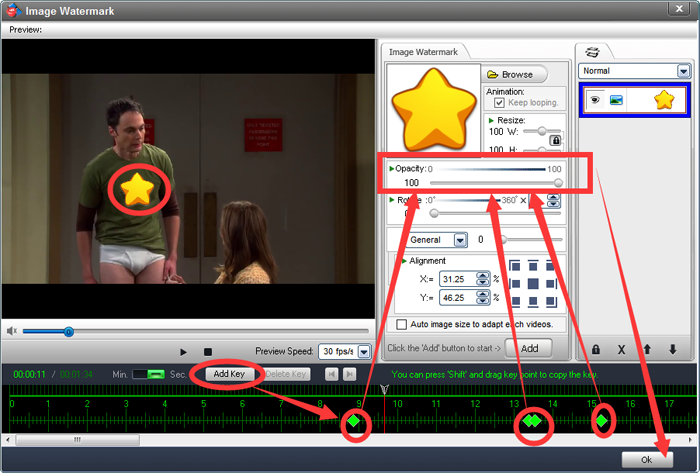 After hitting [Ok], you need to click [Run]. Then you finish adding watermark to video. After uploading the video to YouTube, you finish the whole thing.
Below is the video we've recorded for your reference. This video is a step by step tutorial on how to add watermark on video with Video Watermark Pro
The Different Watermarks Between YouTube Branding and Video Watermark Pro
We use "WonderFox HD Video Converter Factory Pro" as a YouTube downloader to compare the differences. As you can see from the screenshots below, the video downloaded, by YouTube Branding processing, carries no logo. However the compared video, modified by Video Watermark Pro, carries the logo all the time as we wanted it to be.
Screenshot of the video watermarked by Branding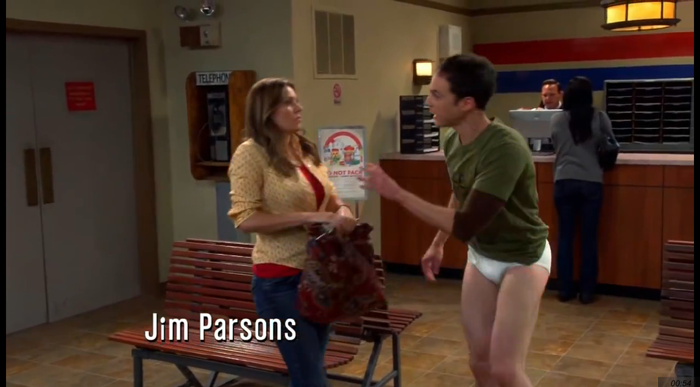 Screenshot of the video watermarked by Video Watermark Pro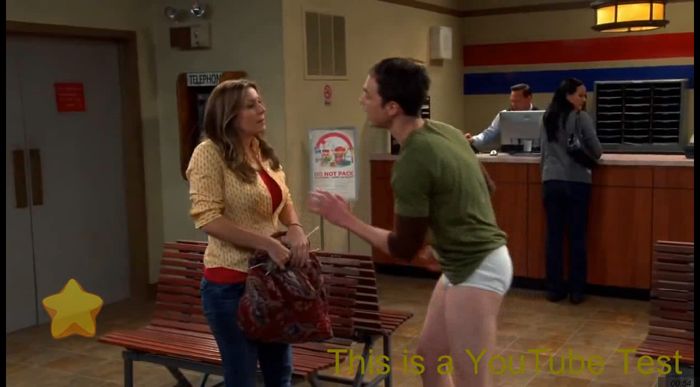 Finally, we get a conclusion: Video Watermark Pro becomes a better choice for adding your channel logo to your YouTube videos.
Learn more about Video Watermark Pro please check here > >
Download Video Watermark Pro:

Related Source
How to add image to video with Video Watermark Pro
How to watermark video and convert video format in one solution
How could you add effects to video in a better way
Discount Information
Special Offer: Video Watermark Pro
Add watermark (text/image/animated GIF/...) to video; Add the customized graphic model / shade to video
Batch watermarking hundreds of videos at once; Multiple editing functions and unique effects...
More >