How to convert video to GIF
This tutorial includes converting video to GIF animation and still image
1) Click "Open" button to input a video.

2) Select Part of length for output.

3) Select a size, we provide some popular szie, you can also input manual.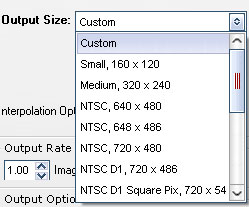 4) Select convert rate (for smooth, commend 10+).

5) Select "General" here.

6) Select a output folder
7) Select GIF format here.

General - Smaller Output Size - Lower Image Quality
Good - Normal Image Quality - Standard Output Size
Best - High Image Quality - Large Output Size

8) Click "RUN" button to start convert GIF Animation from the video.
Chech the output sample.
Previous: How to get GIF animation from video
Next: 3 Easy Steps on How to Convert AVI to GIF