Currently Windows 7 is very popular, a lot of friends from Windows XP upgrade to Windows 7, and one of my friends has installed Windows 7 on his MacBook, that's a big amount of overhead, so funny. Anyway, more and more users have choosing windows 7 is true.
This page will help you use watermark software to protect your photo on Windows 7 (also include Windows 8/2000/XP/Vista…), not recommend Windows 7 to you.
Watermark software is a name of window program, it is easy to use watermarking program for protect online photo's copyright by adding text watermark, photo watermark, logo or signature to photos. With watermark software you will adding watermark to you photos quickly, the process of adding watermark to 500 pictures will less than 1 minute, because the intelligent batch mode. Below is main interface of watermark software.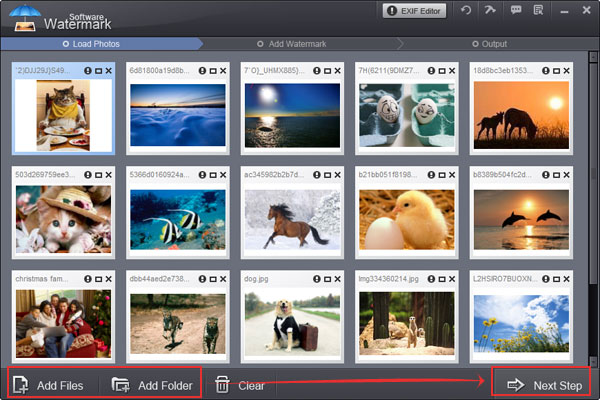 If you are sharing photos on internet, you are at the risk of losing them. Someone could take the photos for their own use, or malicious revised, you might never even know. Watermark software will protect your online photos avert unauthorized copying and using. Please make sure the internet is open, people uploading, downloading again and again, you can not avert user download or copy your photos, but the watermark will tell every people who are holder of the photo, no one is able to remove watermark from your photo.
The two photos of following are original photo and watermarked photo, you can compare them.

Ready for start:
1. Start up your computer (Windows 8 / 7 / Vista / XP / 2000 / …)
2. Download watermark software at: http://www.watermark-software.com/products/watermark-software/watermark-software.exe
3. Install watermark software to your computer.
Step by Step
1 Load your photos by click "Add Files", and then click "Next" button to into editing interface.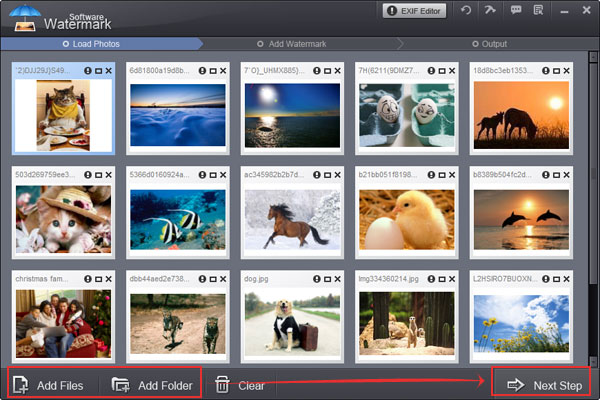 2 (2-1) For start image watermark setting, please click "Add image" tag.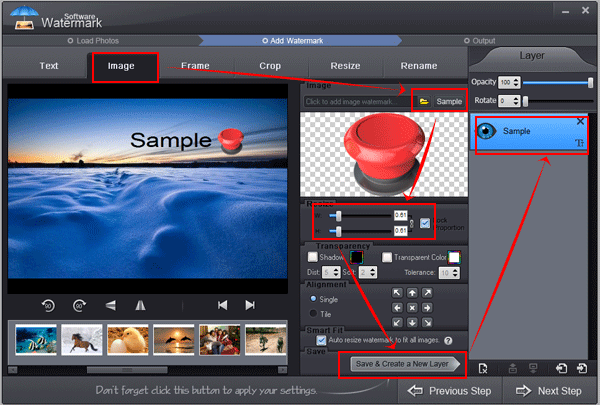 2-2 Click the "folder icon" into watermark list interface.
2-3 Here you can select existing watermark or load you own watermark by click "Load Watermark" button, and then click "Ok" button to apply and exit.
2-4 Resize watermark and drag watermark locality which you want.
2-5 Click "Ok" button to apply all of image watermark settings.
2-6 Into output setting by click "Run".
3 (3-1) In output interface, the first thing is select output folder.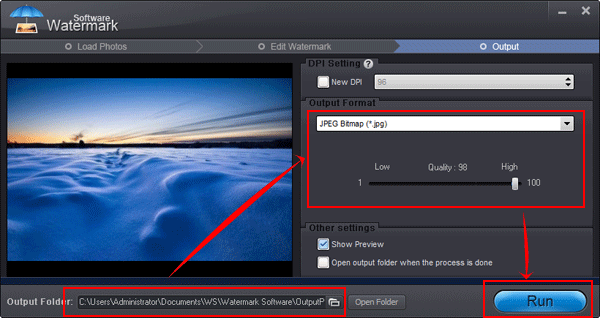 3-2 Select a image format for output, Watermark Software support all popular image formats such JPG, GIF, Animated GIF, BMP, TGA, TIF, PNG, ICO, etc.
3-3 Click "Run" to start output process with fast speed, such as watermark 100 photos will less that 1 minute.
Related Software